Try this DIY ingrown hair serum if you're constantly plagued by those pesky little ingrown hairs!
Ingrown hairs can creep up on anyone who does hair removal, whether you shave, wax, pluck or whatever, you have a chance of getting ingrown hairs. There are quite a number of ingrown hair remedies such as this DIY Ingrown Hair Treatment Spray and DIY Sugar Scrub for Ingrown Hair. These work well in preventing, reducing and eliminating ingrown hairs. In today's post, I want to share a simple DIY Ingrown Hair Serum that you would want to use right after shaving to keep those ingrown hairs away.
It's very simple to mix up, as with most homemade remedies. You only need to get your hands on a few ingredients to make the serum. Here's what we're going to need and their benefits:
Castor oil – This thick emollient is known to draw out abnormal growths and swelling from the skin such as warts, skin tags, moles, and also ingrown hairs because of its discutient properties.
Hemp seed oil – Hemp seed oil is a light and 'dry' oil which helps dilute the castor oil. It's moisturizing and is a non-comedogenic (doesn't clog up pores). It reduces inflammation and redness.
Tea tree essential oil – Is a powerful disinfectant that fights off germs that cause infected ingrown hairs. It also tightens pores to prevent them from getting clogged up.
Okay, now let's look at the simple recipe for the DIY ingrown hair serum:
DIY Ingrown Hair Serum Recipe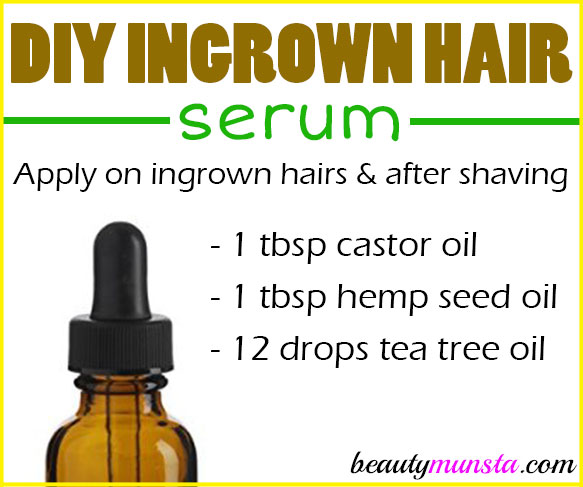 What you Need
Directions
Into your amber glass dropper bottle, pour in the castor oil and hemp seed oil with the help of a small funnel.
Now add the drops of tea tree essential oil.
Close the bottle and shake well to combine all ingredients.
Your DIY ingrown hair serum is ready! Store in a cool dry place.
Apply on freshly shaven skin to soothe it, prevent ingrown hairs and get rid of them. Use it right after applying the DIY ingrown hair treatment spray and it has dried, for best results.