I recently saw a nice recipe for DIY dark circle serum but it used fresh ingredients that would spoil in a day or less! Now try this DIY dark circle serum that contains vitamins good for erasing dark circles and won't spoil fast!
The dreaded dark circles…we all hate them like crazy but sometimes, there are just unavoidable! Like when you have to finish up that super long essay for school or stay up late sending emails for work. Right?!
What's worse is that dark circles not only make your face look tired and haggardly but also make your eyes appear dull without any sparkle!
You can use several home remedies for removing dark circles like potatoes, lemon juice and others but a non-messy and long lasting remedy you must try out is this homemade eye brightening and dark circle removing serum!
DIY Dark Circle Serum
Expect to see results within 1-2 weeks if used consistently twice a day without fail.
The ingredients used include:
Rosehip seed oil – Rich in beta carotene that gives it its orange color. Beta carotene is a form of vitamin A. Rosehip seed oil also contains Vitamin E and essential fatty acids that increase cell turn over and help with tissue regeneration.
Vitamin E oil – Good for reducing blemishes and dark spots so it can also help with dark circles as well.
Vitamin K oil – Vitamin K is the best vitamin for dark circles, used topically or internally!
Arnica oil – Arnica oil is excellent for treating bruises naturally. In the same way, it works wonders for dark circles! It works by promoting flow of white blood cells which help stimulate flow of congested blood that appears as bruised dark circles.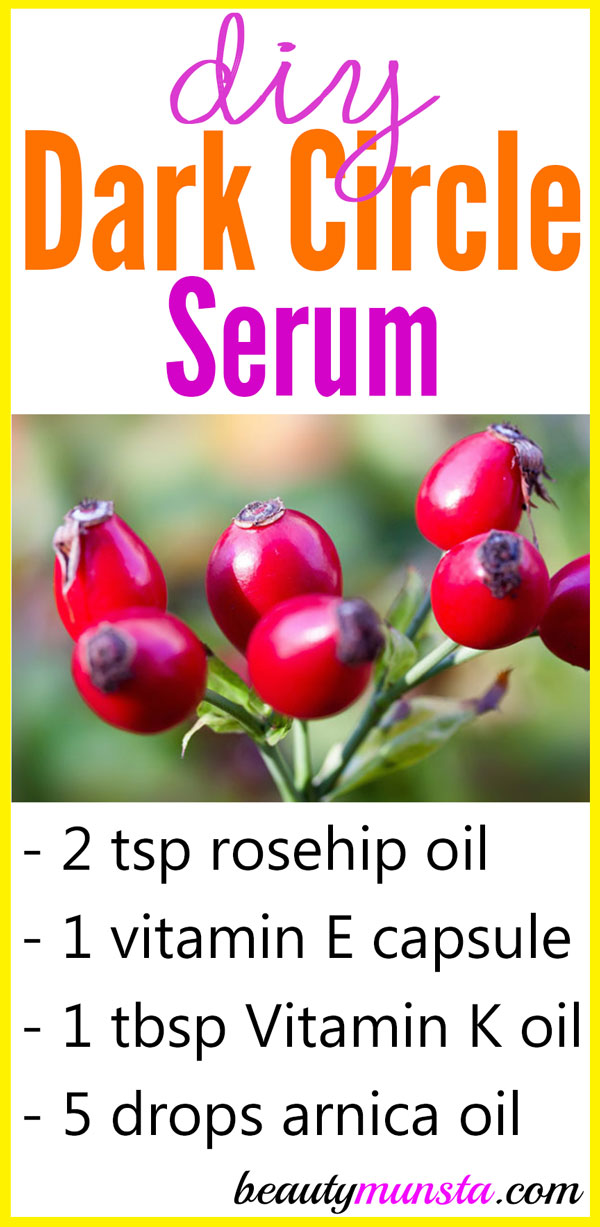 What you need:
2 tsp rosehip oil
1 vitamin E capsule
1 tbsp Vitamin K oil
5 drops arnica oil
Small funnel
1 oz amber glass dropper bottle
Directions:
Pour rosehip oil and vitamin K oil into your 1 oz amber glass dropper bottle.
Now prick a vitamin E capsule and squeeze the oil in as well.
Lastly, add 5 drops of arnica oil.
Cap tightly and roll the bottle between your palms to gently combine the ingredients. Shaking the bottle will create air bubbles that promote quick rancidity of your serum!
To use, apply 2-3 drops under your eyes, massaging gently with your ring finger. Use twice a day!

Are you ready to try this DIY dark circle serum?