Eating Carrots for Skin Lightening
If you're looking to get a lighter skin tone, then you've probably already heard of how eating carrots can help. Yup, if you eat a carrot a day, you can experience skin lightening. That's because carrots are rich in carotenoids, especially beta carotene which gives them their bright orange color. When you eat carrots, your skin will start to glow and become brighter because of those high levels of beta carotene.
People with pale skin shouldn't eat too many carrots because it causes carotenosis, which isn't a harmful condition but turns pale skin yellowish. Eating just the right amount will however, make pale skin glow beautifully.
Olive or brown skinned people will have incredible results with eating carrots! Since their skin already has a golden/yellowish pigment or warm tone, the beta carotene will just amplify that color and make skin look brighter! This is very real – there are several anecdotes of people eating carrots and achieving a golden hue or lighter & brighter skin.
Many people have also had much success using carrot seed oil for skin lightening. If you're too busy to eat your carrots without forgetting or hate eating carrots, you can use this carrot seed oil and see results!
Applying Carrot Seed Oil for Skin Lightening
It's possible to lighten your skin tone by a half a shade or more by applying carrot seed oil on your skin! Carrot seed oil has incredible skin lightening and brightening properties! I've talked about it in this post of mine: 7 Essential Oils for Skin Brightening
The carrot seed oil I'm talking about is an essential oil, meaning it's very concentrated so you have to dilute it by all means before you apply it. Carrot seed oil isn't got from the regular carrots we eat but from the wild carrot plant (botanical name: Daucus carota). It is actually a common roadside weed. The essential oil is extracted from this plant's seeds.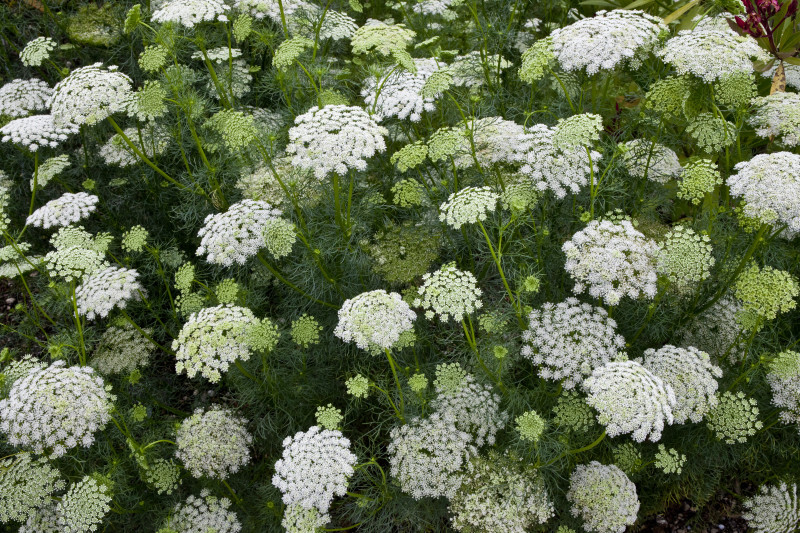 How Does Carrot Seed Oil Work for Skin Lightening
Carrot seed oil has a pale orange color which signifies its high carotol content! Once again, this beta carotene makes skin glowing as well as brightens and lightens it. It's very enriching, filled with nourishing nutrients – not just beta carotene!
Carrot seed oil contains the following constituents: a-pinene, camphene, b-pinene, sabinene, myrcene, y-terpinene, limonene, b-bisabolene, geranyl acetate and carotol. As we already discussed, the high carotol content of carrot seed oil brightens a dull complexion and lightens skin tone. But look closely at those constituents – carrot seed oil also contains limonene! Incidentally, limonene is also found in lemons and lemon essential oil, which are also powerful skin lightening remedies!
So now you know: the nutrient content of carrot seed oil makes it a very fine oil indeed for skin lightening purposes.
Now let's get to the most interesting part of how to use carrot seed oil for skin lightening, shall we?
Ultimate DIY Skin Lightening Serum with Carrot Seed Oil
Make this skin lightening serum and apply it every night without fail! We're going to be using sesame oil, a vegetable oil that is said to lighten skin. We shall also use skin lightening essential oils like lemon oil, sandalwood oil and carrot seed oil. Amazing that this serum only has 4 ingredients yet it's so powerful for skin lightening!
What you need
This is a 2% dilution rate of essential oils. Meaning for 1 tsp of sesame oil, there's 2 drops of essential oil. Don't go above this dilution rate. If you have sensitive skin, reduce the dilution rate to 1%. Meaning, instead of using 24 drops as in the recipe below, use just 12 drops. For more about essential oil dilution rates, read: How to Dilute Essential Oils
Directions
Using a small funnel, pour the sesame oil into your 4 oz amber glass dropper bottle.
Now add the essential oils, drop by drop.
Close the bottle and shake gently to combine all oils.
Store in a cool dry place.
To use, gently massage 2-4 drops all over your clean face & neck right before getting some beauty sleep at night! You can also apply it on your hands, legs and body.
In the morning, wash your face very well.
Where to Get Carrot Seed Essential Oil
In order to experience real skin lightening results, please be sure to purchase the right carrot seed oil. You have to make sure the carrot seed oil you're purchasing says 100% pure carrot seed essential oil (botanical name: Daucus Carota). It shouldn't have any additives like fragrance or mineral oil in it. And the bottle must contain the word essential oil. My recommended brand of carrot seed essential oil is Plant Therapy's 100% Pure Carrot Seed Oil.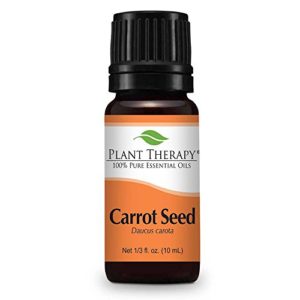 Take Care
Do not use this skin lightening serum at day time because it contains lemon oil which is photo-sensitive.
Please do a patch test with carrot seed oil or the above skin lightening serum before using it. This can help you check if you might be allergic to any of the ingredients. To do a patch test, apply 2 drops of the serum on your inner elbow. Watch if your skin reacts to the serum in 1-2 hours. If there's no irritation, then go ahead and use this serum! If there's irritation, you must be allergic to it/any of the ingredients so do not use the serum.
Always dilute carrot seed oil before use. The safe and recommended dilution rate is 2% for adults. Carrot seed oil is safe for topical use on babies 6 months plus but please consult your doctor before use! And refer to this essential oil dilution rate chart for babies: How to Dilute Essential Oils
Do not use carrot seed essential oil during pregnancy/nursing.
If you have any chronic or serious health issues, consult your doctor before using carrot seed essential oil.