Carrots may seem like just your average vegetables for stews, salads and juicing. However, they actually have extraordinary uses for beauty! Check out 9 beauty benefits of carrots for skin hair and more!
Who loves munching on carrot sticks? They're an awesome healthy snack that not only keep you in shape but also promote good eyesight! Another benefit of carrots? They promote natural beauty!
You can eat carrots and see glowing skin and you can also apply them on your body for shiny hair & clearer skin. Read on to discover the wonderful beauty benefits of carrots!
9 Beauty Benefits of Carrots for Skin, Hair & More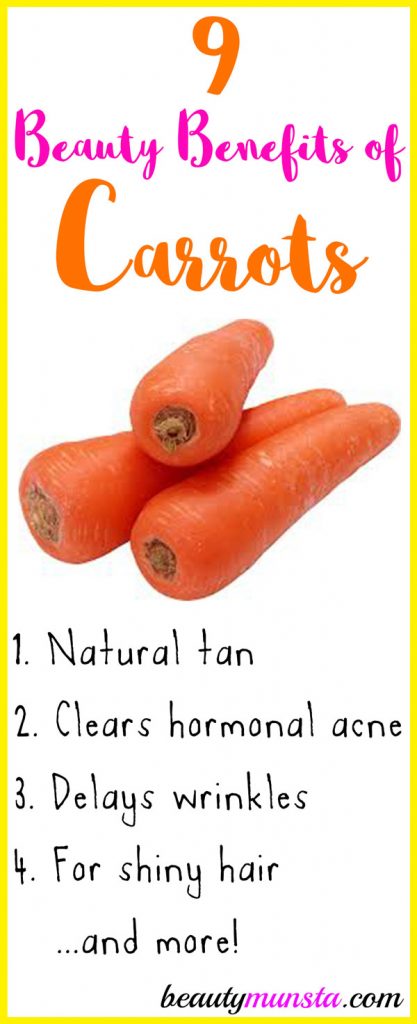 Below are 9 amazing beauty benefits of carrots for skin, hair and more!
1. Glowing Skin
Eating more carrots will actually make your skin glow beautifully! This works because carrots are rich in beta carotene, which gives them their orange color. So by eating more carrots, you'll get a little color on your skin which brightens it and makes it glow. Try it out for yourself to witness glowing skin!
2. Natural Tan
Instead of lying under the sun to get that perfect tan, why don't you try eating more carrots! As mentioned above, carrots make you glow but they also give your skin a golden tint that is much more attractive than pasty pale skin! This is because eating carrots loads your body with beta carotene which as mentioned above, gives carrots their orange color. Don't eat too many carrots, though because they can turn your skin into a deep orange yellow color which we don't want. Just eat about 3 medium-sized ones a day to get that perfect glowing tan.
3. Balance Hormones for Clear Skin
Did you know that estrogen dominance is a cause of hormonal acne? If you're suffering from hormonal acne – characterized by deep painful cystic pimples or rash like pus-filled acne, then you need to detox that extra estrogen from your body! One of the ways to do this is by eating carrots! A carrot a day can help balance both male and female hormones. This will help eliminate hormonal acne!
4. For Shiny Silky Hair
Consuming carrots makes your hair naturally shiny and silky – but you can also use it topically for glossy hair too! How? Make carrot oil of course! Do this by infusing 2 chopped carrots into a 4 oz mason jar filled 3/4 way with sweet almond oil for 3 weeks, shaking the jar occasionally. When the time is up, strain the orange-colored oil into another jar and use it as a leave-in conditioner for shiny silky hair!
5. Delays Wrinkles
Carrots are rich in beta carotene, which is converted in Vitamin A in our bodies. It keeps skin healthy by building new skin tissue. This does this by stimulating fibroblasts in the deep layers of the skin. By developing new tissue, Vitamin A promotes firm, elastic and healthy skin! Add shredded carrots to your salads to prevent early wrinkles and fine lines!
6. Reduces Oily Skin
A lot of oily skin products contain Vitamin A in the form of retinoids and tretinoin. And guess what? Carrots also contain TONS of Vitamin A. Eating carrots also helps reduce oily skin from the inside-out by boosting the skin's Vitamin A content. So add more carrots to your diet to help reduce excess oily skin and make your skin glow!
7. Rejuvenates Skin
Eating carrots for glowing skin is one thing but have you tried applying carrots on your face?! It helps rejuvenate skin cells and refresh your skin so your face looks fresh and dewy!
8. Boosts Hair Growth
You guys loved our Carrot Lime Hair Growth Oil we shared a few months back. It really helps boost your hair growth by stimulating the hair follicles! All you need is carrot juice, coconut oil and lime juice (lemon juice can work too!).
9. Clears Wastes that Cause Breakouts
Carrots are rich in dietary fiber that plays a major role in the body – it helps eliminate wastes by regulating bowel movements. When wastes accumulate in the body due to constipation, some of the toxins that aren't eliminated escape from the skin in form of breakouts. So by eating more carrots, you'll help prevent breakouts!
So beauties, start munching on carrots and use it to make a face mask and hair oil to promote healthier skin and hair!