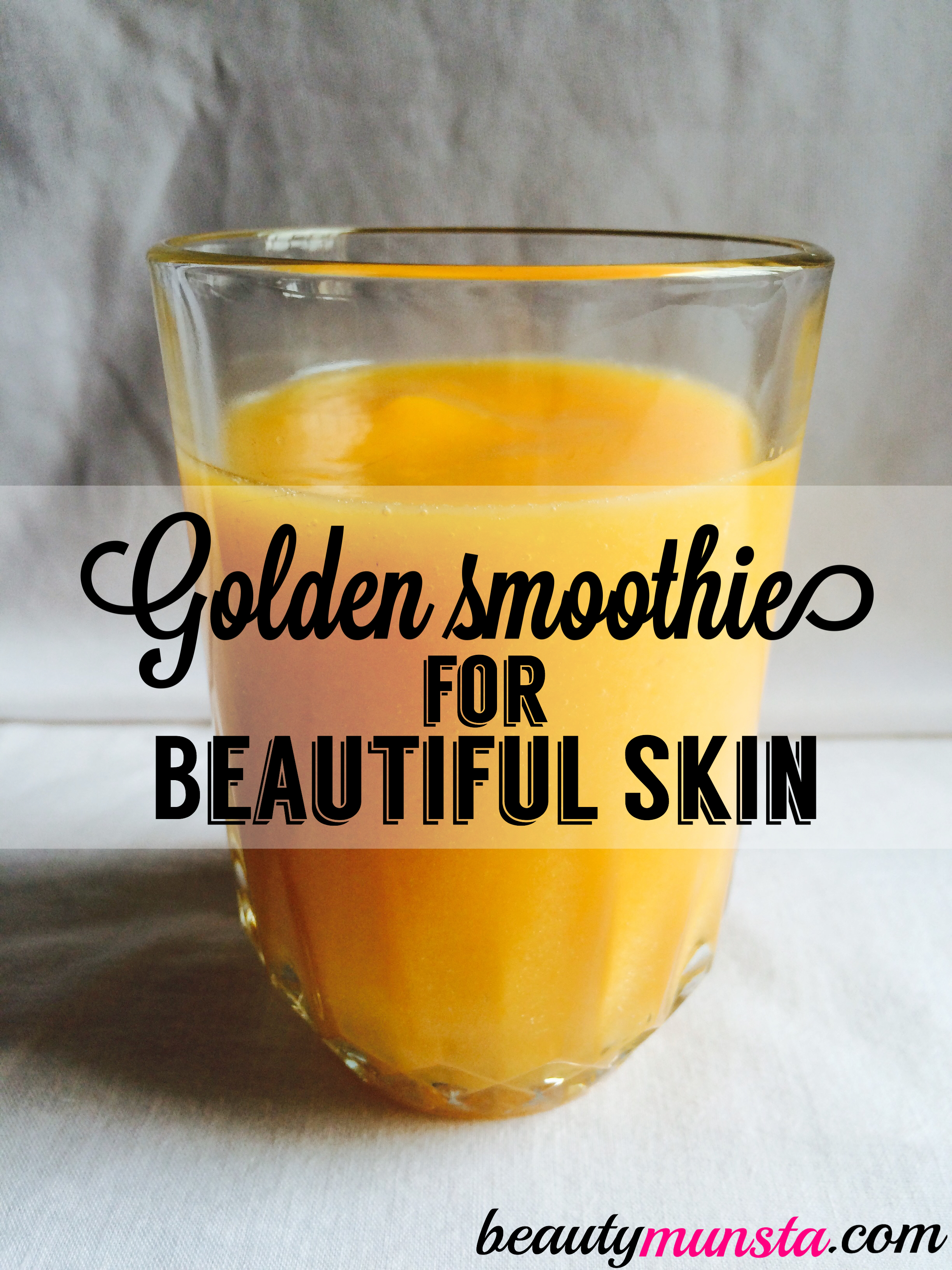 One of the sure-fire ways to getting glowing skin is feeding your body with fresh fruits. Fruits are incredible high in antioxidants that keep skin smooth, supple and vibrant! Today, I'm sharing with you a delicious silky papaya smoothie for glowing skin.
Papaya is an amazing fruit! It's one of the fruits that promote skin brightening and lightening whether you apply it on your face or make a smoothie out of it. It's filled with antioxidants, vitamins and minerals that support healthy skin functioning. Since I grew up in Africa, I remember my mom feeding me delicious papaya with the advice that my skin would glow.
Here are some of the nutrients in papaya for glowing skin:
Vitamin C – Papaya actually contents more than 200% of the Daily Recommended Value of Vitamin C! Vitamin C is the vitamin for anti-aging. It boosts collagen production in the skin, which helps maintain the skin's elasticity. Vitamin C also brightens dull skin.
Carotenoids – The orange/red flesh of papaya is because of its rich beta carotene content! Beta carotene is converted into Vitamin A in the body. Vitamin A prevents dry flaky skin and supports healthy functioning of skin cells.
Papain – Papain is the main active compound in papaya. I'm sure you've seen it as an ingredient in many cosmetic products. It promotes skin lightening & brightening. It also reduces blemishes, heals inflammation and promotes wound healing.
Those are just some of the nutrients found in papaya! Now let's look at the recipe for a papaya smoothie for glowing skin:
How to Make a Papaya Smoothie for Glowing Skin
This recipe is easy to follow and produces a very creamy silky sweet smoothie that I enjoyed with all my taste buds! And knowing it promotes glowing skin just made it taste even more better!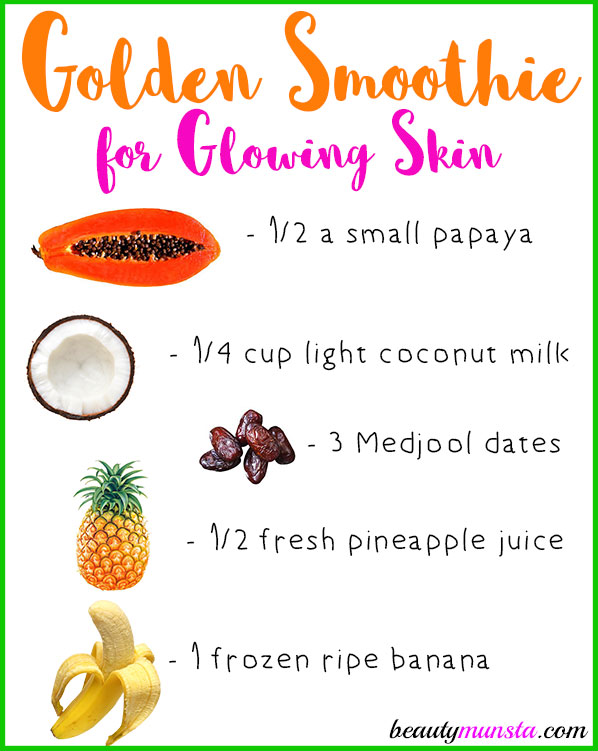 What you Need
½ of a small ripe papaya, peeled, seeded and diced
1 frozen extra ripe banana (first peel & chop the banana into coins then freeze)
¼ cup light coconut milk (where to get it)
½ cup fresh pineapple juice
3 Medjool dates, pitted and sliced (where to get it)
High speed blender (where to get it)
Directions
First get your fruits and wash, peel, de-seed and dice them up into chunks that'll be easy to blend.
Now put the sliced fruits (papaya, banana & dates) into the blender and blend for a few seconds.
Add the coconut milk then blend again till you get a smooth puree.
Now add the pineapple juice and blend everything together till you get a nice golden smoothie!
Pour into a glass and enjoy!
You can make this everyday for glowing skin, or whenever you remember 😉