Liquid castile soap is no doubt one of the most amazing natural products invented. If you love green cleaning and using all natural body cleaning products, then you must get your hands on some liquid castile soap!
You can use it to make your own facial cleanser, body wash, hand soap, natural shampoo and makeup remover! Find all of these recipes plus others below!
Before we look at the recipes, I'd like to share a link on where to purchase good liquid castile soap. My recommended is Dr. Bronner's Unscented (or Baby) Liquid Castile Soap.
If you want a scent, you can easily add a few drops of essential oils of your choice to the unscented soap! That way, you can customize your DIY cleaning product any time you want, according to your mood. For example, sometimes I'd like a fresh lemon shampoo, so I'd add a few drops of lemon oil to the recipe. If I'd like a scalp soothing shampoo, I'd add lavender oil instead. Brilliant, right?!
7 Liquid Castile Soap Recipes for Skin & Hair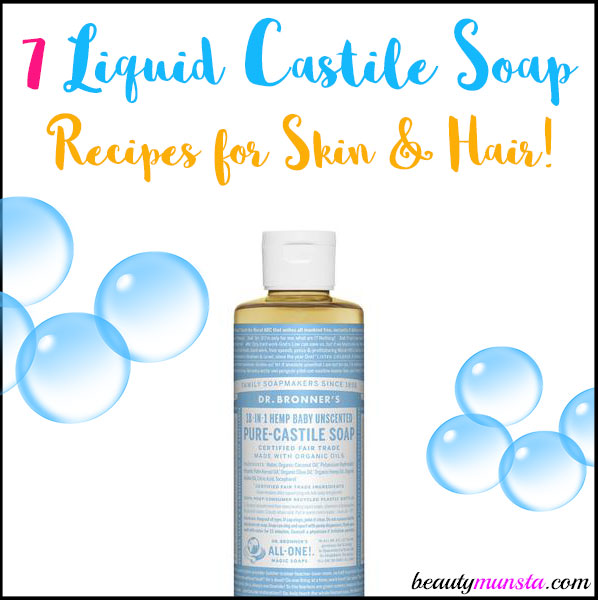 1. Gentle Facial Cleanser
What you need
Directions
Using the help of a small funnel, add the vegetable glycerine then the lavender oil into the dispenser.
Then pour in the distilled water first, then liquid castile soap.
Cap the bottle then shake well to combine all ingredients.
To use, pump a little on your palm then lather your face. Use twice a day!
2. Citrus Burst Body Wash
What you need
Directions
Combine all ingredients in the liquid soap dispenser.
Store in your bathroom cabinet.
Shake well before use!
3. Sensitive Skin Hand Soap
What you need
Directions
Combine everything in the foaming dispenser.
Shake well.
Use in place of your usual hand soap!
4. Soothing Shampoo
Note: This shampoo is for one-time use only. So you're going to use it all up on your hair once you shower. It won't keep for long.
What you need
Directions
Add everything into the applicator bottle and shake well to combine.
Pour it on your scalp, a little by little and work it in using your fingers.
Rinse off thoroughly with tepid water.
Wrap your hair in a non-fluffy towel (fluffy ones cause hair breakage!).
5. Makeup Remover
What you need
Directions
Get an tall mason jar then pack it with cotton rounds. Leave some space at the top.
Now make a solution of 1 cup lavender hydrosol, ¼ cup liquid castile soap, ¼ cup fractionated coconut oil and 10 drops of lavender oil (optional).
Pour this solution over the wipes in the mason jar.
To use, get a wipe, lightly squeeze out the excess water till it's not dripping anymore and rub it on your face.
6. Refreshing Bubble Baths
What you need
Directions
Mix the ingredients in a Pyrex measuring cup.
Add it to a running bath.
Enjoy!
7. Shaving Soap
What you need
Directions
Store the above ingredients in the pump bottle.
To use, pump once on your palm, lather up then apply on the area you want to shave.
Then shave away for smooth, soft and moisturized skin!
Caution
Essential oils are to be handled with care. Please note that citrus oils such as lemon and sweet orange are phototoxic so don't apply them on skin that's going to be exposed to the sun.