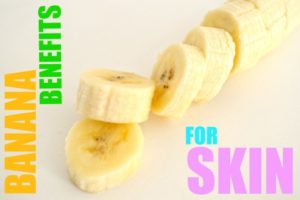 Bananas are a super food for skin! Rich in b-vitamins, lectins, potassium and other antioxidants. Not to mention, bananas are rich in moisture (about 75%), which make it an ultra-hydrating face mask ingredient. Said to be Nature's Botox, bananas naturally tighten pores and lift up skin. They contains free radical fighting compounds that will help your skin look youthful and wrinkle-free! Check out the nutritious benefits of banana for skin:
Nutrients in Banana for Skin
Antioxidants– Antioxidants such as vitamin A, b-vitamins, vitamin E and C in bananas offer antioxidant benefits to skin. They will steer away unstable oxygen atoms that steal oxygen from healthy skin cells and cause fine lines. Antioxidants will slow down the aging process of skin by fighting off free radicals.
Lectins- Lectins found in banana help guard the skin against pimples and acne by destroying acne causing germs.
Potassium– Bananas contain more potassium than any other fruit. One meduim sized banana contains 422 mg of potassium! Potassium solves dry skin by moisturizing and hydrating.
Ingredients
How to Make a Banana Face Mask
You will need a fully ripened banana. Save those very ripe bananas for topical application- don't trash them even though they've got lots of black spots and an over powering scent. Those bananas are very nutritious for your skin.
Peel the banana, place it in a small bowl and start mashing it with the back of fork. 3. After 2 minutes of mashing, you will get a goopy mixture like the one below. Your simple banana face mask is ready!
My Tips
I sometimes blend my face mask ingredients to get an even lump-free mixture. The reason : Mashing the banana can leave you with lumps and bits of banana which can slide off your face. It can be pretty be annoying! Blending is optional and not necessary. Mashing with the back of a fork is fine and doesn't require lots of energy. Just make sure you have a fully ripened banana for fine mashing.
Wear a headband so you don't get bits of banana stuck to the baby hairs on your hairline.
Slather excess face mask mixture on your neck and hands for extra soft silky skin.
You can store your excess face mask mixture in the refrigerator for up to 4 days. Trash it if it starts smelling funky.