Soothe red hot and irritated facial skin using this DIY colloidal oatmeal face mask!
Rosacea is an inflammatory skin condition that affects facial skin. It causes skin especially the cheeks and nose to become flushed and red. It may be accompanied by pus-filled bumps that look just like pimples. The causes of rosacea are not clearly known but it has been linked to abnormalities in blood vessels in the face, menopause, demodex mites, aging and more.
One of the ways to treat rosacea is by using natural remedies. Ingredients like colloidal oatmeal offer a great deal of relief by soothing the skin, reducing inflammation, removing those pus-filled pimples and more.
Below is a simple recipe for a DIY colloidal oatmeal mask you can use anytime to calm and heal your skin:
DIY Colloidal Oatmeal Mask for Rosacea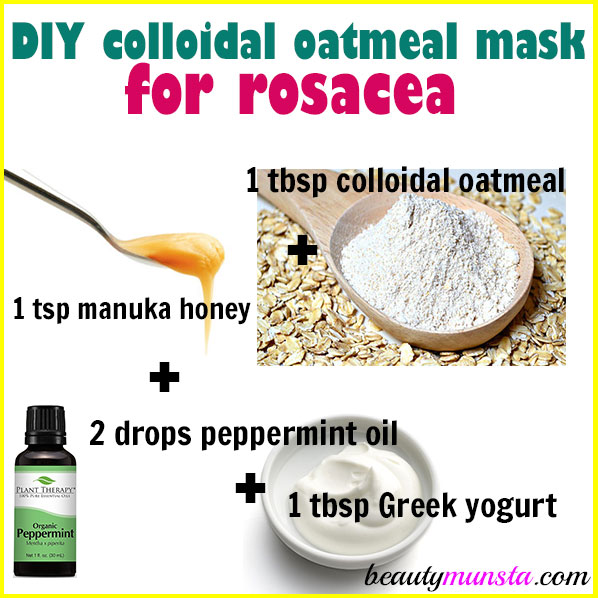 What you need
Directions
Into your small bowl, dump in 1 tbsp of colloidal oatmeal. Then pour in the Greek yogurt, manuka honey and add just 2 drops of peppermint oil.
Mix everything up to create a creamy paste.
Ta-da! Your DIY Colloidal Oatmeal Mask for Rosacea is ready for application!
How to Apply this Mask
Stand over your bathroom sink.
Scoop up the mask using clean fingers and gently apply it all over your face, avoiding the area around your eyes and mouth.
Make sure not to apply too much as you'll make the mask drip all over the place.
Once you're done applying, let the mask sit on your face for about 5-7 minutes.
When the time is up, rinse off very well with tepid water. When the mask is completely off, splash your face with cold water. Use a water-based face moisturizer to manage rosacea. If you're into making your own products, you can make this DIY Rosacea Face Moisturizer! It's cooling and feels good on rosacea skin!
Please try this simple DIY colloidal oatmeal mask for rosacea and let me know how it worked for you!