Got dry flaky, rosacea or sensitive skin? Stop using commercial facial washes and try this DIY cleansing milk!
Cleopatra sure knew the amazing beauty benefits of milk-based products! It is said that she had daily milk baths strewn with rose petals and aromatic oils. These baths were said to deeply cleanse, soften, smoothen and beautify her skin. In this post, we shall look at how to make a DIY cleansing milk.
What is a Cleansing Milk?
A cleansing milk is a type of facial cleanser that is milky in nature. It doesn't form a lather. Also, it doesn't necessarily contain milk but if you're making your own DIY cleansing milk, you can use milk-based products such as whole milk or yogurt to create a deep cleansing and pore purifying facial wash.
Dry flaky skin benefits the most from a cleansing milk. That's because milk or milk based products like yogurt contains lactic acid, which is an AHA (Alpha Hydroxy Acid). Alpha hydroxyl Acids naturally exfoliate skin by dissolving dead cells which form flaky skin!
Milk based products are also very nourishing to skin cells and contains lubricating fats that protect and moisturize dry skin.
If you have sensitive skin, a DIY cleansing milk can also help tons by gently removing dirt and pollution from the skin without being too harsh like conventional face washes that often contain a slew of chemicals, artificial fragrances and alcohol as well.
Below are the ingredients used in this DIY Cleansing Milk and their benefits:
Ingredients Used and their Benefits
Greek yogurt – gently exfoliating, nourishing, moisturizing
Lemon juice – pore purifying, astringent, removes dirt & oiliness
Lavender essential oil – cleanses, soothes, reduces redness & irritation
Argan oil – moisturizes, nourishes, promotes youthful skin
DIY Cleansing Milk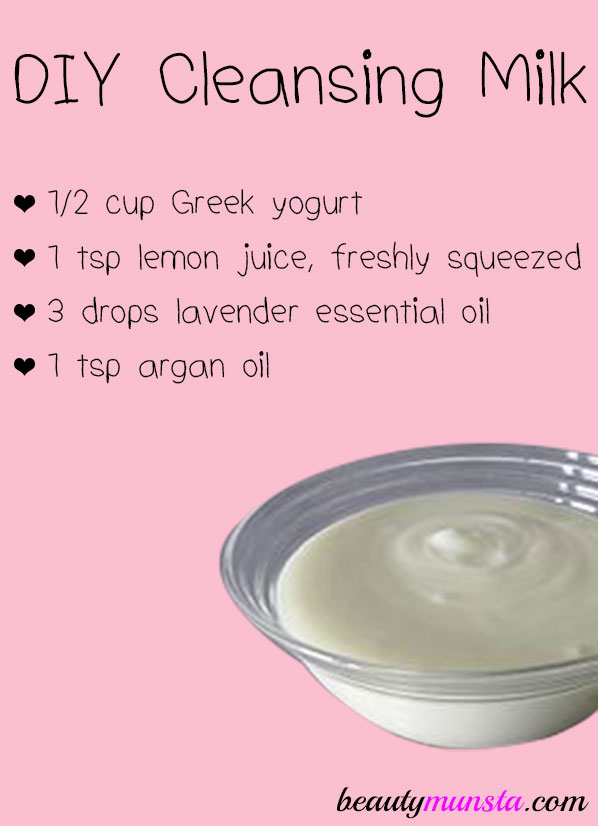 What you need:
½ cup Greek yogurt
1 tsp lemon juice, freshly squeezed
3 drops lavender essential oil
1 tsp argan oil
Bowl & whisk
Air tight container for storage
Directions:
In a medium-sized bowl, add ½ cup Greek yogurt followed by 1 tsp of freshly squeezed lemon juice.
Next add 1 tsp argan oil and 3 drops of lavender essential oil.
Whisk the contents of the bowl to combine all the ingredients into a thick cream.
Transfer the cream into an air tight container and store it in your refrigerator. It lasts for 10 days.
Your DIY Cleansing Milk is ready!
To use, scoop out 1 tsp of the DIY cleansing milk and massage it onto your dry face for a minute. You can then choose to leave it on your face for 5 minutes, especially if you have dry flaky skin.
Rinse off with warm water first then cold water and pat your face dry with a soft towel.
Moisturize if necessary with a pea-sized amount of shea butter on damp skin.

Use this DIY Cleansing Milk and let me know how it goes!