I've made so many DIY face masks ever since I got into natural beauty some years ago. But I must say that this DIY glycolic acid face mask is EXCEPTIONAL! I have acne prone skin and I hate hate hate getting clogged pores and acne scars. It sucks! So when I read about how you can make a DIY glycolic acid face mask to combat acne + clogged pores, I got into DIY mode. I simply had to make this mask and scrub it on my face ASAP!
And I'm so thankful that I did! Because now I'm going to be using this face mask twice a week, without fail. When I witnessed my smoother and better-looking skin, I told myself I'd use this mask everyday but of course, that isn't a good idea. Exfoliating your face every day is not good. So if using this mask, stick to once or twice a week application.
Okay, now that I've rambled on how great this mask is, let's get to know more about it!
What is Glycolic Acid & Benefits
First off, what is glycolic acid? Glycolic acid is simply an Alpha Hydroxy Acid (AHA) derived from cane sugar. It's the most commonly used alpha hydroxyl acid but I'm sure you've heard of other AHAs too. Like lactic acid from yogurt, you know? Check out the benefits of glycolic acid listed below:
Gently exfoliates dead cells
Reduces hyperpigmentation
Fades unwanted sun tans
Removes blackheads
Purifies pores
Unclogs blocked pores
Improves texture of skin
Gets rid of acne scars
Brightens skin tone
Increases blood circulation to skin cells
Reduces inflamed acne
Speeds the rate of cell turnover
Amazing, right?! Yup, glycolic acid might just be your secret to beautiful skin!
Let's look at how to make a DIY glycolic acid face mask:
DIY Glycolic Acid Face Mask with Brown Sugar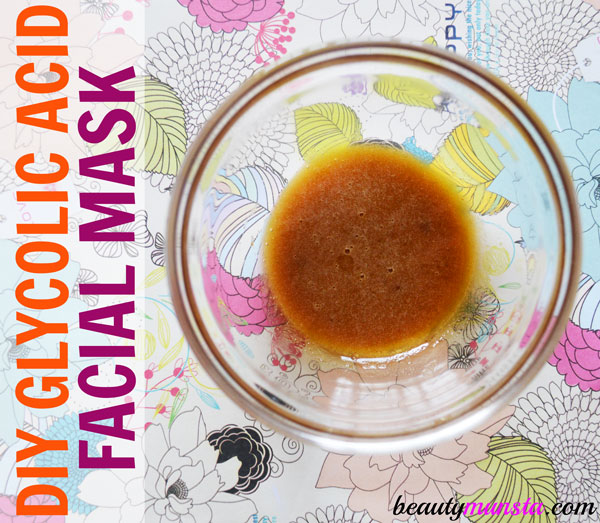 What you need
Directions
Dump the soft brown sugar into your bowl.
Now add the manuka honey and lemon juice.
Mix very well with a spoon until combined.
Apply on a clean and damp face (just after you wash your face) using clean fingers or even a face mask applicator brush (you can find one in the link I put for where to get the small bowl and spoon).
After applying the mask in gentle circular motions, avoiding your eyes and mouth, let it sit for 5 minutes.
When the time is up, rinse your face with tepid water.
That's it! Pat your face dry and marvel at how soft and healthy it look! Now go ahead and tone and moisturize it!
This DIY glycolic acid face mask is one that I'm going to use for life! I'm just blown away by how amazing it makes my face feel and look! Will you try it out?