Make this incredibly easy DIY face scrub for flaky skin and experience it amazing exfoliating and skin smoothing effects!
Take it from me – this is literally THE best face scrub for flaky skin I've ever made and used. I have dry acne prone skin and I really hate it when my skin becomes flaky. UGH.
Before making this DIY face scrub, I've been using brown sugar as a gentle scrub but I must say it doesn't have the same effect as baking soda! It's cleansing and exfoliating and has that daily light exfoliation my dry skin needs!
So when I made this simple face scrub for flaky skin, I knew it'd be the one I'm going to stick with for life!
Let's get right onto the recipe, shall we?!
DIY Face Scrub for Flaky Skin Recipe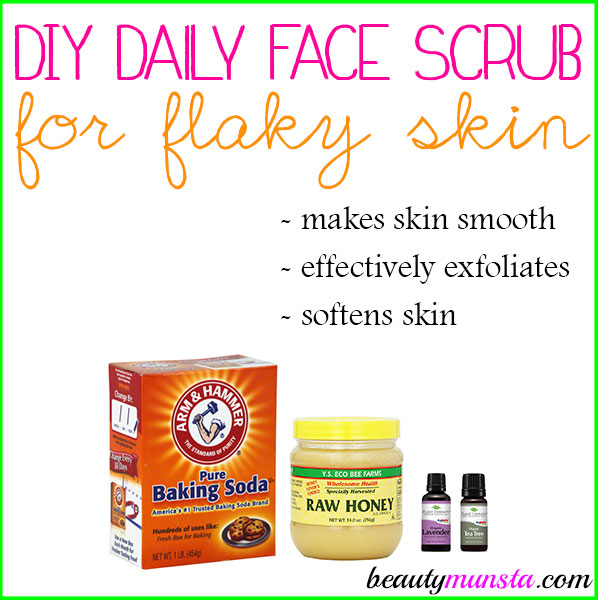 What you need
Directions
Into your clean container, pour in the baking soda.
Now scoop in 2 tsp of raw honey and mix well with a spoon.
Once you get a creamy texture, add the tea tree and lavender essential oils, drop by drop.
Mix again very well to combine everything.
That's it! Your amazing DIY face scrub is ready! Store in a cool dry place and keep away from water.
To use, dip in clean and dry fingers and scoop up about a tsp of it. Rub onto a wet face – just splash with warm water then apply.
Rub the scrub in gentle circular motions for about 2 minutes.
You can even let it sit for about 10 minutes (go do something else during this time).
When the time is up, rinse off well with warm water then splash your face with cold water.
Pat your face dry then apply toner: I dab cooled chamomile tea on my face. When the toner dries, apply moisturizer: I use a pea-sized amount of pure shea butter.
After using this DIY face scrub for flaky skin, my skin remains moisturized, soft and supple till I get back home to wash it again in the evening! It's definitely amazing! Try it out xoxo