To scrub off excess sebum from a greasy face, reduce acne, ease out black heads and even lighten your skin, use baking soda. Almost every household has got baking soda: we use it in our baking!
For all those who say baking soda should never be used on skin, remember the golden rule? What we eat, we can put on our skin! Every vegan has to use baking soda once in a while to make those delicious pancake stacks!
On the other hand, many people may argue that you cannot put something so alkaline onto your skin which has a slightly acidic pH. First off, the skin is adaptive and will not go out of balance just by using ½ teaspoon once a week to scrub grime off your face. Secondly, why name baking soda an evil face care ingredient yet continue using toxic chemical cosmetics on your skin?
Now what exactly is in baking soda that makes it a good skin care product? Pure sodium bicarbonate! That's all! This active ingredient is good for skin lightening, oil control, acne cure, blackhead removal, soothing skin rashes, removing blemishes and more!
Top 3 Baking Soda Face Mask Recipes for Clear Skin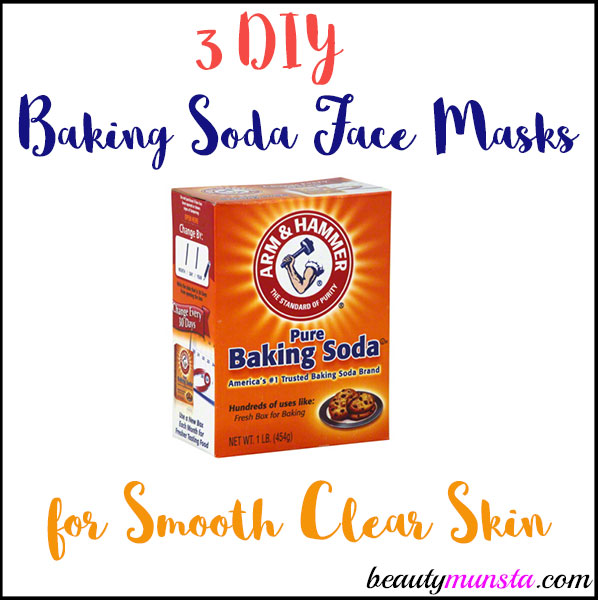 1. Fast & Fresh: Basic Baking Soda Face Mask
For this basic baking soda face mask you just need baking soda and the right amount of water. I use this face mask/scrub especially when I want to loosen up pesky little blackheads.
Ingredients
Directions
Put your ingredients in a small bowl and mix well. Your final mixture should be creamy and not too watery. Make sure your face is clean before applying the baking soda face mask onto your skin in gentle circular motions. Leave in on for about 5 to 10 minutes, then rinse off using tepid water. Pat dry and use a pea-sized amount of shea butter to moisturize.
My Tip
Please make sure you use baking soda (sodium bicarbonate) and not baking powder!
2. Blemish Fix: Baking Soda Honey Lemon Face Mask
The baking soda honey combo is great for reducing scars and blemishes on skin. Honey lightens blemishes, while lavender has scar-fading properties. Check out more of what honey and lemon are good for:
Ingredients
Directions
Whip up the above ingredients to a thick paste. Using clean finger tips, slather the face mask onto your clean face. Let it sit for 5 to 10 minutes before rinsing off gently with warm water. Pat dry with a soft towel.
My Tip
The baking soda may slightly tingle your face – this is natural. But if it gets severely uncomfortable, then immediately rinse off with warm water.
3. Brightening: Baking Soda Lemon Yogurt Face Mask
This is a face mask that is really good for acne and acne scars! The lemon oil has limonene that visibly lightens acne scars and bring a glow to your face. Yogurt kills off acne germs and moisturize your face.
Ingredients
Directions
Mix up the above ingredients in a small bowl till you get a creamy mixture. Slather this onto your face and leave it on for about 5 to 10 minutes. When the time is up, rinse the face mask off with tepid water and pat your face dry with a clean towel.
My Tip
Remember to use Greek yogurt or any other plain probiotic version.
Take care Like with all face mask ingredients, please ensure to make a baking soda test patch in your inner elbow to see that you aren't allergic to baking soda. If you see any severe redness, irritation or itchiness, then you might be allergic! Immediately rinse off and do not use baking soda on your skin.