Try this exceptional oatmeal yogurt lemon honey face mask for acne!
Four ingredients straight from your pantry onto your face!
If its not edible, don't put it on your skin!
If you look at the amount of chemicals at the back of your daily facial cleanser or a store-bought face mask, you might begin to realize the long term dangers of putting those on your precious skin. Act now – stop using chemicals on your precious skin and start putting edible stuff on your face! This does seem like a complicated mask with many ingredients, but all the items are common and affordable and the benefits of this face mask are definitely worth it! Let's explore the benefits below: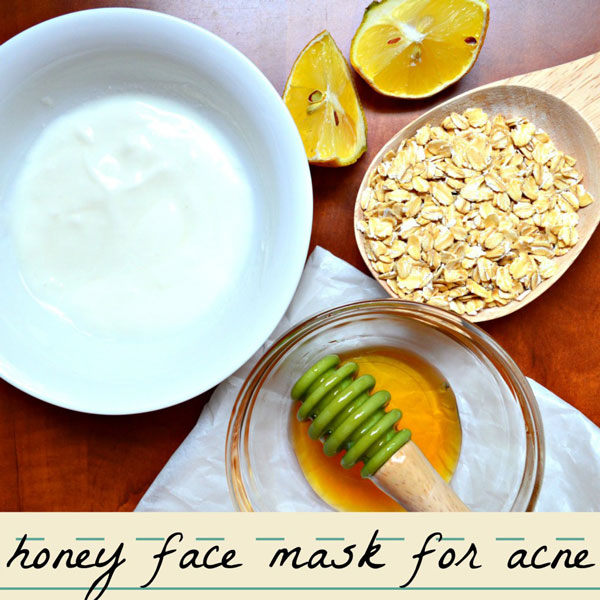 Benefits and Nutrient Content of Each of these 4 Ingredients for Skin:
1. Oatmeal
Oatmeal is a great natural exfoliator and absorbs excess oils from your pores as well. It is gentle, non-abrasive and a safe way to keep your face smooth and soft.
Polyssacharides: Polyssacharides in oatmeal plump up your skin cells with water, leaving them moisturized and hydrated.
Protein: The protein in oatmeal creates a protective layer around skin cells, staving off bacteria and irritants. It also helps locks in moisture into skin cells
Essential fatty acids: For moisturizing and lubricating flaky skin. Essential fatty acids will nourish your skin cells and moisturize them.
Saponins: These are natural cleansers found in oatmeal that help de-gunk clogged pores and scrape off dead cells and grime on the skin's surface.
2. Yogurt
Yogurt is rich in probiotic enzymes that are beneficial in killing off acne causing germs and bacteria. It has anti-inflammatory properties which makes it effective in healing skin inflammations.
Lactic acid: Lactic acid is a type of alpha hydroxy acid that is amazing when it comes to skin exfoliation. Lactic acid breaks down the binds between dead cells and the skin's surface, enabling the dead cells to be flushed off easily.
B-vitamins: Packed with brilliant skin healing anti-oxidants known as b-vitamins, yogurt will help fight off oxidative damage, clear off acne and promote soft glowing skin.
Zinc: Effective in fighting off acne & bringing down acne inflammation.
3. Honey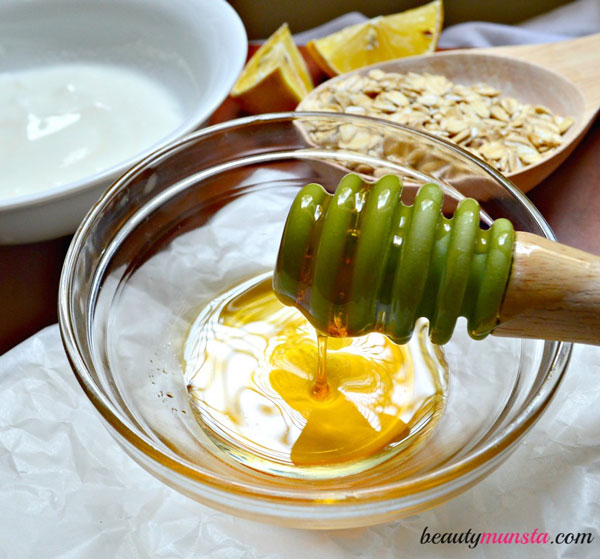 Honey is one of nature's most perfect foods. It contains so many skin saving antioxidants and active enzymes that have healing and skin rejuvenating properties. Honey is antiseptic and antimicrobial, which means it has protective properties that stave off contaminants and acne germs from skin.
Powerful anti-oxidants: Honey contains very many anti-oxidants, some of which modern scientists haven't yet even discovered. For skin, antioxidants are a miracle as they fight off free radicals, bring a natural glow to skin, promote elasticity and flexibility as well as slow wrinkles and fine lines.
Active enzymes: Honey also contains probiotic compounds that are good for skin both on the outside and inside. They help prevent oxidative damage, soothe inflammation, promote baby soft skin and kill germs and contaminants.
4. Lemon
Lemon is an effective zit-zapper. It's got antibacterial and antiseptic properties that show no mercy to acne causing germs and bacteria. In the exfoliation department, lemon will slough off excess dead cells, grime, pollution and excess oils.
Citric acid: Citric acid is a powerful alpha hydroxy acid that has skin lightening properties. Gradually fade out those acne scars and even out your complexion with citrus-rich lemon!
Vitamin C: Lemon is rich in vitamin C which boosts collagen production, slows down the aging process of skin and zaps the zits!
How to Make the Honey Face Mask:
Ingredients
1 tablespoon ground oatmeal
1 teaspoon yogurt
1 teaspoon honey
1/2 teaspoon lemon juice
Directions
In a small mixing bowl, combine the above fresh ingredients thoroughly until you get a thick consistency. Using clean fingertips, slather the face mask onto your clean face. Leave it on for about 15 minutes. When the time is up, use a wet washcloth to gently remove the dried mask. Rinse off with tepid water. Pat dry and apply a small plop of coconut oil to moisturize.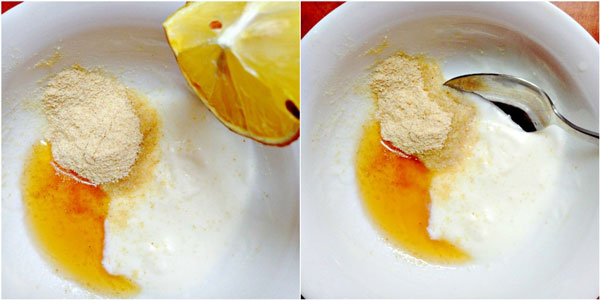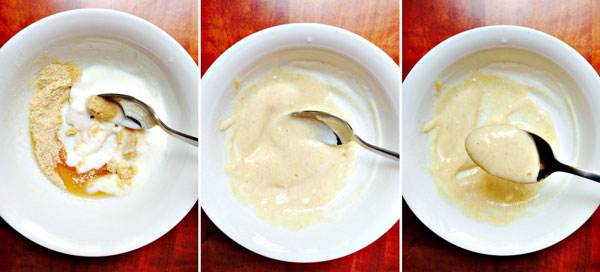 My Tips
Buy raw organic honey for your face masks.
Use freshly squeezed lemon juice and do not add more than 1/2 a teaspoon as too much of it will irritate skin
Do not use a washcloth if you've got acne. Gently use warm water and clean fingers to loosen the mask before rinsing off with tepid water.
Your yogurt should be probiotic, plain, unflavored and unsweetened yogurt. Just get the regular yogurt. Greek yogurt will also work brilliantly.