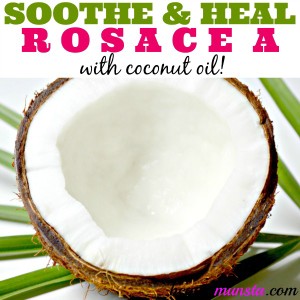 More than 16 million Americans suffer from rosacea, an inflammatory skin condition that causes redness on the forehead, cheeks, nose and chin. People suffering from rosacea often get flare-ups which causes pus-filled bumps to appear on the skin. Other symptoms of rosacea include flushing, skin stinging and burning, eye irritation, skin swelling & thickening as well as sensitive, dry/oily skin. The exact cause of rosacea is unknown though there are several factors that worsen the condition, such as eating too much of spicy foods, blood vessel abnormalities, presence of an intestinal bacteria known as Helicobacter pylori, a type of microscopic mite called demodex, alcohol consumption and even genetics. Though rosacea can affect both men and women, it is more common in women aged 30 to 60 years old.
Note: Please consult your doctor/health care before using coconut oil for rosacea. If you are allergic to any of the ingredients mentioned below, avoid using them on your body.
Coconut Oil for Rosacea | How it Works
Although coconut oil has just now gained popularity in the West, it has been used for centuries in Asia for a variety of uses including cooking, skin and hair care, healing massages, as a medicine and so much more! It is an edible oil extracted from the dried meat/kernel of mature coconuts and is used to treat a myriad of conditions including psoriasis, eczema, acne, dry skin, perioral dermatitis and dandruff among others. Check out the nutrients in coconut oil that make it an effective natural treatment for rosacea:
Nutrients in Coconut Oil for Rosacea
Coconut oil is rich in powerful antioxidants and nutrients that make it a great natural treatment for rosacea. Check out what makes coconut oil great for rosacea and the skin in general below:
► Medium Chain Fatty Acids – Medium chain fatty acids found in coconut oil creates a skin pH that is deadly for microbes, germs and mites that cause and irritate skin affected with rosacea. Ingesting coconut oil also protects the body from infection and internal parasites.
► Medium Chain Triglycerides – MCTs penetrate deep into the skin and breakdown & drive out stale sebum, dirt, pollution and grime. This makes coconut oil a natural facial cleanser that can be used in place of harsh over the counter cleansers that irritate and sting rosacea skin.
► Lauric Acid – Coconut oil is nature's richest source of lauric acid, a fatty acid that has strong anti-bacterial, anti-viral, anti-fungal and anti-microbial properties that fight off bacteria that cause acne and pus-filled bumps.
► Ferulic Acid – A type of polyphenol also found in borage seed oil, ferulic acid is an effective antioxidant that is even more powerful than vitamin E! It easily penetrates deep into the skin and moisturizes & softens dry, thick rosacea skin. Feluric acid soothes red, inflamed and painful skin and reduces itchiness.
► Capric Acid – Capric acid contains potent anti-bacterial, anti-viral and antimicrobial properties that destroy microbes and germs that aggravate rosacea.
► Caprylic Acid – Caprylic acid is a powerful antioxidant that premature fine lines and wrinkles. It is also great for nourishing and nurturing sensitive skin types such as skin affected by psoriasis, eczema and rosacea.
► Vitamin E – Though coconut oil is not particularly rich in vitamin E compared to other carrier oils like olive oil, it does contain quite a significant amount. Vitamin E is known as the 'skin vitamin' because of its high antioxidant content which wards of pro aging free radicals. It also soothes and calms painful inflamed skin.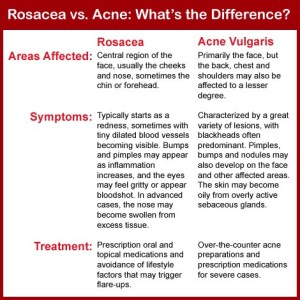 Using coconut oil for rosacea drastically reduces most of the symptoms like inflammation, pain, itchiness, redness, pus-filled bumps, dryness and sensitive skin! Here are some of the healing and soothing properties of coconut oil for rosacea:
Properties of Coconut Oil for Rosacea
→ Anti-Bacterial/ Anti-Fungal/Anti-Microbial – The medium chain fatty acids/triglycerides in coconut oil have strong anti-bacterial, antifungal and antimicrobial properties that protect the skin from microbes that cause and irritate rosacea.
→ Anti-Inflammatory – Coconut oil, is one of the best natural anti-inflammatory agents, which makes it an effective treatment for eczema, psoriasis, rosacea and other inflammatory skin conditions.
→ Anti-Oxidant – The powerful antioxidants in coconut oil including polyphenols help reduce inflammation, bolster the skin UV defense as well as prevent premature wrinkles.
→ Skin Soother – Applying coconut oil to inflamed and painful rosacea skin gives a cooling and soothing sensation that provides instant relief.
→ Moisturizer – Coconut oil has good moisturizing, hydrating and lubricating properties that help soften and seal moisture in dry, itchy and thickened skin affected with rosacea.
Where to Get Coconut Oil
Get  organic extra virgin coconut oil here.
DIY Rosacea Coconut Oil Treatment Recipes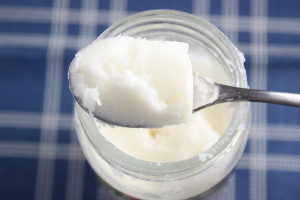 1. Direct Application
Use coconut oil in place of your moisturizer to soothe and cool rosacea. Simply scoop out a pea sized amount of coconut oil and massage this gently onto your face after cleansing. Reduce the amount if it makes your skin oily.
2. Coconut Face Wash
Have you heard of the oil cleansing method of washing your face? It involves using oil alone to cleanse your skin instead of the harsh sulfate-containing over the counter facial cleansers and soaps. To make your own coconut face wash, all you need to do is store a jar of extra virgin coconut oil in your bathroom cabinet. With clean and dry hands, scoop out a little and massage it on your face. Then dip a washcloth in tepid water, wring it out and gently dab on your face. Repeat the tepid washcloth dabbing if necessary. That's it! Your face will be fresh, clean and supple without the dry stinging feeling you get when you use conventional facial cleansers.
3. Luxurious Anti-Aging Coconut Oil Night Cream
In a small amber glass jar, place 2 ounces of extra virgin coconut oil and 3 drops of rose essential oil. Mix well with a spatula. Store in a clean dry place. Apply to your clean face before bed.
4. Whipped Face Cream for Painfully Dry & Inflamed Skin
Scoop out 2 tbsp of coconut oil into a wide bowl. Start whipping it with a hand mixer to make it creamy. After a minute, add 1 tbsp of pure aloe vera gel. Whip again until the ingredients are well incorporated and form a creamy white texture. Apply onto skin to instantly cool down painful rosacea.
5. Soothing Coconut Oil, Oatmeal and Honey Mask
Use this facial mask to instantly relieve inflamed and stinging skin! In a small bowl, mix well 2 tsps of oat flour, 1 tsp of coconut oil and 1 tsp of raw honey. Gently apply this onto your face. Leave it on for just 5 minutes then rinse off with tepid water.