Discover the top 7 natural oils that penetrate the hair shaft in this list!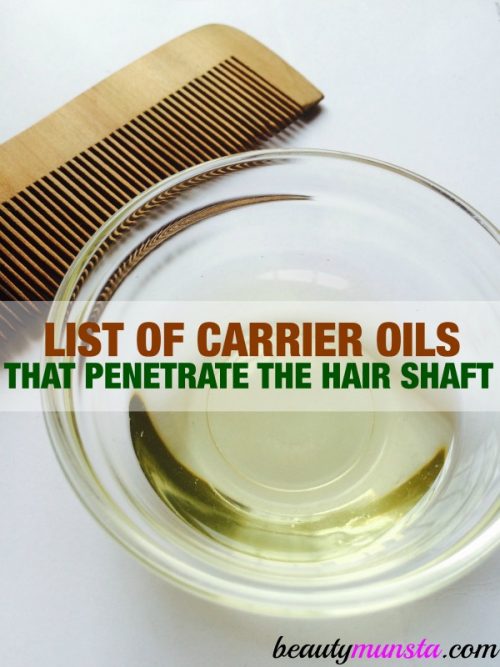 When looking for carrier oils or hair products good for hair health, promoting hair growth and preventing hair loss, you should most definitely check their hair penetrative ability.
Most conventional hair products contain mineral oil which is not only artificial in nature, thereby containing no nutrients to support hair health, but also has little to no hair penetration.
Of course mineral oil does have some benefit to it – it glosses up your hair if you want shiny locks but that's about it. It will only coat the hair without penetrating it.
Ensure to avoid hair products with mineral oil as best as you can, if you want naturally healthy hair.
Natural oils that penetrate the hair shaft have a high amount of fatty acids such as lauric, capric, oleic, linoleic, mystiric, palmitic & caprylic acids.
These medium chain fatty acids have a small molecular structure & size that enables them to easily penetrate into the scalp & hair, feeding them with vital nutrients needed for healthy hair.
Why You Should Use Oils that Penetrate the Hair Shaft

How do oils that penetrate the hair shaft help maintain & promote a healthy head of hair?
Well, when wash your hair, water molecules may penetrate and make the hair strand expand or swell up.
However, the outer layer of the hair strand, known as the cuticle cannot expand like the inside, so it ends up curling and bending outward, forming an uneven and scaly kind of texture, as opposed to being smooth and shiny.
If you apply oils that penetrate the hair shaft on your scalp and locks before washing, it prevents all this by making the proteins found in hair more hydrophobic, which means water repelling, hence water is not able to easily penetrate the hair and cause damage the outer cuticle when it swells up.
Healthy and strong hair is naturally hydrophobic, given that we already have natural oils being produced in our scalp, keeping our hair moisturized and glossy.
But due to pollution, chemical hair products, chlorinated water, weather changes, heat tools and a whole host of other factors affecting the world today, hair is often dry, dehydrated, coarse and looking limp & lifeless.
This kind of hair is normally very porous because the protective outer layer of the hair strands has been damaged and so, it takes up a lot of water in a very short amount of time, leading to extra frizzy & unhealthy looking hair.
Using oils that have high penetrative ability will not only protect the hair cuticles from damage but also nourish them with much-needed nutrients which some oils with low penetration, such as mineral oil, lack.
Let's now look at the top carrier oils that penetrate the hair shaft and how they work!
Note: Most oils including coconut, olive and avocado penetrate easier & faster when heat is applied so feel free to sit under a hooded dryer or put on a shower cap/plastic bag then wrap a warm towel on top to retain warmth and enable the oils penetrate deeper and nourish.
7 Natural Oils that Penetrate the Hair Shaft
1. Coconut Oil
Coconut oil is highly penetrative and immediately starts sinking into your scalp and hair once you apply it.
This oil is popular in Ayurveda and is the one that's been used by women from South East Asia for long luscious and thick locks of hair.
Their secret is oiling their hair with coconut oil before hair washing to prevent protein-loss! Coconut oil has the smallest molecular size, making it the best penetrative hair oil.
2. Olive Oil
After coconut oil comes olive oil – although it has a thick and heavy feel & consistency, it actually penetrates deep into the hair instead of just coating the hair strands.
If you do not have coconut oil, you can use olive oil.
I recommend olive over coconut if your hair is dry, damaged and coarse.
3. Ucuuba Butter
Technically not an oil but rather a butter, ucuuba butter is not widely known but has a high penetrative ability.
It is composed of about 75 % fatty acids/triglycerides that have a small molecular size to easily penetrate deep into the scalp & hair.
4. Avocado Oil
Also thick in consistency just like olive oil, avocado oil surprisingly has high penetration.
It is also rich in fatty acids such as oleic and linoleic and contains powerful antioxidants that are great for healing damaged hair from heat tools/UV rays.
5. Babassu Oil
Another rare ingredient in the world of beauty, babassu oil is extracted from the Babassu palm, native to Brazil.
It has been used by the locals since ancient times as a natural moisturizer for skin & hair.
It contains about 75% lipids that easily penetrate and nourish.
Babassu oil also repairs damaged hair, adds luster to dull hair and restores hair strength & elasticity while moisturizing, conditioning and nourishing the scalp and hair.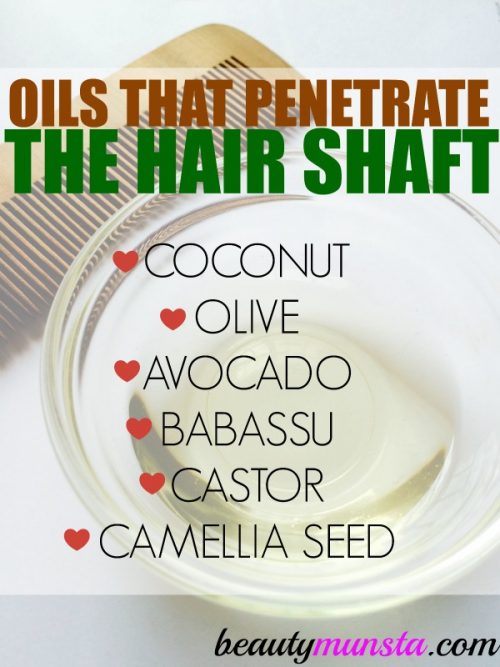 6. Camellia Seed Oil
Camellia seed oil is native to Asia and has been a beauty secret of the beautiful Geishas of Japan.
It is also known as tea oil or tea seed oil and has incredible hair penetrative ability as well as moisture retaining properties.
It contains high amounts of the anti-oxidant fatty acid, oleic acid, even more than olive oil itself!
7. Castor Oil
This thick and sticky oil is excellent for hair growth and repair.
Castor oil is rich in powerful antioxidants such as vitamin E & fatty acids such as omega 6 & 9 fatty acids that protect the outer layer of hair from environmental damage & pollution.
Its penetrative abilities help nourish & repair damaged hair as well as retain moisture.
Due to its sticky and heavy consistency, use only a little amount of castor oil combined with another oil having a light consistency such as grapeseed.
Other Natural Oils/Butters that Penetrate the Hair Shaft
Shea Butter
Argan Oil
Sweet Almond Oil
Hair Growth Goodies 
When & How to Use Oil on Your Hair
1. Pre-Shampoo
Oiling your hair before washing is one secret to preventing hair loss and promoting hair growth.
In fact, women in India have been doing this since ancient times and they do have beautiful long hair.
This works by preventing hair protein from getting washed off thereby making them more hydrophobic , a.k.a water-resistant.
2. Overnight Treatment
An overnight treatment is good for softening dry rough and coarse hair.
To do this, simply select a high penetration oil of your choice, get about 1-2 tbsp (any more might make your hair greasy which is very hard to rinse off) and massage it on your scalp and hair.
You can also combine oils and add any other ingredients such as herbs or essential oils for added benefits.
Next, cover your hair with a shower cap then place an old towel over your pillow to protect it from oil stains. In the morning, rinse your hair very thoroughly with warm/tepid water and a natural shampoo.
3. Hot Oil Massage
Damaged hair can gradually be returned to its original luscious state through regular hot oil treatments.
All you need to do is heat up some oil (about 2 tbsp) in a pan until hot enough to touch without burning your skin.
Do not let it boil by all means – this can not only destroy its nutrients but also burn your scalp!
Section your hair, scoop some oil using a spoon and apply on your scalp and hair.
Wash your hair thoroughly as usual after an hour or two.