Aloe vera and honey are two naturally cleansing ingredients for skin. They are also gentle and soothing. If you have sensitive skin, acne prone skin, eczema or rosacea, you can use this DIY aloe vera face wash with honey.
Since sensitive skin reacts when exposed to too many chemicals, using this 2-ingredient face wash will feel wonderful on your skin.
Ingredient Profile
Before we move onto the recipe, let's look at the benefits of each ingredient:
► Aloe vera gel – Aloe gel has been used for centuries to soothe skin. It has anti-inflammatory properties that reduce inflammation and redness on skin. It's also cleansing in nature and purifies pores. Aloe vera calms and cools down angry and inflamed acne.
► Raw honey – Raw honey is rich in antioxidants and medicinal compounds that nourish, soothe and heal skin. It helps lighten scars and blemishes. It also has antibacterial properties that fight germs and bacteria that cause acne. It soothes inflammatory conditions like eczema, psoriasis and rosacea. In place of raw honey, you can use manuka honey which offers more healing powers to problematic skin.
DIY Aloe Vera Face Wash with Honey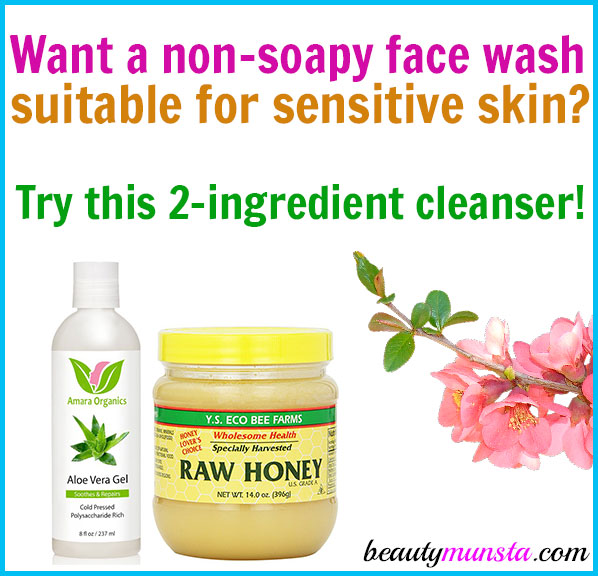 What you need
Directions
Into your 4 oz amber jar, add 2 oz of raw honey and 1 oz pure aloe vera gel.
Mix everything together with a spoon until combined.
Store in a cool dry place. Make sure not to get water into it or dip dirty fingers in the jar.
How to Use this DIY Aloe Vera Face Wash with Honey
Splash your face with warm water to open up your pores and rinse off excess oils.
Now using dry fingers, scoop a little and rub it all over your face.
Let it sit for a few seconds then rinse off with warm water.
Say hello to clean and fresh skin!
Use this just twice a day: in the morning and at night time.
Give this gentle DIY aloe vera face wash a go! It has so many benefits for your skin that you simply can't miss out on!