Find out 8 natural remedies for rosacea to calm your red irritated and burning skin at home!
Rosacea is an inflammatory skin condition characterized by inflamed, red and burning skin on the face. It mostly appears due to menopause, consumption of too much alcohol & spicy foods. Rosacea is aggravated by an increase in demodex mites which naturally inhabit our skin. When they multiply, they irritate the hair follicles where they reside, causing rosacea.
To soothe, cool and calm your rosacea, take a look at some natural remedies that are very effective! Below are 8 natural remedies for rosacea and how to use them!
8 Natural Remedies for Rosacea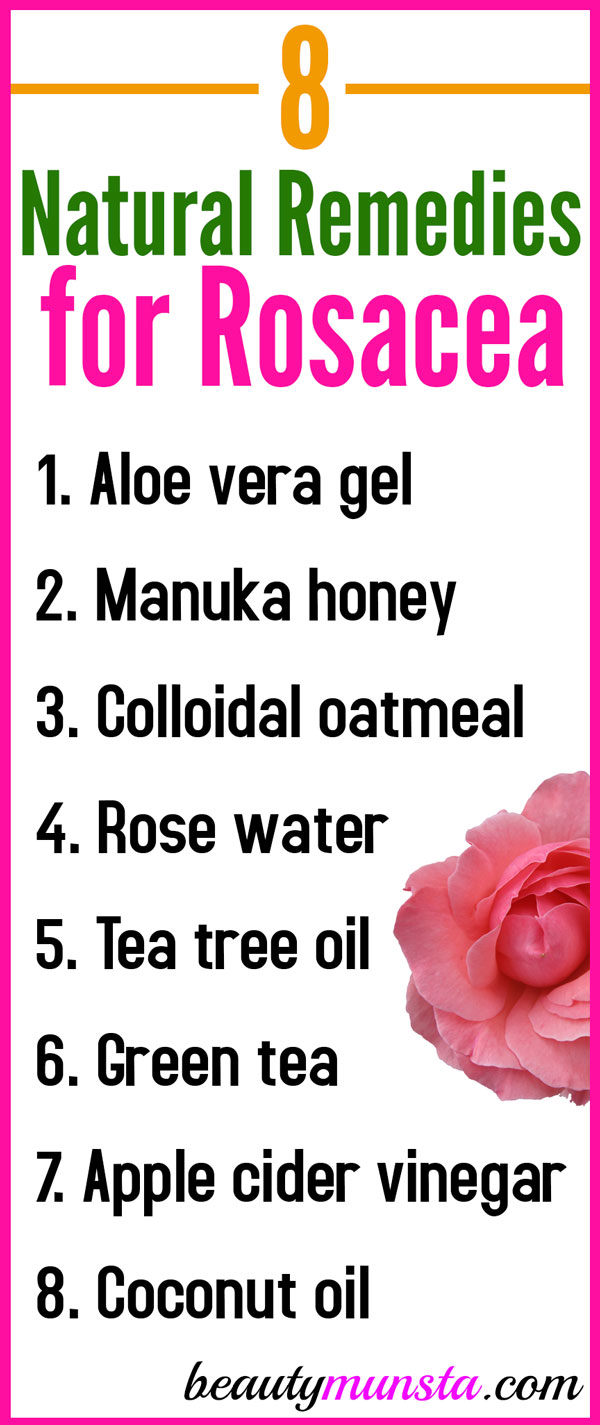 1. Aloe Vera Gel
What's the most soothing and cooling substance on earth? Aloe vera gel! It is a medicinal plant that provides a beautiful gel from its succulent leaves. It's one of the best remedies for rosacea because it gives a pleasant cooling effect when applied on skin. It also has anti-inflammatory properties to reduce inflammation and redness.
How to Use: Apply 1 tsp of aloe vera gel on your damp face after cleansing.
2. Manuka Honey
The most unique honey in the world with very powerful medicinal properties, manuka honey is super healing! It is very good for reducing rosacea inflammation and redness.
How to Use: Apply 1 tsp of manuka honey all over your skin. Leave it on for 5 minutes then rinse off with cold water.
3. Colloidal Oatmeal
Oatmeal is a skin soother and it is good for calming many skin irritations including eczema, psoriasis and rosacea as well! Colloidal oatmeal is finely ground oatmeal. When mixed with water and applied to skin, it provides a calming effect.
How to Use: In a small bowl, add 1 tbsp colloidal oatmeal then stir in enough water to create a paste. Now gently apply this paste on your face and rinse off after 5 minutes.
4. Rose Water
Rose water is a floral water that smells of fresh cut roses. It is incredibly soothing and cooling when applied on skin. It also helps reduce inflammation and redness so it's helpful for rosacea.
How to Use: Fill up a 4 oz spray bottle with organic pure rose water and mist it on your face whenever it feels hot and bothered.
5. Tea Tree Oil
Tea tree is good for killing off excess demodex mites that are aggravating rosacea. It's also helpful for treating pus-filled rosacea bumps. Remember to dilute tea tree essential oil before use. Use the rule of thumb that for every tsp of base ingredient, add just 1 drop of tea tree oil. So if you're using aloe vera gel as the base ingredient, get 1 tsp of it and mix just 1 drop of tea tree oil into it.
How to Use: In a container, add 2 tbsp of aloe vera gel. Next add 6 drops of tea tree essential oil. Stir well to form a creamy mixture. Apply a pea-sized amount on damp skin to moisturize.
6. Green Tea
Green tea helps treat rosacea both internally and externally. It is rich in antioxidants that protect skin against UV damage and free radicals. It helps cool rosacea skin.
How to Use: Make a cup of green tea. After steeping, remove the tea bags and place them in the refrigerator to cool for 7 minutes. Sip up your tea then apply the cooled tea bags on your face for 2 minutes for cooling relief. You can also check out my Green Tea Face Moisturizer Recipe that is water-based.
7. Apple Cider Vinegar
Rich in probiotics, apple cider vinegar is another natural remedy helpful for rosacea. It contains good bacteria that fight off bad bacteria on the skin. It also has anti-inflammatory properties that reduce rosacea inflammation.
How to Use: In a spray bottle, add 1 tsp ACV and ½ cup distilled water. Spray on your face after cleansing.
8. Coconut Oil
Coconut oil is said to help fight the demodex mites with its strong antibacterial properties. It also gently soothes and moisturizes rosacea without irritating it. You can read more about using coconut oil for rosacea here: Coconut Oil Treatment for Rosacea beautymunsta.com/rosacea-coconut-oil-treatment-to-soothe-and-heal/
Which of these natural remedies for rosacea are you interested in using? Share below!