A DIY acne gel is just the thing you need to cool down angry red acne!
Benefits of Aloe Vera Gel for Skin
Aloe vera gel is one of the best ingredients to soothe irritated skin. It has actually been used since ancient times for skin care! Let's check out some of the benefits of aloe vera gel for skin:
Cools down sunburn
Reduces inflammation and redness
Promotes speedy healing of skin
Has antibacterial properties
Naturally tones skin
Firms sagging skin
Promotes youthful skin
Tightens large pores
For more beauty benefits, please see: 10 Beauty Benefits of Aloe Vera Gel
Ingredients Used & Their Benefits
Aloe Vera Gel – This natural gel is perfect for acne prone skin! It has powerful anti-inflammatory properties that help reduce acne inflammation. It also gives skin a cooling and soothing sensation which helps cool down angry red acne. Aloe vera gel is also good for reducing excess skin oiliness that promotes breakouts.
Tea Tree Essential Oil – Tea tree is a popular remedy for acne and pimples. What makes it so good for acne is that it has powerful disinfectant properties that fight off acne causing bacteria. Tea tree also has astringent properties that tighten large pores and reduce excess oils on skin.
Lavender Essential Oil – Lavender is most known for its skin soothing properties. It's good for reducing acne inflammation and also fading away acne scars.
Clary Sage Essential Oil – Clary sage works wonders in healing hormonal acne. It also balances skin sebum and promotes clear skin. In place of clary sage essential oil, you can use geranium essential oil which has the same properties and has a beautiful floral scent!
DIY Acne Gel
Are you ready for the amazingly easy recipe for this DIY Acne Gel?!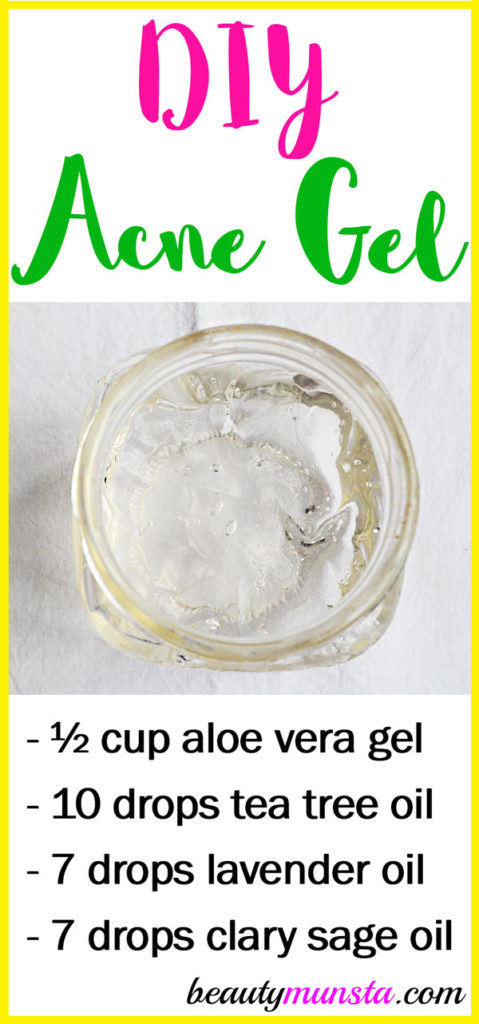 What you need:
½ cup aloe vera gel
10 drops tea tree essential oil
7 drops lavender essential oil
7 drops clary sage essential oil
4 oz amber glass jar for storage
Small bowl and whisk
Directions:
In a medium-sized bowl, add ½ cup aloe vera gel.
Now carefully add 10 drops of tea tree essential oil, 7 drops lavender essential oil and 7 drops clary sage essential oil.
Whisk the contents of the bowl to evenly distribute the essential oils into the aloe gel.
Now using a spatula, transfer your DIY Acne Gel into an amber glass jar. Please use an amber or cobalt blue container for storage because light can make your gel spoil faster. Plus glass containers are best for storing essential oil products.
Store in a cool dry place.
To use, get a dime-sized amount on your clean palm and apply on your freshly washed damp face.
Let it dry then apply this DIY Face Serum for Acne, Scars and Dark Spots as a nourishing serum and moisturizer!

This DIY acne gel feels amazing on acne prone skin. Please try it out and let me know how it goes!