Whip up your own 2-ingredient DIY peel off face mask in less than 2 minutes ;)!
Peel-off masks are magical! Have you ever used a store-bought one? If you have, then you know what I mean! They leave you so satisified after you've de-gunked you pores and have fresh, smooth and squeaky clean skin!
For this DIY peel-off face mask, we're using just 2 ingredients. Yup, no need for store-bought peel-offs that contain a slew of unpronounceable chemical junk. You can simply use two ingredients that you probably have sitting on your kitchen cabinets right now!
The two ingredients are unflavored gelatin powder and plain ol' milk!
DIY Peel-Off Face Mask with Only 2 Ingredients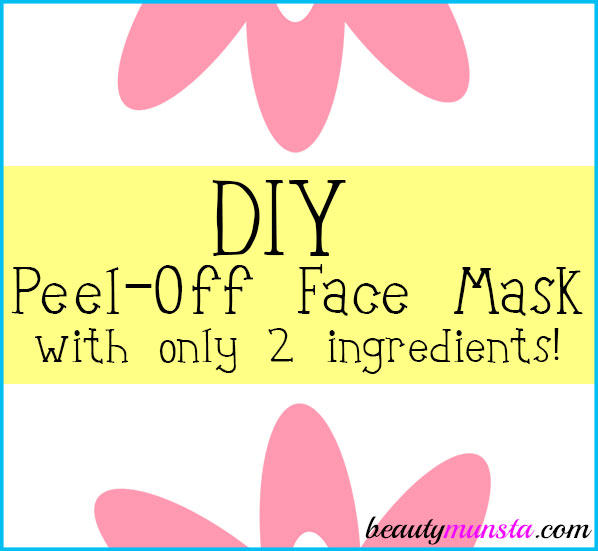 What you need
1 tbsp unflavored gelatin (where to get it)
1 – 2 tbsp milk
Shot glass, bowl of hot water & spoon
Directions
Add 1 tbsp of unflavored gelatin and 1-2 tbsp of milk in a shot glass. Stir well until the gelatin powder has dissolved.
Now put the shot glass in a bowl of hot water to heat up and become gelatinous. If you use a microwave, you can heat it there for 8 seconds.
Now let it cool off until warm then immediately slather a thick even coat on your face. PLEASE AVOID your eyebrows and other hairs you don't want peeled off with the mask! Just completely avoid the area around your eyes and your mouth.
After the peel-off mask has dried off, it's time for the fun part! Peeling! Start at one edge of the dried mask and start peeling off the entire mask.
When the mask is peeled off, you can wash off the parts that haven't come off (like the thin edges of the mask) with hot water. Or use a warm wet washcloth.
Pat your face dry, smile and touch your soft smooth face, do a happy dance, then moisturize your face with a li'l shea butter.
That's it! Wasn't it simple?! But it's mighty useful for removing blackheads, impurities and peach fuzz.
Moisturize your face. You can use pure shea butter or check out my DIY Vegetable Glycerin Face Moisturizer
You can use this DIY peel-off mask every week. Use this mask and come share your results beauties! xoxo