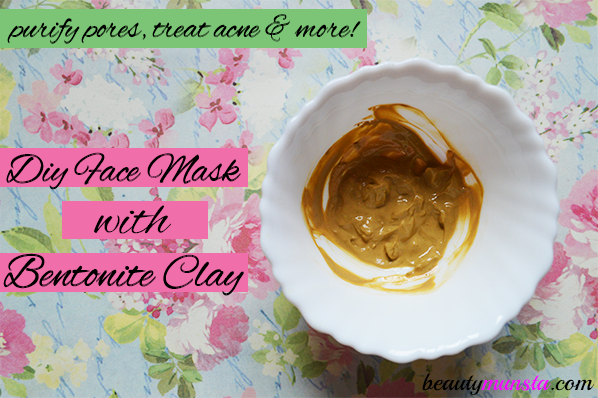 I have acne prone skin and whenever it starts acting up with breakouts, clogged pores, itchiness and oiliness, I like to mix up this simple DIY bentonite clay face mask! It is so refreshing, clears up clogged pores and removes excess oils on the skin.
What makes bentonite clay so special? Well, it is a very unique clay that has the ability to produce an electric charge when water is added to it. Its electric components change when water is added, making it able to suck out impurities, toxins and heavy metals from the body! It carries a strong negative charge which bonds to the positive charge found in most toxins. Bentonite clay also fills skin cells with oxygen while absorbing excess hydrogen in them. This makes skin healthy and youthful!
Bentonite clay also removes oiliness from skin which is very beneficial for those with oily and acne prone skin!
What Each Ingredient Does
The rest of the ingredients we're going to use are apple cider vinegar, water and tea tree oil.
Apple cider vinegar is amazing when it comes to removing gunk from clogged pores. It also tightens and tones skin and removes excess oils.
Tea tree oil is a powerful disinfectant which fights off acne-causing bacteria. It also gives this DIY bentonite clay face mask a refreshing and soothing feel!
I've added a tsp of water to dilute the apple cider vinegar. If you don't add water, your face will probably turn red because apple cider vinegar is very potent. So please make sure to add water.
DIY Bentonite Clay Face Mask for Acne & More
This bentonite clay face mask of mine contains just 4 ingredients! And it takes literally a few seconds to mix up and apply. Here's what you're going to need:
What you need
*Do not let the bentonite clay get into contact with a metal bowl or spoon as this will reduce its potency.
Directions
Dump the bentonite clay into a small bowl. Now add the organic apple cider vinegar and water to create a smooth silky paste.
Next place just one drop of tea tree oil to the paste and stir again.
Apply on your clean face using your fingers or face mask brush.
Let it sit for 5 minutes then rinse off well with warm water first, then cold water.
Please try out this DIY bentonite clay face mask and come share your fantastic results!