Do you know how amazing rhassoul clay is for your skin? Try this DIY rhassoul clay face mask and be astounded with the results!
Rhassoul clay originates from Morocco. It's actually been mined since the 8th century and used specifically for its beauty benefits. Moroccan women would mix this beautiful reddish clay with water, argan oil, rose water and other ingredients then use it as a face wash, shampoo or face mask. The results are soft, smooth, clear and fresh looking skin!
Like all clays, rhassoul clay deeply cleanses the skin. It sinks deep into the pores and pushes out all kinds of gunk and impurities. It also helps remove toxins and heavy metals from the skin! Rhassoul clay is also exfoliating since it has a mild abrasive texture. This helps clear off dead cells on the skin's surface, leaving your skin baby-soft!
Read more: 10 Beauty Benefits of Rhassoul Clay for Skin & Hair
DIY Rhassoul Clay Face Mask for Soft, Smooth Skin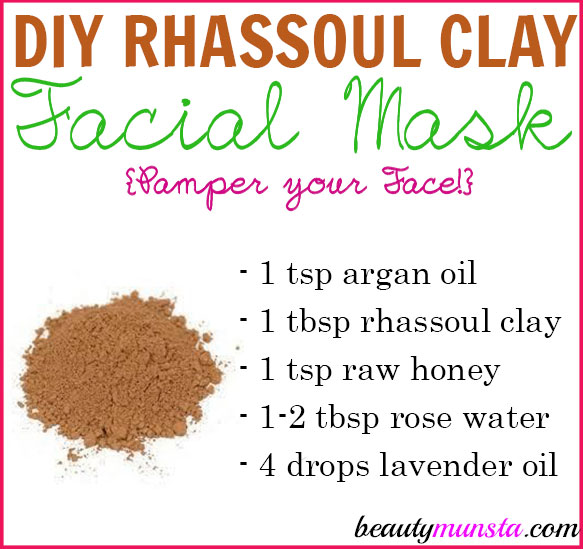 What you need
Directions
Dump a tbsp of rhassoul clay into your bowl.
Add the argan oil, raw honey and lavender essential oil.
Now add enough rose water to your mixture to form a smooth and semi-thick paste. Your paste should not be drippy.
Your DIY rhassoul clay face mask is ready!
To use, take it to the bathroom sink with you and scoop up some from the bowl using clean fingers. Gently apply it all over your face in a thick coat. Avoid the area around your eyes and mouth.
After application, wait for 5 minutes for the mask to do its magic, then rinse off with tepid water.
Pat your face dry, tone and moisturize. I use a pea-sized amount of my Shea Butter Frankincense Tea Tree Cream. It's basically a mix of 4 tbsp of shea butter, 12 drops tea tree oil and 12 drops frankincense essential oil.
Go ahead and use this DIY rhassoul clay face mask 2-3 times a week for soft and smooth skin! xoxo