Check out these 3 turmeric face mask recipes for acne to soothe and heal your skin!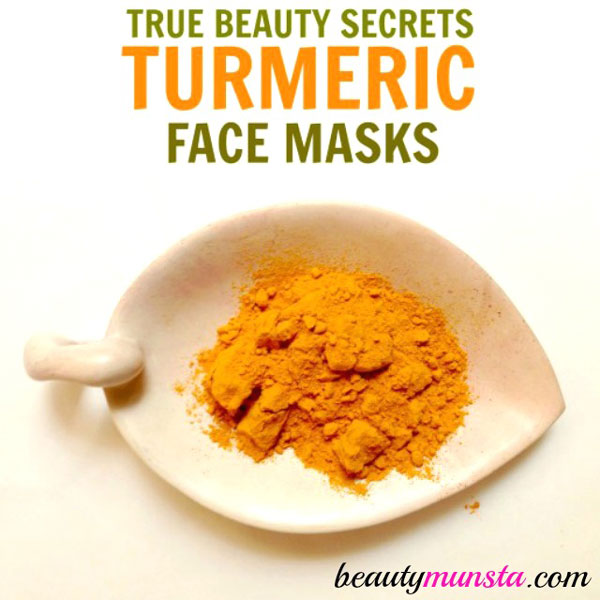 Have you discovered turmeric yet?!
We usually use turmeric for spicing up homemade curries but you probably didn't know turmeric is also used as a skin beautifying face mask ingredient! This Eastern spice contains antiseptic and anti-inflammatory properties that are great in fighting acne bacteria and soothing acne inflammation.
Turmeric powder is popularly used in the Indian sub continent to promote glowing skin. Interesting fact : Brides usually have a before-marriage ceremony where their skin is slathered with turmeric and gram flour in paste form, to obtain a natural glow!
What makes turmeric so good for skin?
1. TURMERIC FACE MASK WITH COCONUT OIL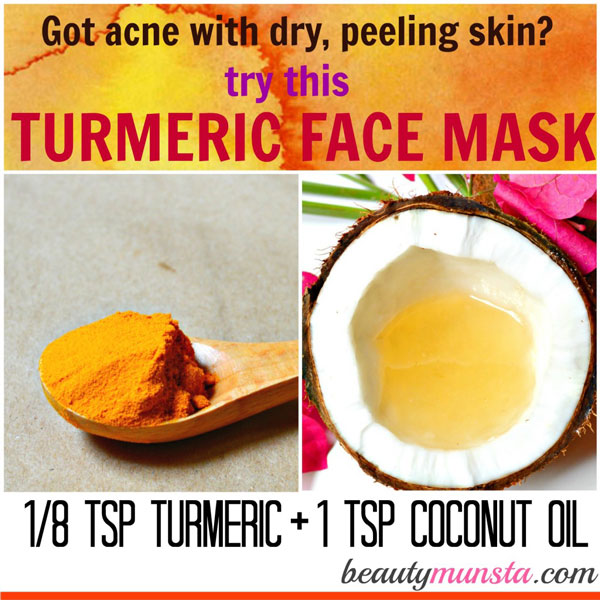 This turmeric coconut oil face mask provides ultra-moisturizing benefits for skin, especially dry skin. Turmeric has anti-inflammatory properties that will soothe inflammation on dry skin.
Coconut oil contains healthy fatty acids that will lubricate skin cells, keeping skin soft smooth and supple.
Ingredients
Directions
In a small bowl, combine the above ingredients thoroughly. Using clean fingers, apply the mixture onto your clean face. Wait for 10 minutes. Rinse off with warm water and pat dry with a clean tissue.
2. TURMERIC FACE MASK FOR ACNE: HONEY & LEMON COMBO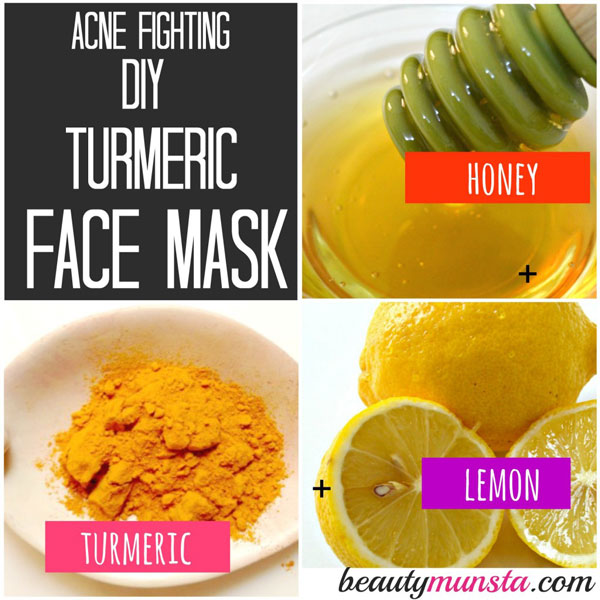 This turmeric face mask contains two other ingredients – honey and lemon which are both super effective against acne.
The antiseptic and antibacterial properties in honey prevents more acne breakouts by fighting off acne causing bacteria and germs.
Honey is a natural humectant and emollient. It soothes itchy and painful acne.
Lemon is also effective against acne germs since it contains antiseptic properties too. Lemon juice, diluted, provides instant relief for itchy acne.
Ingredients
Directions
Mix the above ingredients thoroughly in a small bowl. Apply the mixture onto your clean face. Leave the face mask on for 10 minutes or until it dries up. Rinse with cold water. Pat dry.
3. TURMERIC & YOGURT FACE MASK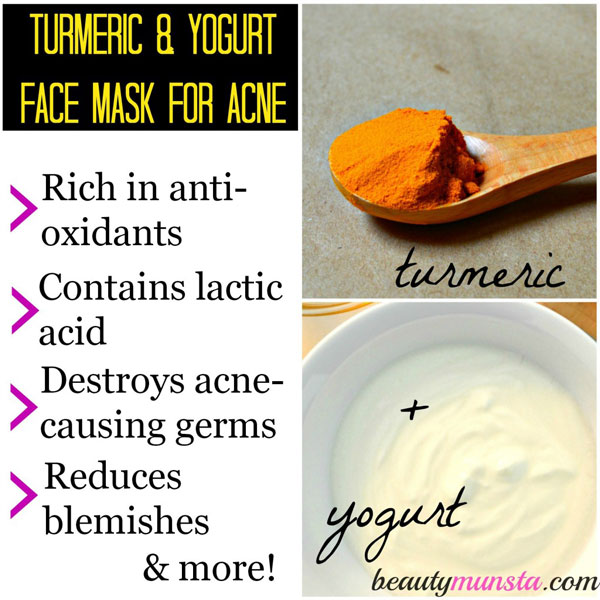 The turmeric and yogurt face mask is a common mask in the East for skin brightening.
Yogurt is incredibly anti-microbial as it contains probiotic enzymes that destroy acne causing bacteria. The lactic acid in yogurt also dissolves dead cells which clog pores, contributing to acne. Added bonus : Lactic acid visibly fades your acne scars!
Ingredients
Directions
Start with a clean face as usual. Combine the ingredients thoroughly. Apply it onto your face. Let it sink deep into your skin pores for 10 minutes. When the time is up, rinse off with warm water first, to loosen the mask, then with tepid water. Pat dry.
Tips – How to avoid a Yellow Stains with Turmeric
Wear an old T-shirt so that you don't stain your clothes yellow.
Use an applicator / face brush so that your finger nails can be free of yellow stains. If you do not have a face brush, use lemon juice and a nail brush to scrub off the stains.
Your face won't be stained yellow because we're only using a pinch of turmeric. Also, we're using ingredients like coconut oil, honey, lemon and yogurt which will protect your skin from staining. In any case, to remove yellowness, use a brown sugar and olive oil face scrub. It will be gone in a jiffy!