This is a delicious and easy recipe for healthy homemade ketchup  fresh tomatoes and no sugar!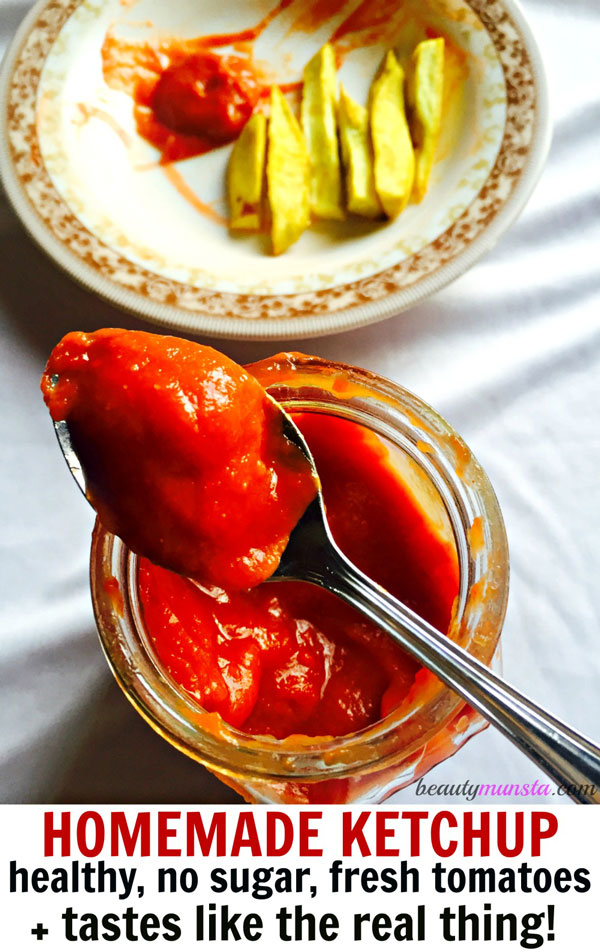 We used to spend a lot on store-bought ketchup at our place, buying bottles and bottles which get done in just a month – it was crazy! So my mom decided she'd had enough and started making her own which has turned out really delicious and super healthy with not a tsp of sugar! We buy fresh tomatoes all the time which is cheaper than the canned tomato pastes so we're using fresh tomatoes in this recipe! Tomatoes are so yum! I used to eat them like apples when I was a kid with a dash of salt.
You've got to try that when you're craving a salty snack one day 😉 Okay, onto my mother's healthy homemade ketchup recipe with fresh tomatoes and no sugar!
Recipe: Homemade Ketchup using Fresh Tomatoes & No Sugar
Ready in: An hour and 10 minutes
You'll see that instead of sugar, we're using raisins. You should use brown raisins which will give your ketchup a deep red color, just like that of store-bought ketchup plus it won't be overly sweet compared to if you use the golden raisins. But anywho, both will give you lip-smackin' goodness!
Ingredients
2 pounds fresh tomatoes, diced
7 garlic cloves, peeled and diced
1 and ½ inch ginger, peeled and diced
½ a red chilli, diced after removing all seeds
¼ cup raisins
¼ tbsp salt
¼ cup apple cider vinegar
Directions
Add all the ingredients above to a steel pot.
Place the pot over medium-high heat and let the ingredients cook until they are soft and kind of mashed up for about 20-25 minutes. Stir occasionally with a wooden stick.
When mashed up, turn off the stove and let the ingredients cool down completely.
Now put all the ingredients into a high-speed blender and blend till you get a smooth puree.
Rinse the pot then filter the puree with a strainer into the pot.
Cook the puree over medium heat.
When it comes to a boil, reduce the heat to the lowest setting and simmer for about 45 minutes as the puree thickens up and slowly turns into a consistency that's just like the ketchup you buy!
When it gets to your preferred consistency, turn off the heat and voila! Your very own homemade ketchup with fresh tomatoes and no sugar is ready!
It tastes really really good especially with the flavorful garlic and subtle chilli taste!
Enjoy like we did with some homemade sweet potato chips as you can see in the picture above! Mmhhmm!
Notes
► This homemade ketchup fits into a regular Nutella jar which is about 375 g.
► Store it in the refrigerator where it's going to last long about a month though it usually gets done in a week at our place!
Would you try making this healthy homemade ketchup? Share your thoughts below!