Let's discover 13 fantastic beauty benefits of turmeric for skin, hair & more in this post!
Turmeric is a golden spice that originates from the East. The turmeric root is dried, cured and powdered to create ground turmeric.
Though we only use it for spicing up our curries, it has long been used in the Indian sub continent to beautify skin. Ancient Chinese also valued turmeric for its medicinal properties including antiseptic, anti-inflammatory, antioxidant, anti-aging and blood purifying properties. Bring a sunny glow to your face by using a pinch of turmeric as a face mask ingredient.
Check out these 13 beauty benefits of turmeric for skin, hair and teeth!
12 Beauty Benefits of Turmeric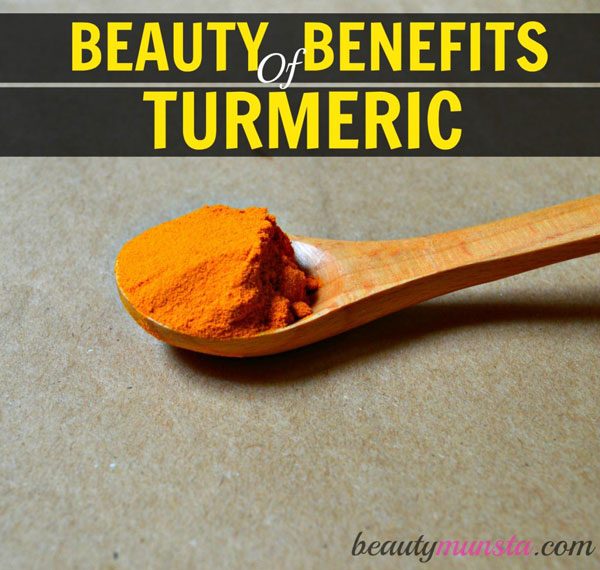 1. Facial Glow
Turmeric contains curcumin, which is a powerful antioxidant that gives turmeric its yellow coloring. It has skin brightening properties that will improve your skin complexion and rejuvenate dull looking skin.
Check out my Glowing Skin Secrets: DIY Turmeric and Honey Face Mask to get that natural skin glow!
2. Lightens Skin & Dark Spots
For skin lightening, turmeric is a popular face mask ingredient in the East. Curcumin in turmeric has a skin lightening effect that will lighten your skin tone, remove any dark marks and even out pigmentation and skin discolorations.
Skin Lightening Mask: Make a small paste of a pinch of turmeric, 1/2 raw honey and 1 teaspoon yogurt. Slather this onto your face and rinse off after 10 minutes.
3. Fights Skin Inflammation
The anti-inflammatory properties of curcumin, found in turmeric soothe skin inflammatory conditions, including inflamed acne, rosacea and eczema.
Skin Soother: Make a paste of 1/2 teaspoon turmeric and 1/2 cup thick yogurt and apply it to inflamed skin. Wash off after 15 minutes.
4. Gets Rid of Oily Skin
A turmeric, water and lemon juice paste effectively gets rid of excess oils on the surface of the skin. Turmeric also drives out all the excess sebum from deep inside the skin pores. It also helps regulate sebum production and secretion by the skin's sebaceous glands.
5. Inhibits Facial & Body Hair Growth
Turmeric really works when it comes to reducing facial hair growth. It inhibits facial hair growth, encouraging it to fall off naturally. Women from India use turmeric popularly as a natural ingredient to get rid of hair.
Hair Inhibitor: Make a paste of turmeric, milk and gram flour in a ratio of 1:2:3. In the shower, smear a thin coat all over the areas you want to inhibit hair growth like the face, arms and legs. Leave it on until it dries up. Make this a regular part of a beauty routine (after you shave/wax) to inhibit hair growth! Soon you may reach the stage where you won't have to shave as much because they'll be little to no hair!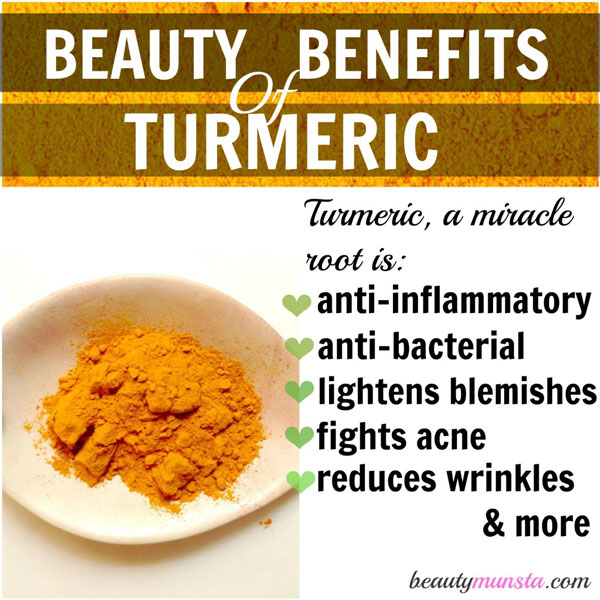 6. Wrinkle Reducer
Turmeric contains anti-aging agents such as curcumin which protect the deeper layers of the skin from premature aging. It prevents oxidative damage to lipids and steers away free radicals from skin cells. Curcumin also guards the skin against age-related pigmentation. Drink a cup of hot/ chilled turmeric milk everyday to get the amazing anti aging skin benefits of turmeric.
Golden Milk: Make golden milk by combining a 1/2 tsp turmeric powder & a pinch of ground black pepper to 1 cup of warm whole milk or coconut milk. Ground black pepper increases the bio availability of turmeric by miles!
7. Acne Treatment
Use turmeric to treat and prevent acne. It's got antiseptic properties that can work against acne causing germs and bacteria. The powerful anti-inflammatory properties of turmeric heals acne inflammation, thereby making acne appear less visible.
8. Tan Reducer
Reduce the appearance of tans gone wrong with turmeric. It has skin brightening properties that leave you with a beautiful golden color instead! Mix 1 teaspoon of turmeric with 1 tablespoon fresh lemon juice and 1/4 cup of cucumber juice. Apply this onto your face tan using a cotton pad. Wait for 15 minutes. When the time is up, rinse off with tepid water. Make a bigger batch for your whole body if the results of the face mask look good enough!
9. Exfoliates Skin
The mild abrasive texture of turmeric powder acts as a great skin exfoliator. Combines with olive oil, you can use turmeric to scrounge off excess dead cells, sebum, grime and dirt from your skin. Mix a pinch of turmeric together with 1 teaspoon olive oil. Use this to scrub your skin before rinsing off with cold water. Pat dry and enjoy your smooth skin!
10. Fades Acne Scars & Blemishes
Curcumin found in turmeric fades blemishes by speeding up the healing process of wounds, including popped pimple wounds and scars. Turmeric is also rich in vitamin C which boosts collagen deposition, encouraging the speed at which scars fade away. The powerful antioxidants in turmeric fasten the healing of wounds and enhance the healing of mild and severe wounds by improving the fibroblast and vascular density in wounds.
Dab a little turmeric mixed with rose water onto your blemishes and acne scars using a Q-tip to effectively reduce their appearance.
11. Whitens Teeth
Teeth whitening with turmeric is not a hoax/myth. I've tried and tested this out myself! Most dentists advise against eating foods with turmeric as they say it's one of the contributors to yellow teeth. But in fact, turmeric reverses yellow teeth stains and whiten your teeth. Though turmeric stains almost everything it touches, it will not stain your teeth but in fact helps whiten it! Warning: it will stain your toothbrush bristles though!
Teeth Whitener: Mix a pinch of turmeric and 1/4 tsp baking soda with 1 teaspoon coconut oil in a small dish. Dip your toothbrush in this paste and brush your teeth. After 2 minutes, rinse your mouth thoroughly. Continue this practice twice a week consistently for 1-2 months to see blinding pearly whites!
12. Controls Dandruff
An itchy scalp coupled with dandruff can effectively be treated with turmeric. Itchy dandruff is said to be caused by fungi. The anti-fungal and antiseptic properties of turmeric will help fight off dandruff and also scalp fungal infections. Apply a mixture of turmeric and olive oil onto every area of your scalp. Leave it on for 15-20 minutes, then shampoo as usual. Use a natural sulfate-free shampoo.
13. Treats Psoriasis

Soothe psoriasis inflammation, take away pain and promote speedy healing using a turmeric paste for psoriasis. Here's my take on How to Make a Turmeric Paste for Psoriasis. It is very effective so please try it out! You can read more benefits of Turmeric for Psoriasis | A Natural Breakthrough for Healing to get to know how healing this powerful spice is!
Where to Buy Turmeric

You can find turmeric (the ground version) in Indian grocery stores or in the Spices & Seasonings section at Whole Foods. But you can also order it online! I like buying organic turmeric powder. You can get a 2 oz jar of organic turmeric powder from Simply Organics. This can be used externally and internally! A little goes a long way so do not use it in large amounts. You only need 1/8 tsp or 1/4 tsp of it in face masks. For consumption, a 1/2 tsp in a cup of whole milk is sufficient. You totally do not need to drink tablespoons of it to get maximum benefits.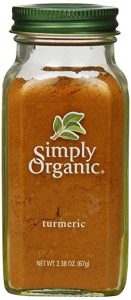 If you want a larger amount of it, you can buy a one pound jar of USDA organic turmeric from Jiva Organics. This can be used to make yourself some turmeric capsules at home for internal consumption!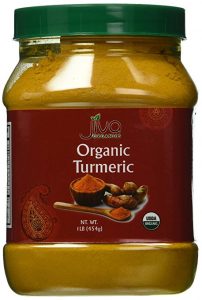 Take Care
Please use only a tiny amount mixed with other ingredients for skin application as it can stain. Also, use a face mask/applicator brush to avoid turning your fingernails yellow. Or, simply wear gloves. If you do stain your fingernails, don't worry! Use lemon juice and a nail brush to scrub the stains and they will go!