Hyperpigmentation is a common skin condition that occurs as a result of excess melanin production in the skin. When you have hyperpigmentation, some parts of your body, especially face are darker than the rest of your skin. For example, the skin around your eyes maybe darker than the surrounding skin. Or the skin around your mouth may be darker than the rest of your face.
The main causes of hyperpigmentation and excess melanin production include prolonged exposure to strong sunlight, inflammation and acne.
Conventional treatments for hyperpigmentation are expensive and sometimes may not even give desired results! This makes it not so worth it considering all the money you have to pay.
Fortunately, there is a natural ingredient that is cheap and works effectively to get rid of hyperpigmentation! It's called turmeric powder and it is a popular spice used in the Indian subcontinent.
In Ayurveda, a 5000 year old holistic science, turmeric powder has been used to treat inflammation, skin diseases and wounds. It also has a skin lightening and brightening effect which is immensely useful when it comes to lightening the dark patches or discolored skin caused by hyperpigmentation.
Try this DIY hyerpigmentation face mask every other day or at least thrice a week to see results!
DIY Hyperpigmentation Face Mask
Note: If you have pale skin, reduce the amount of turmeric powder to 1/8 tsp because it can stain really light skin yellow. The reason I included a pair of gloves/plastic bag in the 'What you need' part is because you don't want turmeric to stain your nails yellow! You can also simply use a face mask applicator brush instead so you don't have to touch the mask.
DIY Hyperpigmentation Face Mask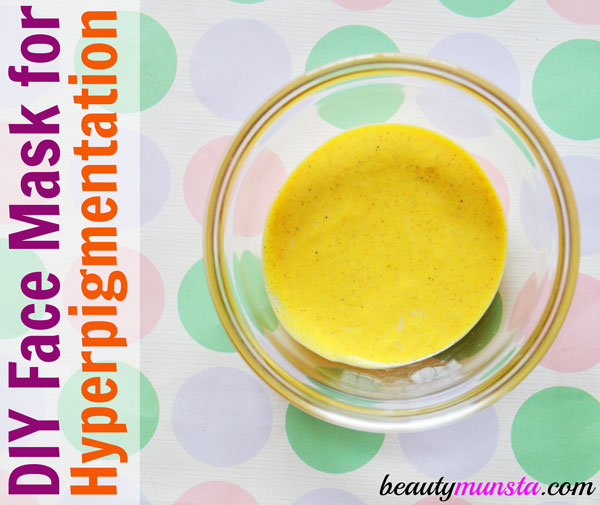 What you need
Directions
Dump the gram flour or oat flour into the bowl, followed by the turmeric powder, cinnamon powder and sesame oil.
Now add just enough yogurt and mix up the ingredients so that you can form a silky paste.
Put on a glove or shove your hand inside a plastic bag to act as a disposable glove. Or, skip this step if you're using a face mask applicator brush.
Scoop up the mixture and start applying it thickly on your clean face. Also apply on your neck.
Leave it to dry up. This may take 5-10 minutes.
When the time is up, gently remove your DIY hyperpigmentation mask, using warm water to loosen it up. You can also use a warm and damp washcloth to help you better. Or, better yet, apply the mask before a shower for easy removal.
Splash cold water on your face when the entire mask is off to close off your skin pores.
Pat dry with a towel then moisturize your face. You can use this skin lightening serum as moisturizer: DIY Skin Lightening Serum
Take Care
If you suspect your hyperpigmentation is caused by an underlying health issue, please consult your doctor.
Allergic reactions to this mask are rare. However, to be safe, use a patch test by applying a little of this mask on your inner elbow to verify that you aren't allergic to any of the ingredients. In case you notice allergic reactions, do not use this mask.
Use this DIY hyperpigmentation mask religiously every other day and I promise you'll see results!