Hyperpigmentation is a common skin problem that affects many people. And it's really expensive to treat at the dermatologist's. But more and more people are using home remedies to soften hyperpigmentation. It's unbelievable but simple ingredients like brown sugar and raw honey can make all the difference in the world!
Another natural ingredient that is popular for hyperpigmentation is licorice. Yup, that substance used to make those yummy licorice treats like candy cane. It's actually an herb called licorice root from which licorice powder is extracted.
In Ayurveda, a 5000 year old holistic science originating from India, licorice root has long been used as a skin lightening herb. It's said to be good for reducing hyperpigmentation by evening out the dark patches. It even lightens and brightens your skin tone!
In today's post I'm going to show you how to make a DIY serum for hyperpigmentation using licorice root! It's very simple and tons good for your skin! We're going to be using licorice root, which you can easily buy online.
DIY Serum for Hyperpigmentation using Licorice Root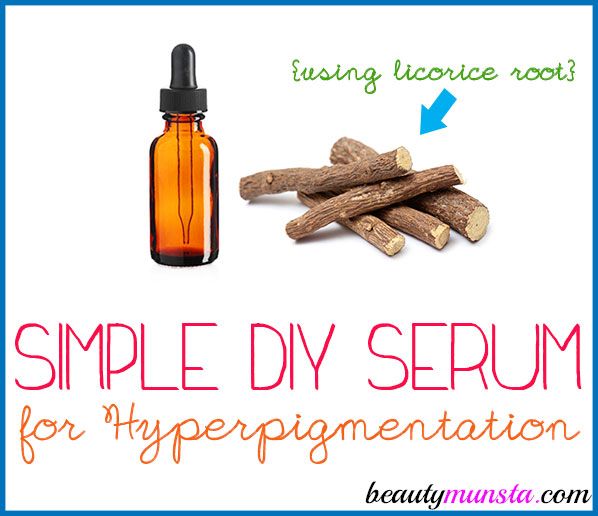 What you need
Directions
Bring ½ cup of water to a boil.
When it starts boiling, turn off the heat and drop in the licorice sticks.
Let them steep for 15 minutes.
Once the water has cooled down completely, strain it and store in a 4 oz amber glass dropper bottle.
To use, place a few drops on your palm, rub both palms together and dab them on your face.
Let it dry up then apply moisturizer.
What do you think? Are you ready to try out this simple DIY serum for hyperpigmentation?