Did you know you can use turmeric for skin whitening, lightening & a golden glow on your face?! Try it now!
For ages in the Indian subcontinent, turmeric has been used as the number one skin whitening and lightening natural remedy. It has a natural yellow pigment that helps bring out a beautiful golden glow to the skin – especially if you have an olive to brown skin tone.
Turmeric also helps fade away blemishes, acne scars, dark spots and other skin discolorations! It has powerful anti-inflammatory properties that reduce skin inflammation and redness associated with blemishes!
Also, those with hyperpigmentation can successfully use turmeric to even out their discolorations!
So what are you waiting for? Get your hands on a jar of turmeric for skin whitening now! Below is a recipe you can use every single day to improve your skin tone. We're going to be using other natural skin bleaching ingredients: yogurt, rice flour and lemon juice.
Recipe: How to Use Turmeric for Skin Whitening
If you have pale skin, don't use a lot of turmeric as it can stain it yellow! Start with a pinch then work your way up to ½ tsp. Don't use more than that or you'll end up looking like the Simpsons >_<!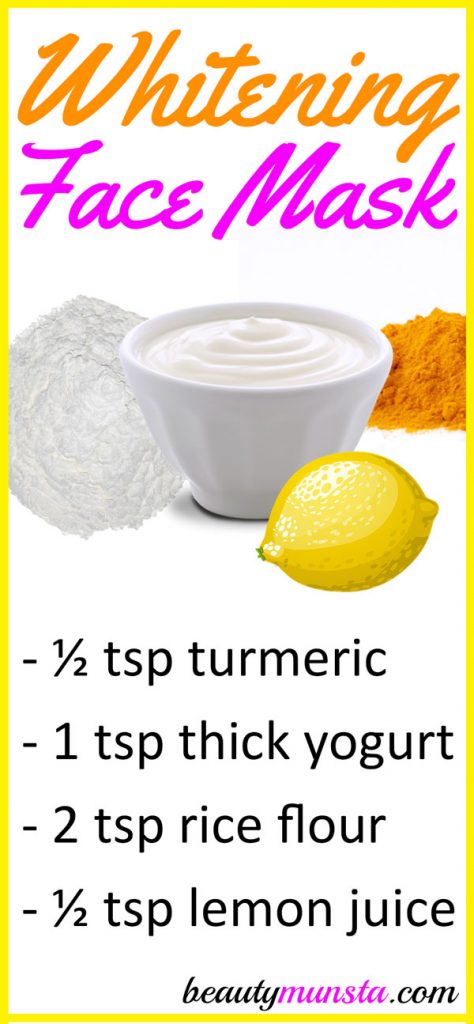 What you need:
½ tsp turmeric powder
1 tsp thick Greek yogurt
2 tsp rice flour
½ tsp lemon juice
Small bowl & spoon for mixing
Directions:
In a small mixing bowl, add ½ tsp of turmeric powder, 1 tsp thick Greek yogurt, 2 tsp rice flour and ½ tsp of freshly squeezed lemon juice.
Mix well with a spoon to form a paste.
Apply the paste onto your clean face, avoiding the eyes.
Leave it on for 10 minutes then rinse with tepid water.
Tone (if you do) then moisturize your skin as usual.

You can use turmeric for skin whitening every single day without any issues!