Apply it on your body for moisturized skin, longer hair but can you use coconut oil for skin whitening? Find out here!
Everyone loves coconut oil! Who doesn't? It's all the rage now with its multipurpose health and beauty uses! But there's one topic concerning coconut oil that leaves us in the dark. And that's skin lightening. Can you use coconut oil for skin lightening? Does it work or not?!
Before we explore this topic, let's first see the amazing wonders coconut oil has to offer for beauty:
Beauty Benefits of Coconut Oil
One of the reasons coconut oil is much loved is because it easily penetrates into the skin within seconds. That's because it is full of MCTs or Medium Chain Triglycerides that have small molecular structures, enabling them to easily penetrate into the skin. Not only will you skin get moisturized but you'll only be preventing and smoothing out wrinkles! Other benefits of coconut oil for beauty include:
Promoting hair growth
Acting as a natural sunscreen
Fading varicose veins
Moisturizing peeling cuticles
Softening rough patches
Among others
Read more: 20 Amazing Beauty Benefits of Coconut Oil & 10 Benefits of Coconut Oil for Scalp & Hair
Does Coconut Oil Work for Skin Lightening?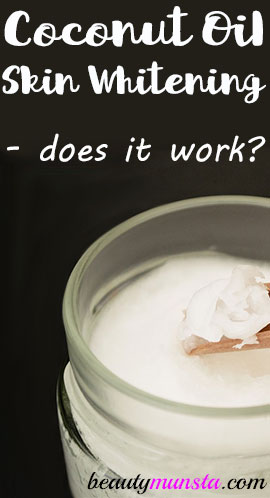 If you noticed above, among the beauty benefits of coconut oil is that it acts as a natural sunscreen. Now many oils that act as natural sunscreens also tend to…TAN skin. Especially when you go out in the sun.
Ever heard of natural oils to tan skin? Yes, these exist! Read: Oils which Darken Skin When you apply them on your skin and head out in the sun, they help naturally darken your skin. So when you come back home and look in the mirror, your skin appears darker than it originally was.
This can be beneficial for people with pale skin who are looking to naturally tan their skin for a healthier glow. But for those who do not want to darken their skin, especially you since you're reading this post, then AVOID coconut oil when going out in the sun. That's because it darkens skin!
To answer the question – can you use coconut oil for skin whitening? Nope. Coconut oil darkens skin.
That doesn't mean you shouldn't use coconut oil on your skin. Only avoid it at day time/when you're going out in the sun. It still works as a perfect night time skin moisturizer. You won't see its skin darkening properties at night time when there's no sun!
Skin Lightening Series

I hope this answered your question! Please share with others who might benefit!