Can you use aloe vera gel for skin lightening? Find out here!
The aloe vera plant is a miracle plant that has been used since ancient times. It's famous for the clear gel that is extracted from its succulent leaves. This gel is made up of 99% water but the other 1% contains powerful components including 75 potentially active constituents. These include vitamins such as Vitamin A, Vitamin C & Vitamin E, sugars, enzymes, lignin, minerals, salicylic acids and amino acids.
It exhibits anti-inflammatory, antiviral, antibacterial and soothing & cooling properties!
How Aloe Vera Gel Works for Skin Lightening
Several people note clearer, brighter and lighter skin when using aloe vera gel. How does it work? Well, first off, thanks to its strong anti-inflammatory properties, it reduces the red spots and blemishes that appear on the skin. This will automatically make skin appear brighter and lighter.
Secondly, the components in aloe vera gel are also said to increase cell turnover, which helps reduce hyperpigmentation and skin discolorations that make skin appear dull and dark. One of these compounds anthraquinone, helps remove dead cells, heal skin irritation and brighten the skin.
How to Use Aloe Vera Gel for Skin Lightening
You can choose to either use fresh aloe vera gel, if you have the plant at home or buy pure aloe vera gel. I like the brands Lily of the Valley, Fruit of the Earth and Amara Organics for purchasing pure aloe vera gel! If you're using fresh aloe vera gel, you will need to extract it carefully, collecting only the clear gel without the green leaves. That's because the green leaves contain latex that some people are allergic to.
Note: This goes without saying but before using aloe vera gel on your skin, PLEASE do a patch test by applying a little on your inner elbow. Wait for 2 hours to see if you experience any irritation. If you do, then do not use it on your skin.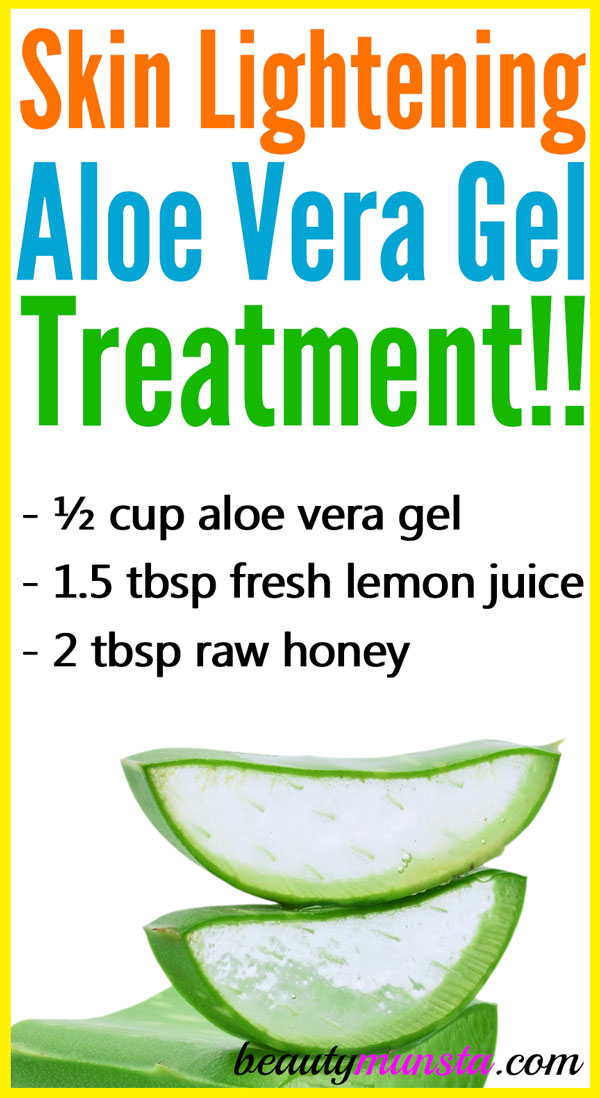 What you need:
½ cup pure aloe vera gel
1 ½ tbsp freshly squeezed lemon juice
2 tbsp raw or local honey
Glass jar for storage
Directions:
Mix up the ingredients in a bowl using a whisk until you get a well combined gel-like mixture.
Now transfer your mixture into a glass container, preferably an amber or cobalt blue colored one (to prevent light from entering and spoiling the aloe vera gel faster.
That's it! Store in the refrigerator for up to 2 weeks.
To use, apply a liberal amount all over your face and neck, avoiding the eye area.
Let it sit for 20-30 minutes then rinse off with cool water.
Apply moisturizer as usual.
Use this aloe vera skin lightening treatment every other day at night time. For sensitive skin types, use every two days.
It depends on the individual and their lifestyle changes, water intake and diet but you should expect to see result within 3 weeks!

Are you ready to use aloe vera gel for skin lightening?!