Check out the top 10 beauty benefits of lemon essential oil, a sweet fruity oil extracted from lemon peels!
Lemon essential oil has a clean and fresh smelling fragrance which aids in refreshing skin and hair as well as the mind. It is an amazing essential oil that contains antiseptic, antibacterial, anti-inflammatory, antimicrobial, anti-fungal, antispasmodic, anti-rheumatic, laxative, diuretic, sedative and laxative properties. It has a myriad of benefits for skin, hair and the general body!
Where to Get Lemon Essential Oil
Get 100% pure high quality lemon essential oil and avoid the diluted and synthetic versions. I recommend Plant Therapy's 100% Pure Lemon Essential Oil. You can also buy Eden's Garden Lemon Essential Oil.
Ensure to buy organic essential oils, especially when it comes to citrus essential oils! Most fruit peels are filled with pesticides!
Plant Therapy Lemon Essential Oil 10 mL (1/3 oz) 100% Pure, Undiluted, Natural Aromatherapy, Therapeutic Grade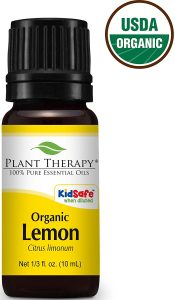 Edens Garden Lemon Essential Oil, 100% Pure Therapeutic Grade (Cold Flu & Weight Loss) 10 ml
Read on to find out 10 beauty benefits of lemon essential oil:
10 Beauty Benefits of Lemon Essential Oil for Skin, Hair & More!
Note: Lemon essential oil is photosensitive. So do not apply it on your skin then expose that area to sunlight. Use it indoors or at night time for your skin/hair. If you're planning on heading out, wash the area you've applied the lemon oil to very thoroughly.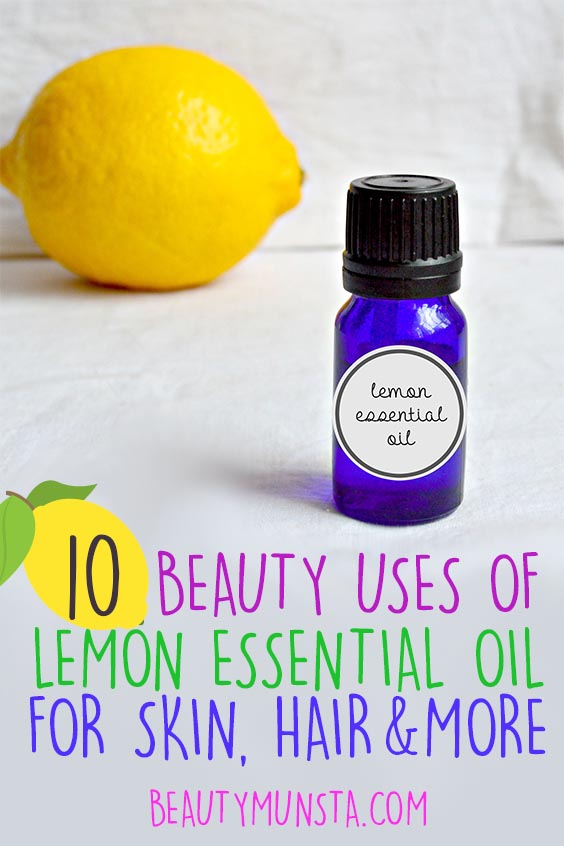 1. Skin Cleanser
A few drops of lemon essential oil added to bath water can rejuvenate and gently cleanse skin as well as activate the mind. Make sure to mix the essential oil with whole milk or Epsom salts before adding it to your bath. It has a fresh clean scent and therapeutic properties that makes your skin feel properly cleansed from deep within the pores.
How to Use Lemon Essential Oil as a Skin Cleanser:
Cleansing & Rejuvenating Lemon Bath Salts: In a large mason jar, add 2 cups Epsom salts, 1 cup sea salt and 2 tbsp jojoba oil. Now add 10 drops of lemon essential oil. Mix well. Add about 1/2 to 1 cup into a warm bath, let it disperse and soak to rejuvenate your skin and boost your mood!
2. Potent Acne Fighter
Lemon essential oil is one of the most powerful anti-acne essential oils. It contains powerful ingredients like antioxidants, vitamin C, citric acid, etc, which fight off acne causing germs and boost collagen production, thereby reducing scarring.
How to Use Lemon Essential Oil for Acne:
I combat acne by making a face cream containing lemon and tea tree essential oils. Here's my recipe:
3. Prevent Premature Aging
Citric acid and Vitamin C in lemon essential oil protect skin cells from premature aging by fighting oxygen-stealing free radicals. These free radicals degenerate skin cells by stealing oxygen from them, causing your skin to become dull and lifeless. This ends up causing wrinkles and fine lines on the skin.
How to Use Lemon Essential Oil for Anti-Aging:
4. Reduce Excess Skin Oiliness
Lemon essential oil has astringent properties that reduce excess sebum on the skin by shrinking large pores! Try one of my favorite homemade facial toners starring lemon essential oil:
How to Use Lemon Essential Oil for Oily Skin:
5. Greasy Hair Control
Just as with excessive oil in skin, lemon essential oil controls greasy hair by tightening hair follicles hence checking over secretion of sebum onto the scalp and hair strands. Lemon essential oil also remove too much grease from hair by soaking up excess oil from the hair follicles and strands. Make this hair mask to reduce greasy hair!
How to Use Lemon Essential Oil for Hair Care:
Egg White Lemon Hair Mask: Add 2 egg whites into a bowl then drip in 5 drops of lemon essential oil. Whisk well then carefully apply on your hair from roots to tip. Cover your head with a shower cap and leave it on for 30 minutes. Rinse thoroughly with COLD water. Afterwards, use a natural sulfate-free shampoo & conditioner.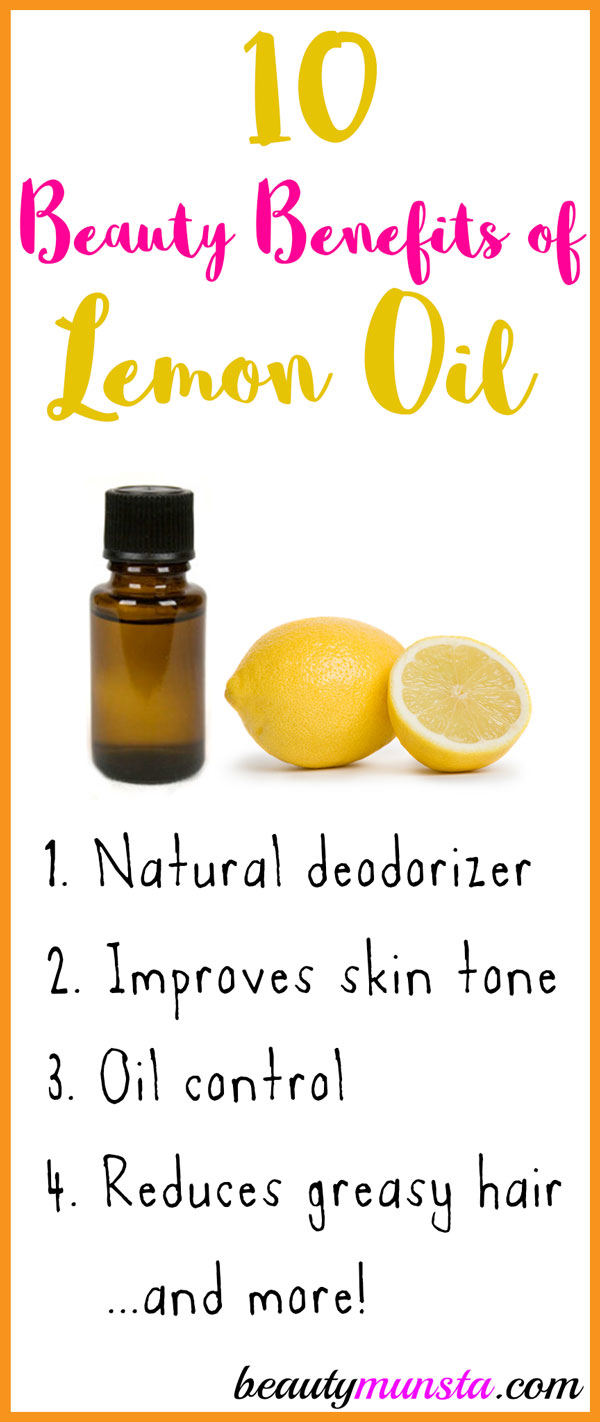 6. Facial Toner
One of the many uses and benefits of lemon essential oil is it astringent and oil control properties that make it a perfect facial toner, when mixed with distilled water. It tightens and lifts skin, as well as shrinks large pores, thereby controlling excess sebum.
You can use lemon essential oil as a toner after washing your face.
Try the facial toner recipe in Point 4 above!
7. Blackhead Remover
Lemon essential oil, just like lemons, helps ease out blackheads due to its skin tightening effects. It can prevent black head formation by blotting excess sebum and shrinking large pores that can harbor black heads. Lemon essential oil removes blackheads safely out of pores by tightening and drying the skin around the black heads. It also has antibacterial properties that prevent any infection or acne in the pore from which the blackhead has been removed.
How to Use Lemon Essential Oil for Blackheads:
Blackhead Buster: To remove blackheads, do facial steaming then get a spoon and lightly scrape the blackheads out. Then apply this blackhead-removing mask: 1 tsp baking soda, 1 drop lemon essential oil and 1 tsp liquid honey to form a paste. Rub onto your blackheads then wash off after 10 minutes. You will definitely notice a difference!
8. Lightens and Brightens Skin
The citric acid in lemon essential oil is a powerful, natural and safe skin bleaching agent. It gently and safely lightens skin tone and acne scars gradually. Lemon essential oil also balance your skin's natural pH. A balanced skin pH is very important to achieve bright glowing skin. Lemon essential oil helps brighten skin by getting rid of blemishes, fading acne scars, fighting acne and balancing the skin's natural pH.
Try this Skin Lightening Serum which is all natural, non-toxic and must only be used at night time!
9. Natural Deodorant/Perfume
Lemon essential oil can act as an excellent deodorant that comes with no side effects, except maybe a slight sting if you apply it immediately after shaving. It has a fresh clean scent that masks any bad odors and absorb sweat and sebum as well as refreshes your skin! Lemon essential oil also has antibacterial, antimicrobial and antiseptic properties that keep the bacteria away.
How to Use Lemon Essential Oil as a Deodorant:
10. Fights Bad Breath
Curing bad breath with lemon is an age old practice. Its fresh scent neutralizes any bad odor. It's antibacterial properties fight off bacteria and plaque in the mouth. Lemon also has therapeutic properties that help curb down false hunger pangs and sugar cravings.
How to Use Lemon Essential Oil for Fresh Breath:
Quick Mouth Wash: Mix 3 drops of lemon essential oil in 1/2 cup of water then add 1/2 tsp baking soda. Swish it in your mouth then spit out after a minute. Enjoy fresh lemony breath!
Take Care
Do a small patch test on your inner elbow ( 1 drop of lemon oil mixed with 1 tsp vegetable oil) to see that you aren't allergic to lemon essential oil. If you notice any severe redness, itching or irritation, do not apply it on your body.
Do not ingest essential oils.
Do not put essential oils in your eyes, ears, nose or mucous membranes.
Before use, you must know that lemon essential oil can visibly lighten hair and skin.
Use only small amounts of it as a little drop goes a long way. Lemon essential oil should not be applied 'neat' onto the skin as it is very concentrated, as with all essential oils, and can cause skin irritations like rashes, and aggravate acne.
Avoid sun exposure if you have applied lemon essential oil as it is photo sensitizing and can cause skin pigmentation.
Please avoid using essential oil if you are pregnant or nursing.
If you have any skin allergies or chronic health conditions, consult your medical practitioner before applying essential oil on your body.
For more essential oil safety information, please see Caution & Safety when Using Essential Oils