Plump lips are defined as large, pillowy, full lips and they are all the rage today. You can naturally experiment with plump lips, without surgery, using this DIY lip plumper recipe that really works!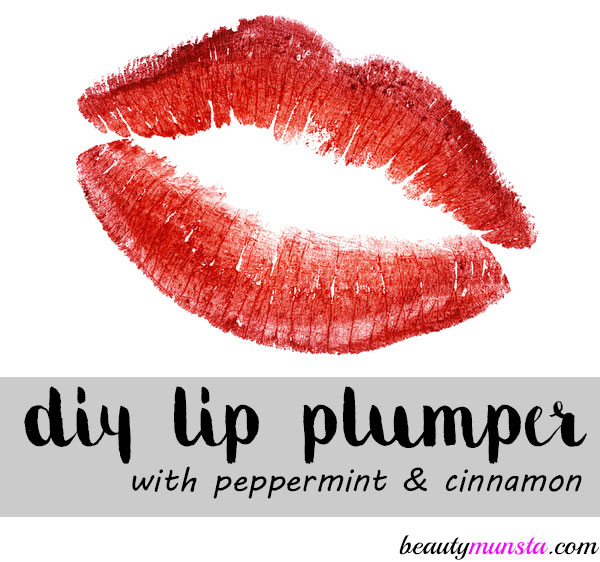 How Does a Lip Plumper Work?
It seems everyone is craving plump lips today and the demand for lip injections have shot over the roof. Not to worry though, you won't have to go under the knife for this one. You can plump your lips, completely naturally, at home with this DIY lip plumper recipe that's such a breeze to make!
Natural lip plumping items like cinnamon powder and cayenne powder seem to work because of their stimulant properties and vasodilation effects. When applied on the lips, they cause a reaction that makes the blood to rise to the surface of the skin, promptly making your lips swell and appear redder. They also work by vasodilation, or by widening the size of the blood capillaries, which also plumps up the lips and improves its color.
Here's the thing, though, natural lip plumping agents will work their magic for only a short amount of time. To make the most out of them, it's best to combine them together in a pucker-pumping lip plumper recipe, which you can carry with you and keep reapplying as and when needed.
The lip plumper recipe below will also help your lips stay plumper for longer. I've seen its effects lasting for up to an hour!
DIY Lip Plumper Recipe with Peppermint and Cinnamon
The reason why this DIY Lip plumper recipe WORKS is because it uses two heavy weights in the natural lip plumping arena – peppermint and cinnamon. In addition, only 2 other ingredients are needed; brown sugar and olive oil. Let's take a closer look at how these ingredients help plump up the lips:
♥ Brown sugar – Sugar is rich in glycolic acid, which helps stick to dirt, grime and dead cells and dislodges them from the skin. It's also a wonderful natural exfoliating agent that helps gently slough off dead cells, revealing beautiful rosy cells underneath. If you don't have brown sugar, you can also use white sugar.
♥ Olive oil – Olive oil is a beautiful light oil that is rich in so many antioxidants and nutrients. It has long been used in cooking for its many health benefits. Many also use olive oil as a medicinal oil to treat various ailments. Extra virgin olive oil is recommended.
♥ Cinnamon powder – The most popular lip plumper around, cinnamon powder is not only a gentle abrasive that helps reveal smooth and soft lips but is also a powerful stimulant that works by stimulating blood circulation to the lips. The inrush of blood to the surface of the lips causes them to swell and become plump and cushiony. Extra blood circulation also makes the lips appear rosy or red naturally.
♥ Peppermint essential oil – Extracted from the leaves and stalks of the peppermint plant, peppermint essential oil is also another stimulating and cooling ingredient that will help puff up lips in an amazing way. When applied to the lips, it creates a tingly sensation, which is nothing to be alarmed about. It just means it is working!
So let's get on to my easy DIY lip plumper recipe that I absolutely love with all my two lips!
Ingredients

1/2 teaspoon of organic brown sugar
1/2 teaspoon of olive oil
1/2 teaspoon of cinnamon powder
2 drops of peppermint essential oil

Directions

In a small bowl, mix all the ingredients together in with a spoon until thoroughly combined.
Now apply all over your lips and allow it to rest for at least a minute or two.
Scrub and massage the lip plumping mixture into your lips to let the ingredients penetrate deeper.
Wash off and pat dry.
Enjoy your all-natural plump lips!

What's your favorite way to plump your lips? Do you have a special DIY lip plumper recipe? Share in the comments below!