You don't just do it for the weight loss and fitness! Find out the beauty benefits of running that can make you look prettier than ever before!
Are There Any Beauty Benefits of Running?
Running actually does wonders for your overall beauty, including making your hair, skin and entire body look ravishing and beautiful!
But first, let's address the myth that has been going around, frightening women from taking up running. The myth of "Runner's Face" states that running gives you a thin, skeletal-looking face devoid of any fats that give your face that youthful definition. Nothing could be farther from the truth! Runner's face is simply fear-mongering that is stopping thousands of women from taking up running, making them miss out on the amazing health and beauty benefits of running.
Running is a very natural fitness activity. Our ancestors would run daily as part of their life hunting and running away from predators.
Today, we can barely run to catch a bus. We have deviated from the ways of our ancestors and this is having devastating effects on our health.
7 Beauty Benefits of Running
You might be wondering what the beauty benefits of running are! Well, there are so many of them – this may be just the motivation you need to take up running as a sport and therapy for yourself!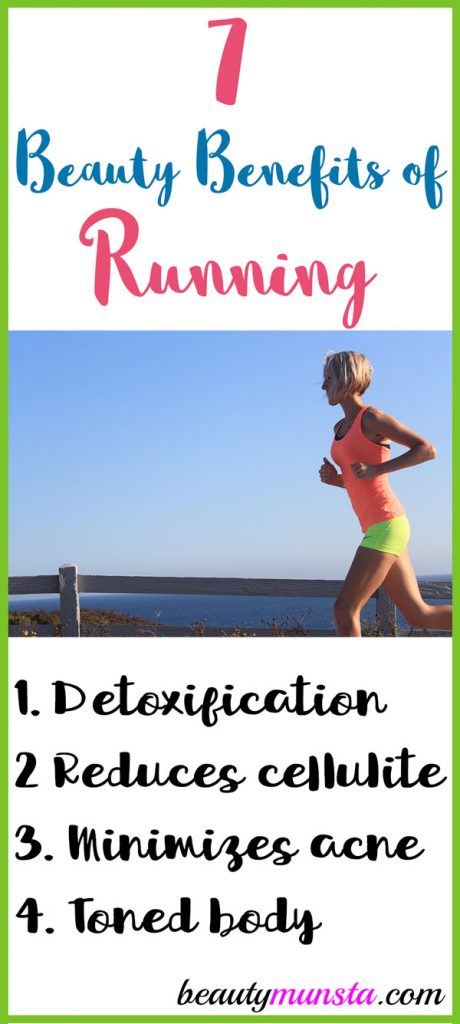 1. Stimulates Blood Circulation to the Skin:
Running really gets your blood pumping and stimulates blood circulation to the surface of the skin. This supplies the skin with nourishing nutrients, which can help repair damaged skin and produce healthier new skin cells.
2. Detoxification:
Nothing can make you sweat as quickly as running does. The beauty of all that sweat is that it carries out toxins, harmful chemicals and urea out of the body. This is detoxification, which helps you look more beautiful by reducing edema, clearing your skin and pushing out damaging toxins.
3. Get a Fitter, More Attractive Body:
One huge indicator of beauty is having a slim, lean body! Running helps you lose weight rather quickly and that's one of the biggest beauty benefits!
4. Reduces Cellulite:
Having too many fat cells contributes to the increased appearance of cellulite. Granted, everybody has cellulite, even skinny people. But running can greatly help reduce cellulite by toning up the muscles and tightening the skin. For some, running can help eliminate cellulite altogether.
5. Less Stress = More Beauty:
There's nothing as therapeutic as running, is there?! When you run, you just completely forget about all your stressors, work tension and worries. Even once you're done running and all that seratonin is pumping through your body, you are left with a permanent brain-induced high which lasts up to 24 hours. When you are happier and less stressed, you stall off wrinkles and become more beautiful!
6. Eliminate Acne and Pimples:
Running can help you eliminate acne and pimples. The sweating, coupled with increased blood stimulation, helps push out dirt, toxins and old sebum from deep within the pores. This unclogs the pores and helps banish acne. Remember to wipe off the sweat with an arm wrap towel and use an absorptive hair band to prevent sweat rolling down your face. Always wash your face with an anti-acne face wash once you're done with your run!
7. Grow Longer, Healthier Hair:
It's all about the blood circulation! Running pumps blood right to your hair follicles helping stimulate hair growth. It strengthens your hair roots and prevents unnecessary hair fall. Of course, do remember to eat healthy, nutritious food so your blood can supply your scalp with the necessary nutrients that you hair needs to shine!
Don't Do These Beauty Faux-Pas While Running
Like all sports, there are many principles that you have to follow while running.
Here's a quick list of things to avoid while running, in order to protect your beauty:
Wear a firm, supportive sports bra while running to prevent breast sagging
Invest in several good quality shoes designed for running. This will reduce the impact on your joints.
Do not wear "sweat-proof" makeup while running. It will definitely clog your pores.
If you will be running for more than 20 minutes under the sun, reduce sun damage by using a cap, shades and breathable sun screen to prevent sun damage.

What motivates you to run? Have you experienced any beauty benefits of running in your life? Share with us below!