Hello beauties! Today I want to share 10 fantastic beauty benefits of flax seeds for skin, hair & more! With nourishing recipes included! Keep reading!
Flax seeds are also known as linseeds and they are super rich in nutrients which give them a multitude of health benefits! Fun fact: flax seeds come from flax: one of the oldest crops of the world. It is said to have been first cultivated in Babylon in 1000BC. Some of the amazing health benefits of flax seeds include promoting weight loss, preventing cardiovascular disease, improving digestion and more.
Did you know that these tiny super seeds also offer a lot of beauty benefits?! You'll be shocked by what you can do with flax seeds! Let's check out 10 fantastic beauty benefits of flax seeds for your hair, skin & more!
10 Beauty Benefits of Flax Seeds for Skin, Hair & More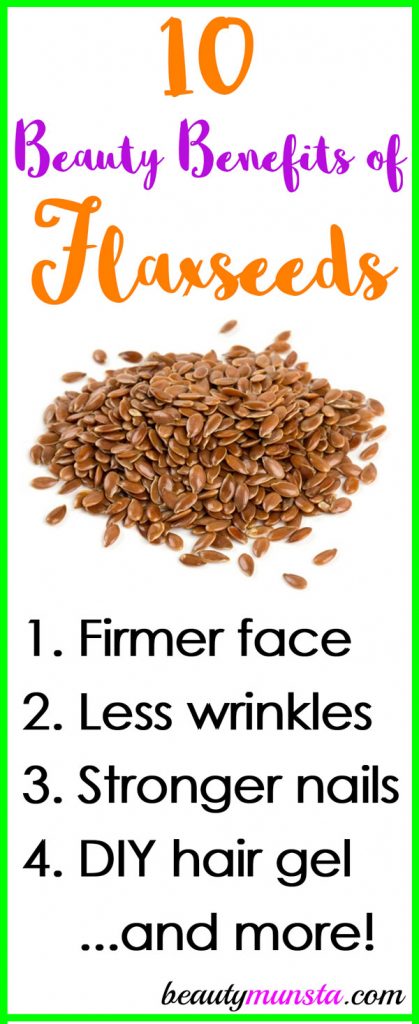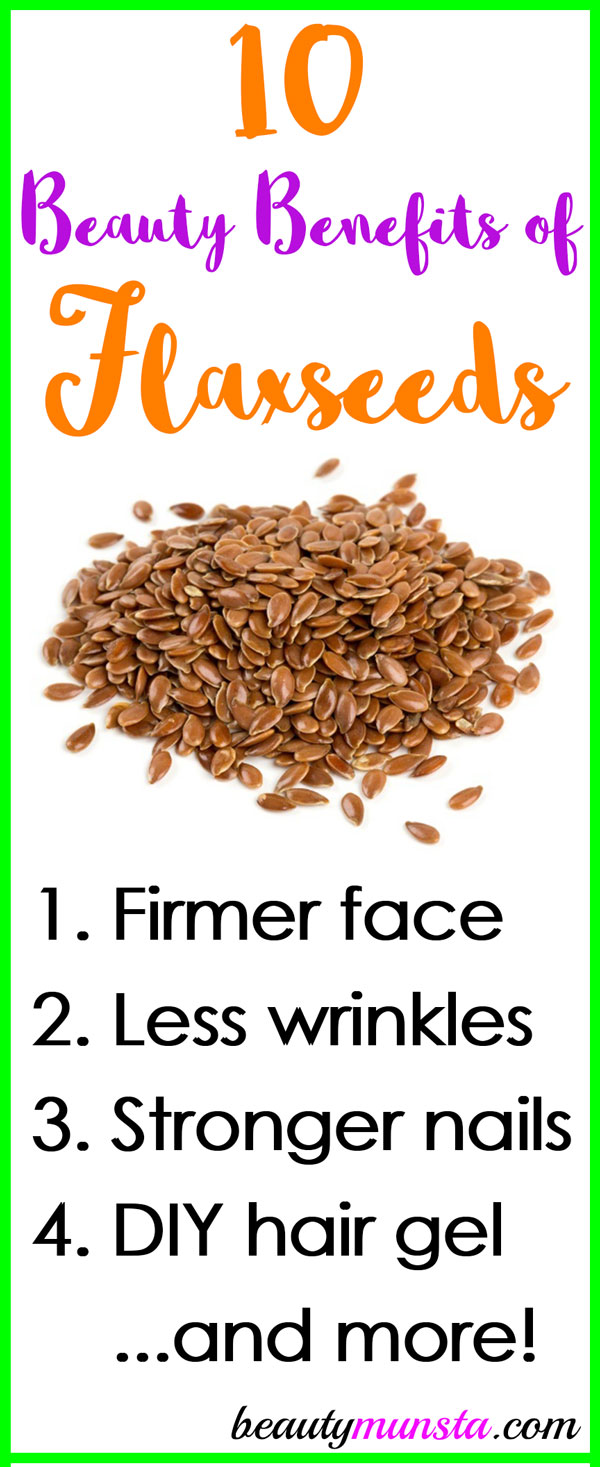 Below are 10 fantastic beauty benefits of flax seeds for your skin, hair & more! Along with each beauty benefit, you'll find amazing DIY recipes you can make at home with flax seeds.
1. Stronger, Longer & Thicker Hair
One of the best foods for hair growth? Flax seeds! They're rich in omega 3 fatty acids, protein, zinc and b-vitamins, all of which foster growth of stronger, longer and thicker hair! I like to eat it by adding ground flax seed to make pancakes, cookies, and even in smoothies. It's delish!
Flax Seed Recipes for Health Hair
Flax Seed Gel Hair Growth Mask: Prepare homemade flaxseed gel by boiling 2 cups of water and 1/4 cup flax seeds. Strain the gel and add 1/2 cup castor oil and 20 drops of rosemary essential oil. Mix together and apply as a pre-poo treatment for hair growth. This gel will last up to 3 weeks in the refrigerator.
Flax Seed Gel + Aloe Vera Gel: Prepare homemade flax seed gel. Scoop out aloe vera gel from one large aloe vera leaf. In a blender mix these two gels together. Add in 15 drops of peppermint essential oil and mix again. Your very own hair styling gel to prevent frizz is ready!
Flax Seed Hair Butter: Boil 1/2 cup of shea butter with 1/4 cup flax seed and 2 cups of water for 15 minutes. Now strain into a large bowl, then whisk this to form a super fluffy and nourishing hair butter!
2. Firmer Face
Long ago, I shared a DIY Flax Seed Face Mask. I wrote that post as a substitute for egg facial masks since vegans can't use egg on their face. Anyway, one of the best beauty benefits you'll notice after using a flax seed face mask is tighter, firmer skin! Your skin is going to feel and look firm, which makes it look younger! Try the face mask and marvel at the results!
3. Less Wrinkles
By incorporating flax seeds to your diet, you're promoting timeless skin & fighting premature aging! These super seeds contain so many nutrients and have antioxidant properties that thwart oxygen-stealing free radicals that degenerate healthy skin cells! Add flax seeds to your smoothies and milkshakes for anti-aging benefits! You can also try the about flax seed face mask to help make sagging skin firm & taut!
4. Hair Gel
Flax seeds are super popular in the natural hair community! The reason? Because FLAX SEED GEL! Seriously guys, this gel is awesome for curly hair! It can be used to seal moisture into dry hair and also acts as a hair styler so your hair stays put – not a strand out of place. This is a miracle hair product which you must try out!
Homemade Flax Seed Natural Hair Gel: Into a pot, add 1 cup of whole flax seeds then add 3 cups of water. Bring the water to a boil and keep stirring it all the while to help it gel up. When the water turns gooey, turn off the heat. Next, strain your gooey mixture using a plastic strainer or cheesecloth to separate the seeds. You can discard the seeds or grind them to powder and use for pancakes, baking, etc. Transfer the cooled clear flax seed gel into an air tight container. Add 10 drops of your favorite essential oil for hair and stir well. What do you know! Your flax seed hair gel is ready for use!
Flax Seed Gel + Aloe Vera Gel Mix: When you mix flax seed with aloe vera, you can make an extra potent hair growth kind of gel. Mix 1/2 cup homemade flax seed gel and 1/2 cup of natural aloe vera gel. Add 5 drops of rosemary essential oil and mix again. Flax seed and aloe vera gel increase hair elasticity, preventing hair breakage. The rosemary essential oil in this gel will promote hair growth.
5. Stronger Nails
Do your nails break easily? Or you can't seem to grow them long without them chipping?! Then you MUST use flax seeds! The omega 3 fatty acid content in them helps strengthen & moisturize your cuticles & nails. You can achieve stronger nails by eating flax seeds and also by making a nail gel! That's right! Here's how:
Nail Strengthening Gel: Place ¼ cup of whole flax seeds into a pot. Now add ¾ cup of water. Let the water come to a boil. When it reaches this stage, stir vigorously to enable it to gel up quickly. Once the mixture turns into a gooey gel, turn off the heat. Let it cool slightly then strain using a plastic mesh strainer to separate the seeds. Transfer the clear gel into a clean glass jar. Now add just 5 drops of lavender essential oil. Or you can add any other of these Essential Oils for Nail Growth. Mix well! Every night before bed, rub ½ tsp of this nail gel onto your nails until it gets absorbed. You do not need to wash this off because it will sink into your skin and leave no residue!
5. Hydrates Skin
Skin feeling dry, flaky and stiff? You need flax seeds in your diet. By consuming foods rich in omega 3 fatty acids, you'll enable your body to keep your skin moisturized by producing enough sebum! You can also apply the above flax seed gel right after washing your face, before patting it dry to help seal in the moisture & pump it into your dry skin cells.
6. Moisturizes Hair
Just like flax seeds hydrate skin, they also keep your hair moisturized. Incorporate them into your diet and make the above flax seed hair gel to give your dry hair much-needed moisture!
7. Reduces Acne
Did you know that flax seeds are also mega rich in fiber?! And you know that fiber-rich foods are helpful for sweeping out wastes & toxins from the body, right? If these toxins are not eliminated from the body (when you have constipation), then they get out of the body through pus-filled acne. Eat flax seeds by adding flax seed meal to your smoothies, milkshakes, etc to help promote regular bowel movements & reduce acne!
8. Heals Skin
Flax seeds have wound healing properties due to their anti-inflammatory effect and high content of omega 3 fatty acids. Eat them regularly to help speed up healing of wounds that mar a flawless appearance! If you have eczema patches, eating flax seeds can make a difference! You can also use flax seed oil to help moisturize & heal dry, itchy & flaky eczema.
9. Minimizes Large Pores
If you grind up whole face seeds, you can make flax seed meal, which when mixed with water makes a glutinous mixture! Smear this mixture onto your whole face, avoiding the eyes. Leave it on for 15 minutes. When the time is up, your face will feel tight & firm. This skin tightening effect directly minimizes large pores, making your skin look flawless!
10. Soothes Irritated Skin
Flax seed gel feels like heaven on skin rashes and irritations! Apply it onto the affected skin for a soothing and cooling sensation which gives immediate relief!

Make use of the above beauty benefits of flax seeds by incorporating them into your diet and beauty regimen!