Make sure you prepare for all the beauty benefits of pregnancy that will adorn you for 9 months and more!
Are There Any Beauty Benefits of Pregnancy?
Are you pregnant? Or perhaps you're looking to get pregnant soon? Well, you may have heard all the bad news about how pregnancy is going to wreak havoc on your body. You may be scared about the stretch marks, weight gain and hair loss?
But pregnancy is not all doom and gloom! Let's stop and think positive for a moment…or 9 months to be more precise… and bask in all the glory and beauty that pregnancy has to offer!
7 Beauty Benefits of Pregnancy
Your body goes through so many changes during pregnancy. Special hormones in the female body go to work in creating a perfect environment for new life to bloom. These hormones contribute greatly to many of the beauty benefits that pregnancy has to offer.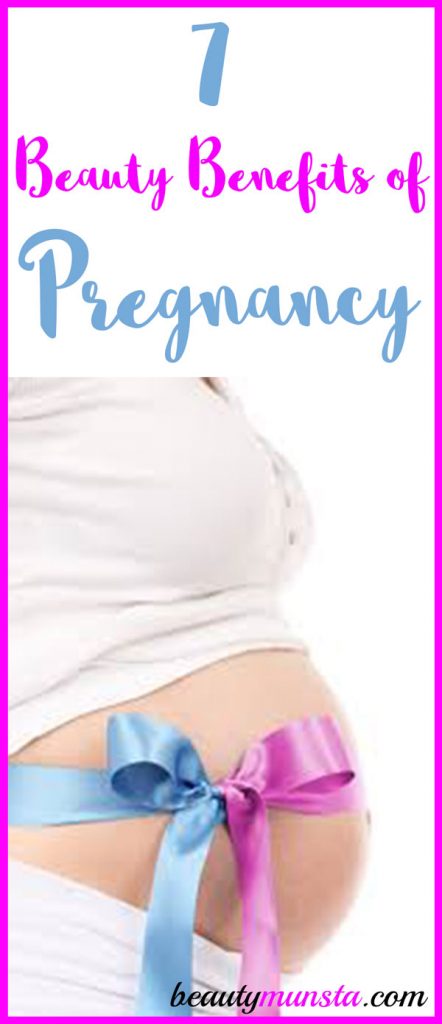 Here are some of the beauty benefits of pregnancy:
1. The Pregnancy Glow!
Have you noticed that pregnant women are always GLOWING? Hormones are responsible for this. Many women who suffer from acne will also find that their skin is much smoother with fewer pimples during pregnancy!
When ladies are pregnant, they tend to eat better, too. The extra nutrients from added greens, nuts, fruits and vegetables contribute to the health and beauty of the skin, hair and nails.
Mentally, pregnant ladies are very happy and excited about their precious baby and this makes them glow even more.
2. Thicker, Longer Hair!
It is common for hair to get thicker when you are pregnant. Estrogen levels are much higher in pregnancy and this prolongs the growth stage of your hair, while reducing the rate at which your hair falls out. Since you'll be losing less hair, you'll notice your hair looking much thicker than before.
High levels of estrogen are also responsible for making your hair look shinier than usual. Those with curly hair may notice their hair looking straighter as well.
You'll notice the thickness of your hair more easily if you have longer hair.
Even after pregnancy, many women report shedding their hair, but some women actually experience post-partum hair gain, rather than
hair loss!
3. Stronger Nails!
Nails also tend to grow longer and faster during pregnancy, all thanks to those hormones! Some women may develop harder nails. Some women may develop softer brittle nails. All these changes to your nails will get back to normal within 3 to 6 months after giving birth.
4. Rosy Cheeks!
Rosy cheeks, or flushed cheeks serve as all-natural blush during pregnancy! Most women experience flushed cheeks as a result of increased volume of blood and blood flow in the body. This is much more noticeable in women with a lighter skin tone.
5. Plumper Lips!
Increased blood volume in pregnancy also accounts for plumper, fuller, pillowy lips. Pregnancy is a great time to embrace those swollen lips, which are a sign of beauty in many cultures.
Pregnancy comes with side effects like fluid retention, which are common in the hands and feet. But for many women fluid retention can also be observed in other areas such as the lips, which makes the lips look plumper and fuller.
6. Healthy Weight Gain!
Weight gain is normal and expected in pregnancy. In fact your doctor will expect you to put on about 20 – 30 pounds during pregnancy.
This extra weight includes the weight of your increased blood volume, the weight of the placenta, amniotic fluid and baby, and also extra fat that your body stores in preparation for breast feeding.
Healthy weight gain during pregnancy actually adds to your beauty as it makes you look more rounded, softer and feminine. Most women get rid of their pregnancy weight within 2 years of giving birth.
7. Bigger Breasts!
Bigger breasts are found to be so attractive that many women go under the knife to get breast augmentation surgery. But during pregnancy, nature increases the size of the breasts in preparation for breast milk to feed your young one.
Many women will see an increase in breast size by the second to third trimester, and most are very happy with this welcome change!
What are the beauty benefits of pregnancy that you are most excited about?!