Read on to discover 9 awesome beauty benefits of lactic acid for skin below!
Lactic acid is a type of Alpha Hydroxy Acid (AHA). AHAs are popularly included in many skin care products. Other examples of AHAs include citric acid and glycolic acid. However, lactic acid is the most popular! It's gentler and more tolerated than glycolic acid.
Where is it got from? Lactic acid is derived mainly from milk! Yes, milk contains lactic acid as do milk products like yogurt!
Below, let's explore the various beauty benefits of lactic acid for skin, hair& more:
9 Beauty Benefits of Lactic Acid for Skin
Below are 9 awesome beauty benefits of lactic acid for your skin!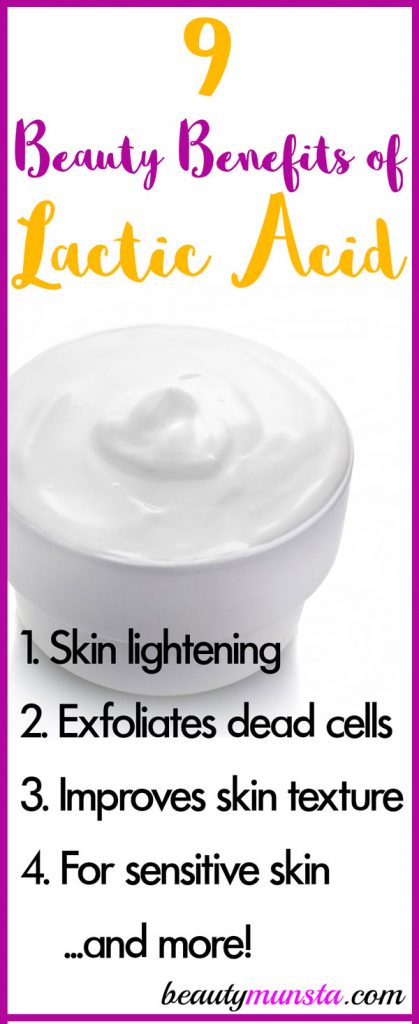 1. Skin Lightening
Lactic acid is a skin lightening agent. It's used for evening out skin discolorations and brightening skin tone. Lactic acid at a strength of 4 to 10 percent is said to directly inhibit melanin production. This makes it very useful for solving issues like pigmentation. Do not use a cream containing more than 20% lactic acid as it may irritate your skin.
2. Exfoliates Dead Cells
AHAs are popularly known for being excellent skin exfoliators. Lactic acid has been made use of as a natural exfoliator since ancient times! Cleopatra bathed in milk everyday to maintain soft, smooth and supple skin. Milk is rich in lactic acid that sloughs off dead cells from the top layer of skin.
3. For Dry Skin
Got dry skin? Then find a cream with lactic acid as it is hydrating and pumps dry skin cells with much-needed moisture! You can also make & apply a Lactic Acid Face Mask! Here's the recipe:
Homemade Lactic Acid Face Mask: Into a small bowl, add 1 tsp of thick plain yogurt. Now add ½ tsp raw honey and 2 drops lavender essential oil. Mix everything together and apply onto your face, avoiding the eyes. Leave it to rest for 7 minutes then rinse off with tepid water. Without drying your face, apply a suitable amount of shea butter to lock moisture into your skin!
4. Softens Rough Skin
Rough elbows, knees and heels can be solved using ingredients containing lactic acid. You can apply milk or yogurt directly on your rough skin to help soften it. Try this skin softening bath recipe:
Skin Softening Bath: Mix 10 drops of lavender essential oil in 2 cups of whole milk (or plain yogurt for more softening effects). Add it to a warm bath and stir it with your hand. Soak for 10 minutes.
5. Improves Skin Texture
If you have skin that's bumpy, flaky, uneven and clogged up, you can use lactic acid to improve its texture. It does this because of its exfoliating properties that remove dead cells from the epidermis.
5. Better Product Absorption
When you slather a nourishing serum, oil or product on your face, you want it to absorb deep into your skin cells, right? But when the upper layer of your skin is clogged with dead cells, flaky skin and other pore blockers, the nutrients won't even reach your skin cells. By using lactic acid to exfoliate, you're deep cleansing your skin leaving it fresh and clear, able to absorb whatever you put on it.
6. Brightens Dull Skin
Lactic acid sloughs off dead cells that dull down and darken skin. This reveals fresh new skin underneath.
7. Fades Acne Scars & Dark Spots
The skin lightening properties of lactic acid fades acne scars and dark spots. Try a lactic acid cream as a spot treatment or make an acne scar lightening face mask using yogurt, turmeric and lemon.
Acne Scar Lightening Face Mask: In a small bowl, mix 1 tsp thick plain yogurt, ¼ tsp turmeric powder and ½ tsp fresh lemon juice. Apply it on your whole face, avoiding the eyes. Rinse off after 10 minutes.
8. Prevents Premature Aging
Using lactic acid on your face prevents premature wrinkles & fine lines! By exfoliating the skin's surface, it helps improve cell turnover. This encourages the skin's production of collagen and elastin which make skin taut and supple.
9. Good for Sensitive Skin Types
Lactic acid is very gentle, especially compared to other AHAs like glycolic and citric acid. So it can be used on sensitive and irritable skin without any issues. In fact if you're skin is irritated, slather yogurt on it to soothe and cool it.

How do you use lactic acid for your skin? Share below!