I'm glad I tried out moringa oil because it's truly something amazing when it comes to improving natural beauty! Let's discover 18 beauty benefits of moringa oil for skin, hair & more!
Moringa oil is a less-known oil for beauty but it has got powerful properties for the health of your skin, hair and whole body! Where does it come from? Well, moringa oil is derived from the superfood moringa which is native to parts of Africa and Asia.
It's amazing to know that moringa is known as the 'Miracle Tree' because each and every part of the tree including its fruits, leaves, seeds and more have medicinal qualities and properties that are said to be able to prevent 300 diseases! Definitely try to incorporate moringa leaf powder into your diet. I love adding it to whole wheat dough to make tortillas and in soups as well – you simply can't miss out on its benefits! Check out my Nutritious Moringa Soap with a Creamy Lentil Base!
Okay, back to moringa oil! To get to know more about it quick, let's check out its ingredient profile!
Moringa Oil Profile
♥ Scientific Name:
Moringa oleifera
♥ Other Names:
Moringa oil is also known as ben oil
♥ Origin:
Moringa is native to parts of Africa and Asia
♥ Color and Smell:
Moringa oil has a pale green color and smells of moringa, slightly nutty and earthy. It has a light scent that isn't unpleasant.
♥ Texture:
Moringa oil has a nice thin consistency, which absorbs into skin super fast.
♥ Shelf Life:
1 year plus
♥ Potential for Irritation:
Low
♥ Precaution & Tips
Before use, do a patch test on your inner elbow/wrist to see that moringa oil does not irritate your skin.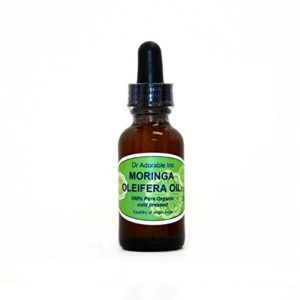 Composition of Moringa Oil
Did you know that moringa oil is the most nutrient dense oil in the world?! It contains powerful antioxidants and essential fatty acids that penetrate deeply into the skin cells and facial tissue. Here are some of the components found in moringa oil:
Oleic acid
Palmitoleic acid
Linoleic acid
Amino acids
Gadoleic acid
Stearic acid
Vitamin A
B-vitamins
Vitamin C
Vitamin E
And more
Now let's check out 18 beauty benefits of moringa oil for skin, hair, nails and more!
18 Beauty Benefits of Moringa Oil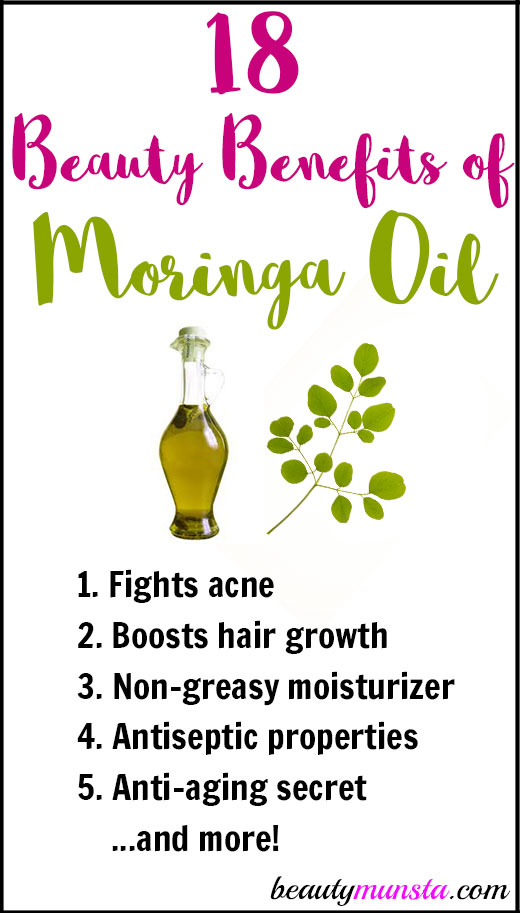 1. Moisturizer for Oily & Acne Prone Skin
One of the first beauty benefits of moringa oil I noticed was that it is a 'dry' oil. This means that when applied to skin, it penetrates deeply in a matter of seconds and leaves skin 'dry' instead of greasy. This is a super amazing reason why people with oily and acne prone skin should use it as a moisturizer! You only need to rub 2-3 drops on your palms then gently dab them onto your clean face!
2. Has Antiseptic Properties
Moringa oil is one of the few oils with strong antiseptic properties. That makes it good for treating wounds, bug bites, skin rashes, psoriasis, eczema and other skin conditions.
3. Promotes Wrinkle-Free Skin
Rich in antioxidants and lots of nourishing nutrients, it's no surprise that moringa oil promotes wrinkle-free skin! The nutrients in it are also quick to dive into your thirsty skin cells because of the oil's high penetrative ability. The special thing about moringa oil is that it has plant hormones called cytokinins, which help encourage cell growth as well as prevent the destruction of skin tissues associated with aging. Don't forget that it's rich in Vitamin C that boosts collagen and elastin production for youthful skin!
Anti-Wrinkle Serum: Fill a 2 oz amber dropper bottle with 1 tbsp argan oil, 1 tbsp moringa oil, 1 tbsp rosehip seed oil. Now add 5 drops each of lavender, geranium and carrot seed oils. Apply 3 drops on your face while deeply massaging twice a day for wrinkle-free skin!
4. Promotes Beauty from the Inside-Out
Yes, moringa oil is also edible! It is brimming with antioxidants and nutrients that promote healthy hydrated and supple skin plus long luscious hair from the inside-out! However, please consult your doctor before consuming it as with most herbal products. It is very concentrated. Also, look for pure organic moringa oil without any fillers. I'm saying this because some moringa oil in the market is counterfeit like many pure oils out there. But more so moringa oil because it is 20 times the cost of vegetable oil so some distributers will dilute it with a cheaper oil.
5. Good for Skin Inflammatory Conditions
Since it's antiseptic, moisturizing and nutrient-rich, moringa oil is a perfect natural treatment for dermatitis, psoriasis and eczema! The best way to apply it is when your skin is still damp from the shower.
To make a nice anti-inflammatory cream, try whipping ½ cup of melted shea butter with 2 tbsp of moringa oil then add 5 drops of lavender essential oil.
6. Fights Acne
Because of its antiseptic properties, plus non-greasy moisturizing effects, I like using moringa oil on my acne prone skin. I just moisturize my face by rubbing 3 drops on my palms then gently dabbing them onto my freshly washed damp face. It sinks in immediately! It also helps soothe acne inflammation.
7. Minimizes Blemishes & Dark Spots
Yes! Another exciting beauty benefit of moringa oil is that it helps minimize blemishes and dark spots! This is due to its rich nutrient-content including Vitamin C and Vitamin E. You can use it as a spot treatment on your blemishes and dark spots using your clean index finger.
8. Hydrates Dry Skin
Much as moringa oil is amazing for those with oily skin types, it is also good for balancing the natural oils in dry skin and hydrating skin cells. It also has an oleic acid content of about 65-73% which is pretty high. Oils high in oleic acid are known to moisturize skin cells at a deeper level.
My advice is applying a light layer of moringa oil right before you lather up with your moisturizer to manage dry skin beautifully!
9. Promotes Hair Growth
I love doing hot oil treatments with moringa oil as one of the ingredients! Moringa oil is good for fending off scalp irritations, soothing scalp inflammation and keeping hair follicles in tip top shape. This fosters growth of healthy strong long hair strands. Below is my hot oil treatment recipe:
My Hot Oil Treatment Recipe: Into a bowl, pour 1 tbsp of moringa oil, 1 tsp Jamaican black castor oil, 1 tsp black seed oil and 1 tsp coconut oil. Put the bowl into a pot containing about 2 inches of hot water to warm up gently. Don't let the water enter the bowl. When the oils are warm to the touch, massage the blend onto your entire scalp and hair. Wrap your hair up and throw on a shower cap or put some plastic wrap on your head. Wait for about 1-2 hours then wash your hair really well in the shower using a natural sulfate-free shampoo + conditioner.
10. Use as the Base in your DIY Perfume
I was surprised to learn this amazing fact about moringa oil! It is a popular choice for traditional perfume production because it has a high level of oleic acid and long shelf life that give it the ability to absorb and retain even the most volatile scents.
DIY Long Lasting Roll-On Perfume: Combine 15 drops ylang ylang essential oil, 15 drops neroli essential oil in a small glass bowl. Now add 10 ml of moringa oil (that's two tsp). Mix well with a toothpick then use a syringe to transfer the oils into a 10ml roller bottle. Enjoy ~
11. Great on Your Scalp
Moringa oil feels luscious on the scalp! It has a cleansing or detoxifying effect which drives out gunk from deep within the hair follicles! What's more is that it is a powerful fighter of scalp infections, dandruff, scalp acne, scalp psoriasis and scalp eczema! When you apply moringa oil on your scalp, it cleanses, disinfects and moisturizes.
12. Protects Skin from Harsh Weather
Ancient Egyptians slathered moringa oil on their skin to protect it from harsh sunlight in the desert. Yup, moringa oil has been used for centuries! It's only now that it's becoming popular in the Western world. Use moringa oil to protect your skin from other harsh elements like cold biting winds during winter. Just put a liberal amount on your skin and you're good to go!
13. Wonderful Makeup Primer
Another lovely way I like using moringa oil is by layering my face with it before applying makeup. I massage about ½ tsp all over my face, concentrating on the areas that are prone to flakiness. Then I put on makeup and wow! My skin looks matte yet fresh at the same time. It makes makeup stick to your skin perfectly too. Try it out!
14. Nourishing Nail Oil
Do you have dry brittle nails? Moringa oil is a perfect oil to use to moisturize them, make them shiny and help keep them healthy! It also doesn't leave your nails too greasy because it is a 'dry' oil.
15. Heals Damaged Skin
Moringa oil is used to heal skin damaged by the sun or harsh skin care products. You can put it on sunburn, inflamed skin and sensitive skin.
16. Fights Fungal Infections
One of the most known benefits of moringa oil is that it fights fungal infections on the skin. Apply a liberal amount on affected areas three times a day as a natural treatment.
17. Promotes Wound Healing
Moringa oil possesses wound healing properties. It has powerful antiseptic properties that can help disinfect mild cuts/abrasions, burns, bug bites and others. Studies show moringa has healing effects and it helps reduce scars as well.
18. Massage Oil
The light and easily absorbable consistency of moringa oil makes it a nice massage oil! Users have also said it helped reduce arthritic pain so you can use it directly as a pain relief oil as well!
Where to Buy Moringa Oil
Always look for 100% pure quality moringa oil without additives.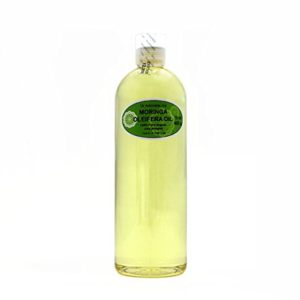 I love Dr. Adorable's 100% Pure Organic Cold Pressed Moringa Oil. It is safe for food and cosmetic use. It comes in a 16 oz bottle, which is totally worth it because moringa oil doesn't go rancid easily.

Moringa oil is truly one of the best natural oils to have in your beauty pantry. How are you planning on using it?