Explore the captivating beauty benefits of camellia oil, a carrier oil with heavenly uses for your skin, hair and more!
Beautiful Geishas of Japan used camellia oil to keep their skin flawless and youthful! They also used it on their hair to make it lush, silky and shiny! If you want the same, it's time to get your hands on a bottle of camellia oil because it's all your skin & hair needs to shine!
Camellia oil can be extracted from three different species of camellia flowers including camellia japonica, camellia oleifera and camellia sinesis.

Camellia japonica or Tsubaki, the true Japanese Camellia, is the one that most people are looking for when they want to purchase camellia seed oil for beauty purposes. It is reportedly odorless, compared to camellia oleifera or camellia sinesis. It is native to southern Japan and also called Rose of winter, and Tsubaki in Japanese. Tsubaki is coined from the word Tsuya-ba-ki, meaning 'shiny leaf tree'. It produces rose-like flowers which can be red, white or pink. This oil is pressed from the seeds of the Camellia japonica plant.
Camellia sinesis is a bush-like plant from which tea is extracted. It produces simple white flowers and the oil made from this plant is edible. It is readily available and cheaper! That's why it may sometimes be mistaken/sold for camellia japonica!
Camellia oleifera is an edible oil that is a high source of oleic acid. Since camellia oleifera is high in oleic acid, avoid using it for acne or oily skin to prevent breakouts. It is similar to olive oil because of its high oleic acid content (about 72%). Camellia oleifera is commonly also known as oil-seed camellia and tea seed oil.
Before we look at the beauty benefits of camellia oil, let's check out its ingredient profile!
Camellia Oil Ingredient Profile
♥ Scientific Name:
Camellia oleifera, Camellia japonica, Camellia sinesis
♥ Other Names:
Camellia oil, White camellia oil, Camellia sasanqua oil, Tea seed oil, Green tea seed oil, Camellia seed oil, Tsubaki oil, Cha Hua
♥ Origin:
Ancient Japanese Geishas of Kyoto used camellia oil in their beauty routines! Camellia flowers are native to Japan and North China.
♥ Color and Smell:
Camellia oil has a yellow to golden color. It can be odorless or have a faint 'oily' aroma that's not unpleasant.
♥ Texture:
Camellia oil has a light velvety texture. It sinks into skin easily, leaving it smooth and non-greasy.
♥ Shelf Life:
6 months to 1 year (refrigerate for longer shelf life)
♥ Comedeogenic Rating:
1
♥ Precaution & Tips
Before use, do a patch test on your inner elbow/wrist to see that camellia seed oil does not irritate your skin.
Refrigerate the oil to lengthen its shelf life.
Composition of Camellia Oil
Camellia oil is rich in antioxidants and nourishing nutrients that support healthy skin and hair! Here are some of the key nutrients:
Vitamin A
Vitamin B
Palmitic acid
Linoleic acid
Oleic acid
Tocotrienols (vit E)
Omega 3 fatty acids
Omega 6 fatty acids
Omega 9 fatty acids
11 Beauty Benefits of Camellia Oil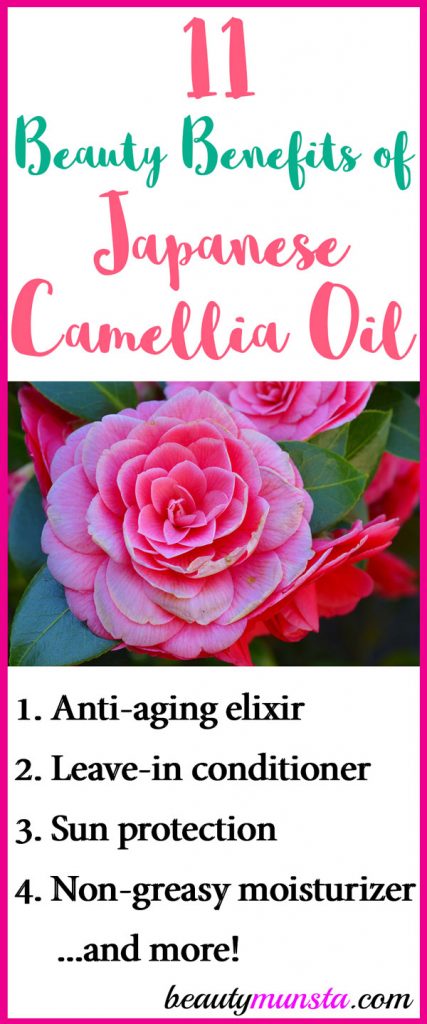 Below are 11 beauty benefits of camellia oil for skin, hair and more!
1. Amazing Moisturizer
Camellia seed oil has a lovely texture! It's light, smooth, velvety and feels luxurious on your skin! What's more is that the skin soaks it up readily and leaves a smooth non-greasy finish. Use it directly on your freshly washed and dried face, or make a more nourishing daily moisturizer as follows:
2. Anti-Aging Elixir
Japanese Geishas and noblewomen strove for porcelain white and flawless looking skin! They also stayed youthful well into old age. Their secret? Camellia oil! It's an anti-aging elixir, filled with antioxidants and omega fatty acids that deeply nourish skin cells, preventing deep wrinkles and sagging cheeks! Apply it every night or under your makeup, since it has sun block properties – yes, that's another beauty benefit!
3. Skin Softener
Get the softest skin ever by applying a few drops of camellia oil. It can help soften and moisturize rough patches/areas of skin such as the elbows, knees and heels.
4. Anti-Acne
Camellia oil has a comedogenic rating of 1, which will not harm acne prone skin. It's also anti-inflammatory and contains antioxidants which reduces acne inflammation and reduces the appearance of red angry acne.
5. Moisturizes Nails & Cuticles
Keep your cuticles and nails looking pretty by rubbing just two drops of camellia oil on them!
6. Good Leave-in Conditioner
Japanese women love using camellia oil on their freshly washed hair as a leave-in conditioner. It makes hair conditioned and silky, while giving it a beautiful sheen!
7. Anti-Inflammatory Properties
Camellia oil has strong anti-inflammatory properties! Use it for eczema, psoriasis, acne inflammation and blotchy red skin to reduce inflammation and redness.
8. Sun Protection
The sun protection qualities of camellia oil are notable for deflecting harmful UV rays and keeping your skin safe from notorious free radicals. Camella oil has an SPF of 3-5. Apply a light layer of camellia oil before sunscreen and makeup for top notch sun protection! If you have brown/tan skin that doesn't burn in the sun, you can even use it on its own!
9. Strengthens, Nourishes & Moisturizes Hair
Camellia oil has remarkable benefits for the hair, in particular as well! It strengthens hair roots, nourishes the follicles and moisturizes dry brittle hair! If you have damaged hair, camellia oil restores it to its original state if used consistently as a leave-in conditioner! You can also apply it onto dry hair, wait an hour then wash your hair as usual. This technique is called pre-poo and you can read more about it in this post of ours: How to Do a Pre-Poo
10. Makeup Remover
Because of its smooth silky texture, camellia seed oil is an excellent makeup remover! Place 4 drops on a cotton ball and gently wipe your eyes. Repeat with another cotton ball and voila! Your eye makeup will have disappeared in a blink! Bonus: it makes your eye area smooth and free from unsightly crows feet!
11. Repair Damaged Skin
Eczema, psoriasis, sunburn and inflammation on skin can be repaired by consistently applying camellia seed oil. The nourishing omega fatty acids put up a protective barrier over skin, promoting speedy healing.
Where to Buy Camellia Oil
As we saw above, it's easy to buy something other than the true Japanese camellia oil (Camellia japonica) so please be careful! Always look for 100% pure quality camellia japonica oil without additives.
You can try 100 % Pure & Refined – Cold Pressed Camellia Oil from Juiceika Organic!
I hope you enjoyed reading through these 11 beauty benefits of camellia oil! How are you planning to use camellia oil? Share below!