Today I'm excited to share with you 13 beauty benefits of rose essential oil, a luxurious oil all women must invest in for ethereal beauty!
The rose is the Queen of flowers. It is portrayed as a romantic flower depicting soft feminine beauty. The story of the discovery of rose oil itself is wrapped in love and romance!
It is narrated as follows: when a Persian princess was talking a stroll in the royal palace courtyard with her husband, she spotted tiny droplets of oil in the sunlit water fountain strewn with fresh rose petals. These oil droplets exuded a most beautiful fresh rose fragrance. The sunlight had naturally distilled rose essential oil from the fresh petals. From then on, rose essential oil started being produced in Persia through early distillation methods.
One of my most valuable possessions is a 15 ml bottle of pure rose essential oil. Rose oil doesn't just smell like heaven itself but it also provides lots of benefits!
It has therapeutic qualities of reducing depression & grief, solving female problems, calming the mind, soothing the digestive system & boosting libido while providing a bevy of amazing beauty benefits of skin and hair.
Before we look at the beauty benefits of rose essential oil, let's first explore its ingredient profile below!
Rose Essential Oil Profile
♥ Scientific Name:
Rosa damascena
♥ Other Names:
Rose otto oil, Bulgarian rose oil, Persian rose oil, Turkish rose oil, Rose of Otto, Attar of Rose
♥ Origin:
Rose essential oil is said to have been discovered in Persia
♥ Color and Smell:
It has a clear, pale yellow or greenish color. Rose oil smells beautiful like fresh cut roses
♥ Texture:
It has a thin consistency
♥ Shelf Life:
6 years
♥ Potential for Irritation:
None
♥ Precautions & Tips
Even though rose essential oil is said to be non-allergenic, please first do a patch test with it before use. To do a patch test, mix 1 drop of rose oil in 1 tsp of carrier oil and apply it on your inner wrist. If there's no negative reaction within 60 minutes, then go ahead and use this oil!
Always dilute rose essential oil before application. Use a carrier oil for dilution. The dilution rate is 2 drops of rose oil in 1 tsp of carrier oil like olive oil, coconut oil, etc. For more info, read How to Dilute Essential Oils
Never drop rose into your eyes, ears or mucous membranes.
Do not ingest.
Keep away from children and pets.
Avoid during pregnancy.
If having any severe or chronic health problems, consult a doctor before using rose essential oil.
Properties of Rose Essential Oil
Some of the therapeutic properties of rose essential oil include:
Antidepressant, antiphlogistic, antiseptic, antispasmodic, antiviral, aphrodisiac, astringent, bactericidal, choleretic, cicatrisant, depurative, emmenagogue, haemostatic, hepatic, laxative, nervous system sedative, stomachic and heart, liver, stomach and uterine tonic.
13 Beauty Benefits of Rose Essential Oil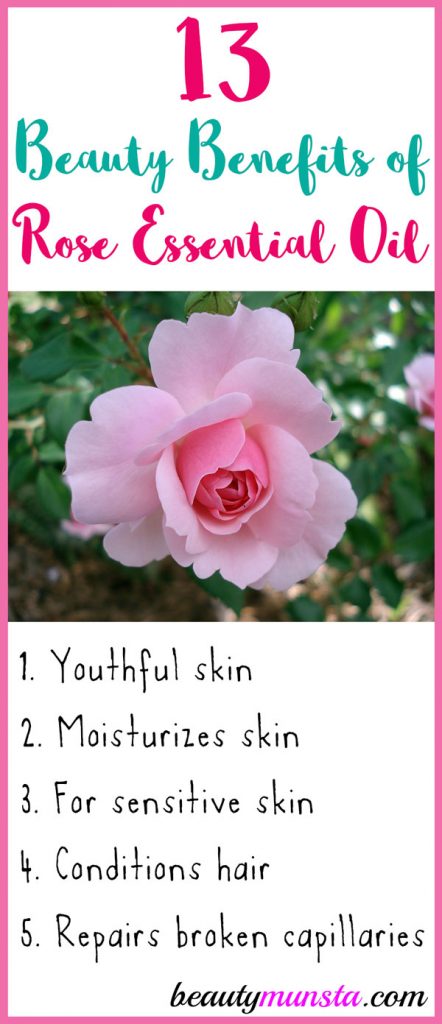 1. Moisturizes Skin
Rose essential oil is hydrating. It balances moisture levels in the skin which keeps it hydrated and healthy! Mix a few drops in your face moisturizer or create your own skin moisturizer as follows:
Face/Body Moisturizer: In a Pyrex measuring cup, add ½ cup of shea butter, 2 tbsp rose water, 1 tsp raw honey and 10 drops of rose essential oil. Now place the Pyrex cup into a pot containing hot water. This is to enable the shea butter to soften for easy mixing. Ensure the water doesn't enter the Pyrex cup! When softened, get out your wire whisk and whip up all ingredients for about 7 minutes to get a fluffy white cream! Store in a jar in a cool dry place. Use a suitable amount to moisturize your face/body.
2. Anti-Aging Properties
One of the best beauty benefits of rose essential oil is that it is a powerful anti-ager! That's because it is full of antioxidants that stave off free radicals. Free radicals are unstable oxygen molecules that steal oxygen from healthy cells to become stable. When they steal oxygen from healthy skin cells, it leaves the cells dead & lifeless causing dull problematic skin. You can make a powerful anti-aging serum starring rose essential oil as follows:
Rose Anti-Aging Serum: In a 2 oz amber glass dropper bottle, transfer 3 tbsp argan oil with the help of a small funnel. Next add 9 drops of rose essential oil and 9 drops of lavender essential oil. Cap the bottle tightly and roll it between your palms to gently mix up the oils. Apply 3 drops on your whole face after cleansing and toning for youthful skin!
3. Tones Skin
Rose essential oil is a natural skin toner because of its astringent properties. It helps tone skin which reduces excess oiliness and tightens large pores.
Floral Facial Toner: in a spray bottle, add ½ cup of distilled water. Now add 4-6 drops of rose essential oil and 1 tsp witch hazel, Shake well and spray it 6 inches from your face to tone skin after cleansing it.
4. Protects Skin from UV Damage
Full of antioxidants, rose essential oil protects skin from UV damage. It also helps in treating sunburns. You can add it to your skin cream or sunscreen for natural sun protection.
5. Good for Sensitive Skin
Is it surprising that rose essential oil is gentle enough for sensitive skin? Yes, diluted rose essential oil can also be used on babies and children! You can add a few drops to their baths, baby powder and even massage oils (diluted of course).
6. Natural Perfume
Which girl doesn't love the smell of roses?! You can find a gazillion perfumes made of rose essence and you can make your own right at home too! There are several ways of making perfume with rose essential oil. You can combine it with vodka, water, witch hazel and even shea butter (if you want a solid perfume). You can even apply rose essential oil straight from the bottle onto your clothes!
7. Clears Up Acne
Acne inflammation and angry red cystic acne can be cleared up using rose essential oil. Rose essential oil is known to help with hormonal problems so it can treat cystic hormonal acne!
Anti-Acne Rose Spray: You can make a cooling & soothing rose spray by pouring ½ cup of distilled water into a spray bottle. Next, add 1 tsp of witch hazel and 4 drops of rose essential oil. Close and shake well to create an anti-acne rose spray. Spray on your face as a toner after cleansing your face.
8. Conditions Hair
Among my favorite essential oils that condition hair and make it soft, silky, shiny is rose essential oil! It also leaves your hair smelling so good! You can add it directly into your conditioner bottle or add 4 drops to your hair brush then brush away!
9. Calms Redness & Irritation
Although less known than lavender essential oil when it comes to calming irritated skin, rose essential oil also has great skin soothing properties! You can use it for reducing redness related to skin inflammation such as in the case of acne, rosacea, eczema and more. It's non-irritating so safe to use. Add a few drops to your skin cream or add 3 drops to 1 tbsp of aloe vera gel and apply it all over your face after cleansing it.
10. Natural Aphrodisiac
Roses have long been known as a romantic flower so it's not surprising to find out that its essential oil has strong aphrodisiac properties! You can make your own romantic perfume as follows:
Romantic Perfume: In a small glass bowl, add 20 drops of rose essential oil and 2 drops of clove essential oil. Now add 10 ml of jojoba oil and mix well with a toothpick. Transfer this into a 10 ml roller bottle with a syringe. Roll onto wrists, collar bones, knees, back of neck and hair ends.
11. Reduces Blemishes, Dark Spots & Acne Scars
Some people use rose essential oil for skin lightening purposes. It is said to brighten the complexion and improve skin tone. It helps reduce blemishes, dark spots and acne scars! You can add it to your face cream (1 drop in 1 tsp of face cream) to help combat this skin issue.
12. Repairs Broken Capillaries
Got broken capillaries on your face? These can also be referred to as spider veins. Rose essential oil is actually a good remedy for this. Its astringent, anti-inflammatory and soothing properties help repair broken capillaries.
You can mix 2 drops of rose essential oil in 1 tsp of coconut oil and massage it on the broken capillaries as a natural treatment.
13. Luxurious Baths
Cleopatra used to indulge in daily milk & rose petals baths, did you know! Have you ever strewn rose petals in your bath? If you don't have access to fresh roses, you can instead use rose oil, which is a great substitute. Here's a luxurious bath recipe with rose essential oil! Treat yourself to it every weekend or even just once a month for a spa treatment at home!
Luxurious Milk $ Rose Bath Recipe: In a large bowl, combine 1 cup Epsom salts and ½ cup Himalayan pink salt. Add this to running bath water then when the bath is full, mix 10 drops of rose essential oil in 1 cup of whole milk and pour this into the bath. Optional: You can add a handful of fresh rose petals too! Stir the bath and soak for as long as you want!
Where to Buy Rose Essential Oil
Always look for 100% pure high quality rose essential oil without additives. Do not buy fragrance oils or oils with synthetic ingredients added to them. My recommended rose essential oil is from Aviano Botanicals. You can buy it here.