Discover the top 10 beauty benefits of royal jelly.
Royal jelly is the special substance that queen bees feed on, enabling them to produce up to two thousand eggs per day.
It is clearly very nutritious and packed with healing properties. For this same reason, royal jelly is an exquisite substance.
There are so many beauty benefits of royal jelly that you must look into for captivating looks!
The Origin of Royal Jelly
Royal jelly owes its existence to beehives. It's a substance that is secreted by younger nurse bees and is known for its spicy-acidic, yet sweet taste. Unlike honey, which is produced by bees as food for the worker bees, royal jelly is made as food just for larvae and the swarm's queen bee.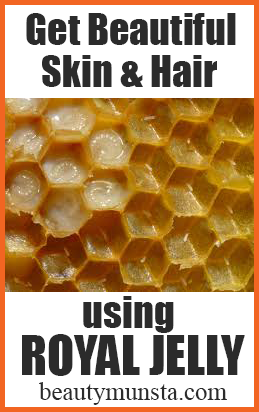 The Properties of Royal Jelly
Royal jelly is endowed with healing and anti-tumor properties. It contains:
Vitamins B1, B2, B3, B5, B6 &
Vitamin C;
Biotin,
Inositol
Folic Acid
And more!
In percentage terms, its water content is about 70% while proteins constitute 15% and 2-3% of it is amino acids and vitamins. Fructose, glucose, lipids and  minerals are also found in Royal jelly.
The best royal jelly to buy comes from eco-friendly bee farms like this one: YS Bee Farms Pure Royal Jelly 
How to Use Royal Jelly for Beauty

You can consume supplements of royal jelly in capsule form. For use in face masks and hair masks, simply prick the capsules with a sterilized pin and squeeze out the jelly into a bowl. Then add the other ingredients needed and use as needed.
Top 10 Beauty Benefits Royal Jelly
The fats present in royal jelly, when suspended as natural emulsions, have certain moisturizing properties that have great beauty benefits. Have a look at the top ten beauty benefits of royal jelly below!
1. Protects the skin from dehydration:
Royal jelly contains amino acids that are a component of the collagen. These potent aminos hydrate the skin and keep it firm. It stimulates collagen production in the skin. Royal jelly is ideal for dry skin conditions, where the skin turns flaky.
It also works wonders on eczema and psoriasis.
Thanks to the collagen boosting properties, royal jelly can protect skin from premature wrinkling and stretch marks. Further, it can enhance firmness and elasticity in the skin, making it look more supple and youthful!
2. Fights infections:
Royal jelly has fungicidal and antibiotic properties, which help in treating and curing fungal and bacterial skin infections. You can heal conditions like candida, contact dermatitis, acne and eczema, to name a few with royal jelly.
Plain application of the jelly leads to quicker healing.
3. Prevents premature skin ageing:
The powerful antioxidant properties of Royal jelly rejuvenates the skin, tightens its pores and scavenges free radicals that are responsible for aging skin prematurely to give it a healthy glow.
That's why Royal jelly is a main ingredient in many commercial cosmetic products.
4. Erases dark circles:
Dark circles can make you look tired and dull.
Mix a few drops of almond oil and 2 tablespoons of royal jelly and apply this to the area around the eyes every night.
This routine can eliminate dark shadows.
You can make a bulk of this mixture and store it in your fridge for easy use.
5. Makes an effective face mask:
Make face masks with royal jelly!
Simply mix royal jelly with Greek yogurt and the white of 1 egg.
This makes an excellent face mask to erase dark spots and facial scars.
It makes the skin glow luminously.
Apply to the face and let it dry for 15 minutes. Rinse with cold water. Best done three times a week.
6. Treats burn wounds:
A study has revealed that royal jelly when directly applied to blisters caused by burns helps heal the wound faster because it enhances cellular re-growth.
That's why physicians treating burn wounds advise the use of Royal jelly-based soaps, moisturizing lotions, cleansers and creams.
7. Improves the skin's collagen levels:
Royal jelly can regulate photo aging of the skin damaged by harmful ultraviolet-B radiation.
Korea's Kyung Hee University carried out a study on the effect of royal jelly on skin.
The study showed Type I Procollagen protein levels increasing in the skin after the subjects were given a dietary supplement that contained one percent of royal jelly.
If you want to improve the health and lustre of your skin, make sure you supplement with royal jelly capsules.
8. Boosts hair growth:
Vitamins and proteins present in Royal jelly boost hair growth. Make a paste of royal jelly and thick coconut milk. Apply this to your scalp to repair and stimulate new follicle growth.
Let it dry naturally for about half an hour and rinse with water.
Use this potent hair mask 1 – 2 times a week for phenomenal hair growth.
9. Eliminates dandruff:
Mix 2 tablespoons of royal jelly with 2 tablespoons of warm almond oil.
Apply directly to the hair is an effective anti-dandruff treatment.
Spread your royal jelly mixture all over your scalp. Leave it to dry for up to 20 minutes. Next, wash off with shampoo and conditioner as usual.
Personally, I always recommend the Sulfur8 Medicated Regular Formula to get rid of dandruff and condition the scalp. F
or those suffering from scalp odor, you must try out the Neutrogena T/Sal Therapeutic Shampoo.
10. Moisturizes the scalp:
Massage pure royal jelly into the scalp twice a week to deeply moisturize your scalp. Royal jelly acts as a nutrient for the scalp as it increases its blood circulation.
Further, royal jelly can help trap the moisture into your hair follicles.
This makes the hair look shiny and bouncy.
Other Bee Beauty Ingredients:
More Natural Ingredients for Radiant Beauty: