Bee propolis is a less-known superfood that actually has so many medicinal and healing properties. Let's have a look at some of the beauty benefits of bee propolis for hair, skin, nails and more!
Where Does Bee Propolis Come From?
Bee propolis is the resinous mixture produced by honey bees that combine beeswax, their own saliva and exuded substances collected from sap flows and tree buds.
The color of bee propolis is usually dark brown. Bees use it more as a sealing agent to cover gaps and cracks in their hives to ward off lizards and snakes.
The substance dates back to 350 B.C and the ancient Egyptians used it in their mummification processes. Assyrians and Greeks too used it to heal wounds and tumors.
What Are the Properties of Bee Propolis?
Bee propolis contains a whopping 300 natural compounds! These include coumarins, amino acids, polyphenols, phenolic aldehydes, steroids and sequiterpene quinines.
Its general composition is 50 % resins, 10 % essential oils, 30 % waxes, 5 % pollen and multiple organic compounds, respectively. Its composition, however, varies on the exact time of collection, plant sources and location.
Where to Get Bee Propolis
Always make sure you get 100% pure high quality bee propolis. This Pon Lee Brazil Green Bee Propolis is good quality and alcohol-free so you may want to get your hands on it.
Top 10 Beauty Benefits of Bee Propolis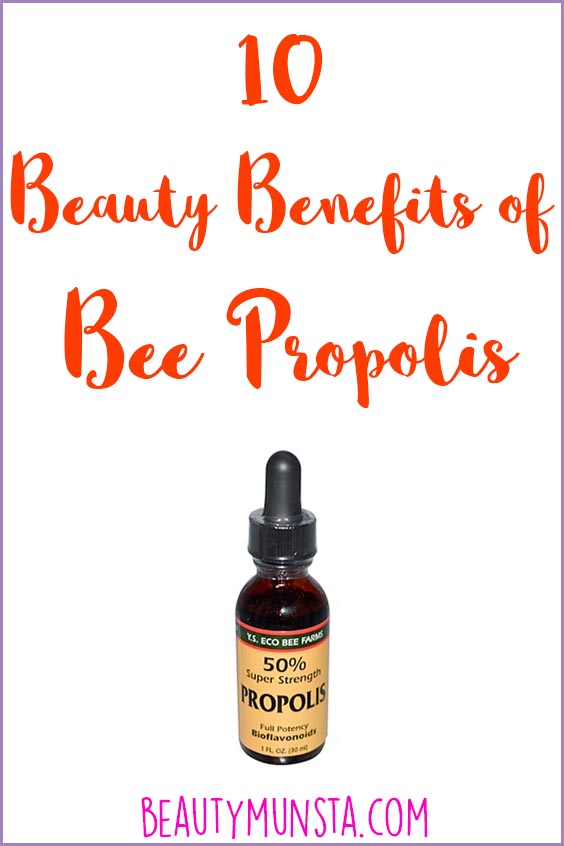 Now let's dive deep into the incredible beauty benefits of bee propolis for your hair & skin!
1. Makes a nourishing hair mask:
Melt a mixture of 1 ½ teaspoons of beeswax pastilles and 1/4 cup of olive oil over low heat and stir in in 1 tablespoon each of raw honey and bee pollen, ½ tablespoon of royal jelly and ½ tablespoon of bee propolis.
Blend all the ingredients thoroughly to get a thick cream-like mixture. Take a suitable amount of it in the shower with you while you store the rest in an air-tight container in the fridge for future use.
Rub it into the scalp thoroughly and leave it on for one hour. Rinse off and wash your hair with a natural shampoo to get silky, shiny and bouncy hair. It acts as a great nutrient for the hair and moisturizes every hair follicle to encourage hair growth also.
Also read: DIY Rhassoul Clay Hair Mask for Clean & Shiny Hair | Recipe from Morocco
2. Strengthens hair roots:
Extensive research has shown that eating a tablespoon of bee pollen daily strengthens hair roots and makes it shiny and lustrous.
Additionally, you may also mix one teaspoon of bee propolis with one tablespoon of your regular shampoo and keep it overnight.
Use it to shampoo the following morning and observe how nice your hair feels and looks.
Read: How to Use Castor Oil for Hair Growth & The Easiest Way!
3. Heals wounds:
Bee propolis heals open wounds faster through quicker cell regeneration because of its strong anti-inflammatory and immuno-modulation properties.
When consumed internally, it increases the production of minerals like silica, which builds skin cells in the body.
1500 mg of bee propolis consumed daily heals wounds faster.
You can purchase and consume bee propolis capsules!
4. Fights acne:
The natural antibiotic content of bee propolis kills the germs that cause acne. The antibacterial effect is one of the best beauty benefits of bee propolis for skin. You can apply bee propolis topically to fight acne and pimples.
However, should the skin be damaged by acne already, internal consumption of bee pollen helps incredibly! Its high cell turnover effects and anti-inflammatory properties make acne-ridden skin blemish-free and clear.
5. Anti-aging effects:
By consuming bee propolis regularly, you can get a timeless skin. Its high antioxidant content wards off free radicals that are generated by toxins, sun rays, pollutants, chemicals and environmental impurities. Application of bee propolis on the skin protects it and prevents fine lines and wrinkles.
6. Leaves your skin glowing:
Eating bee pollen regularly leads to a glowing complexion as does a direct application on the face.
A face mask comprising half a mashed avocado, one teaspoon of fresh lemon juice, one teaspoon of raw honey and a few drops of bee propolis may be applied on the face and neck and kept for about 15 minutes. Rinse off with warm water in the shower and watch your skin glow.
7. Strengthens nails:
Regular consumption of bee pollen is also known to strengthen your fingernails and in protecting them from breaking easily. Don't miss: DIY Nail Strengthener for Strong Healthy Shiny Nails
8. Improves skin color:
Since bee propolis contains flavonoids, phytosterols, and carotenoids, it promotes cell regeneration. So, whether you consume it or apply it, it improves the skin's tone and appearance as also its elasticity.
9. Facial astringent:
One of the best beauty benefits of bee propolis is that it works as a fantastic skin toner or astringent. For those with oily skin, a mixture comprising 1 teaspoon each of bee propolis, rubbing alcohol, distilled water and vegetable glycerin, and witch hazel makes a great natural facial astringent that both nourishes and tightens the skin by removing excess oils that clog skin pores.
10. Treats Candida & Herpes:
The yeast-like fungus, Candida Albicans causes candidiasis, an infection of the mouth, vagina and intestinal tract and which may turn serious if the body's immune system is weak.
Bee propolis extracts have been known to inhibit oral candidiasis effectively and it has also worked on 40 different strains of yeast.
Herpes or cold sores caused by the HSV or Herpes simplex is a painful and highly contagious condition affecting almost any part of the body.
Bee propolis has proved to stop both HSV-1 and HSV-2 from reproducing and works well particularly in genital herpes, where the painful lesions heal much faster as compared to conventional ointments.
More Beauty Benefits from Bee Products