Goji berries are a powerful superfood for true natural beauty! Discover 10 amazing beauty benefits of goji berries for skin & hair!
What are Goji Berries?
Scientific Name: Lycium barbarum
Before goji berries took over the world as a superfood, they were used for centuries in China for their medicinal benefits. They are highly touted for their benefits of promoting longevity.
An ancient tale tells us that a man lived for 252 years by incorporating goji berries to his soups everyday! Other legends narrate that Buddhist monks were the first to discover these red berries in the Tibetan mountains. It's said that those who incorporated them into their diets lived longer than those who didn't.
Goji berries are very nutrient-dense. The bright red color of goji berries comes from their high beta-carotene content. Goji berries are also filled to the brim with amino acids. They also contain other carotenoids apart from beta carotene including zeaxanthin, lutein, beta-cryptoxanthin, and lycopene. Other nutrients goji berries have are B vitamins, a lot of vitamin C and more than 30 trace minerals including iron, zinc, copper, calcium, selenium, etc.
Precautions
If you're taking blood-thinning medication, then avoid goji berries as they have anti-coagulant properties.
Consult a doctor before consuming goji berries during pregnancy.
Where to Get Goji Berries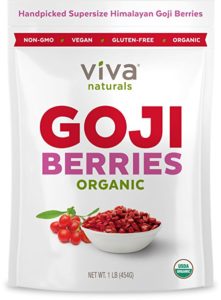 When purchasing gojiberries, make sure they're vibrant red. This means they're fresh. I like and recommend buying Viva Naturals Premium Himalayan Organic Goji Berries. They come in a 1 pound bag.

Make sure you aren't using stale or expired goji berries! Please read: Can Goji Berries Go Bad? 
10 Beauty Benefits of Goji Berries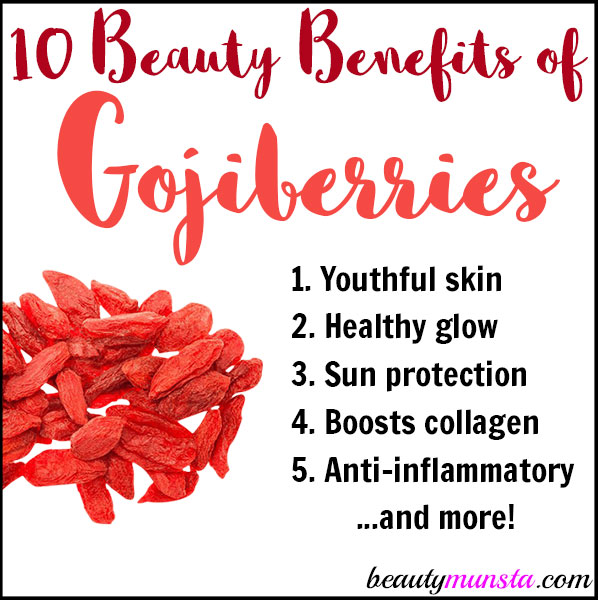 1. Promotes a Healthy Glow
Since gojiberries are rich in beta carotene, they give skin a healthy glow when consumed. All foods rich in beta carotene like carrots, are this way. Eat them in moderation and you'll get glowing skin!
2. Delays Wrinkles and Fine Lines
The most exciting beauty benefit of goji berries is that it is a powerful anti-aging secret. It not only promotes longevity but also youthful looking skin! Toss a few goji berries into your smoothies next time to experience slow aging of skin! You can also apply gojiberries to your skin topically, did you know? Check out below:
DIY Goji Berry Face Mask: Soak 3 goji berries in 2 tsp of water in a small bowl. After 17 minutes, mash up the goji berries into a pulp. Now add ½ tsp of raw honey. Smear this anti-aging goodness on your clean face. Let it penetrate for 10 minutes then rinse off with tepid water. Try this anytime you feel like giving your skin a youthful boost!
3. Offers Sun Protection
You know the phrase, 'Eat your sunscreen'? It means eating certain foods naturally equips your skin with the ability to block harmful UV rays. Among the foods that you can eat as a natural sunscreen includes goji berries. They contain a boatload of antioxidants that protect skin from UV rays and free radicals that damage skin cells.
4. Treats Inflammatory Skin Conditions
Goji berries have powerful anti-inflammatory properties. They are good for reducing any kind of inflammation, including inflammatory skin conditions such as eczema, psoriasis and rosacea. If you gave acne inflammation, add goji berries to your diet to soothe redness and reduce inflammation.
5. Boosts Collagen Production
With their super high vitamin C content, it's no wonder goji berries boost collagen production. Vitamin C is known to encourage collagen production in the skin, protects skin from oxidative stress and maintain the skin's elasticity. This helps your skin stay supple, smooth and firm!
6. Improve Skin Tone
Got an uneven skin tone? Or suffering from hyperpigmentation? Goji berries need to be in your diet. Since they contain loads of vitamin C, beta carotene and amino acids, eating goji berries helps maintain a smooth radiant complexion.
7. Keep Skin Moisturized
Dry and dehydrated skin can be restored to their healthy moisturized state by consuming goji berries. They restore hydration in dry skin and plump up the appearance of your skin.
Homemade Gojiberry Tea: Make gojiberry tea by steeping 5 goji berries in a cup of boiling water for 15 minutes. Sip the tea as you enjoy your favorite book, gaining from the skin rejuvenating properties of goji berries!
8. Anti-Fungal Properties
Goji berries are also an anti-fungal food. So if you suffer frequently from candida or skin yeast infections, it's time to include goji berries in your smoothie bowls. They will balance out your good bacteria, preventing candida from multiplying and causing yeast infections.
9. Strong Antibacterial Effects
This red superfood berries also contain antibacterial properties! Acne-sufferers, this is good news for you! Eating gojiberries will fight the bad acne-causing bacteria and purify your blood, reducing your breakouts!
10. Healthy Hair
Regularly eating goji berries will also promote healthy locks of hair! Since they're rich in amino acids, which is basically protein and our hair strands are made up of protein too, eating goji berries will ensure your hair strands stay strong and not easily break off.
So those are 10 gorgeous beauty benefits of gojiberries! Start adding these pretty red berries to your diet to benefit from their amazing health benefits for skin & hair!