Making this homemade astringent for oily skin is super duper easy and it works!
Oily skin is a nuisance since it leaves you looking like a Grease Face all the time. You know you have oily skin when you feel like washing your face a million times a day. And when you start dabbing your face with a couple of blotting papers in the middle of the day at work to make your face not look slimy.
Some of the causes of oily skin is eating a lot of greasy foods, having low linoleic acid levels and even genetics. You can remedy oily skin by limiting greasy foods in your diet and using Carrier Oils High in Linoleic Acid. What you can also do is making and using this homemade astringent for oily skin!  It is a very simple recipe yet I believe it works so much better than store-bought astringents. You know the ones for more than $20?! What a waste of money!
This homemade astringent for oily skin on the other hand, is very cheap, easy to make and works well! It is great for removing excess oils and stale sebum from within your skin and on the surface – without being too harsh.
Check out the ingredients we shall be using!
Ingredients Needed & Their Benefits
Apple cider vinegar (ACV) – ACV is one of the best natural astringents out there. It's a disinfectant, antibacterial, anti-inflammatory and helps soak up excess oils sitting on the skin. We're going to be diluting it with distilled water for a gentler but still effective astringent. Only buy raw organic ACV like Bragg's apple cider vinegar.
Lemon essential oil – Lemon is a natural astringent, I'm sure you know that. Now lemon essential oil is just the same! Only it lasts longer than lemon water and has a fun fruity scent! It also disinfects pores and tightens them up. It also has a whole host of other beauty benefits which you can check out here: Top 10 Beauty Benefits of Lemon Essential Oil
Distilled water – Make sure to use only distilled water. Do not use tap water because it'll shorten the shelf life of your astringent. You can use filtered water but distilled water is the best choice if you want your astringent to last a long while.
Homemade Astringent for Oily Skin
Now that we've seen the ingredients and their benefits, let's move onto the fun part – the recipe!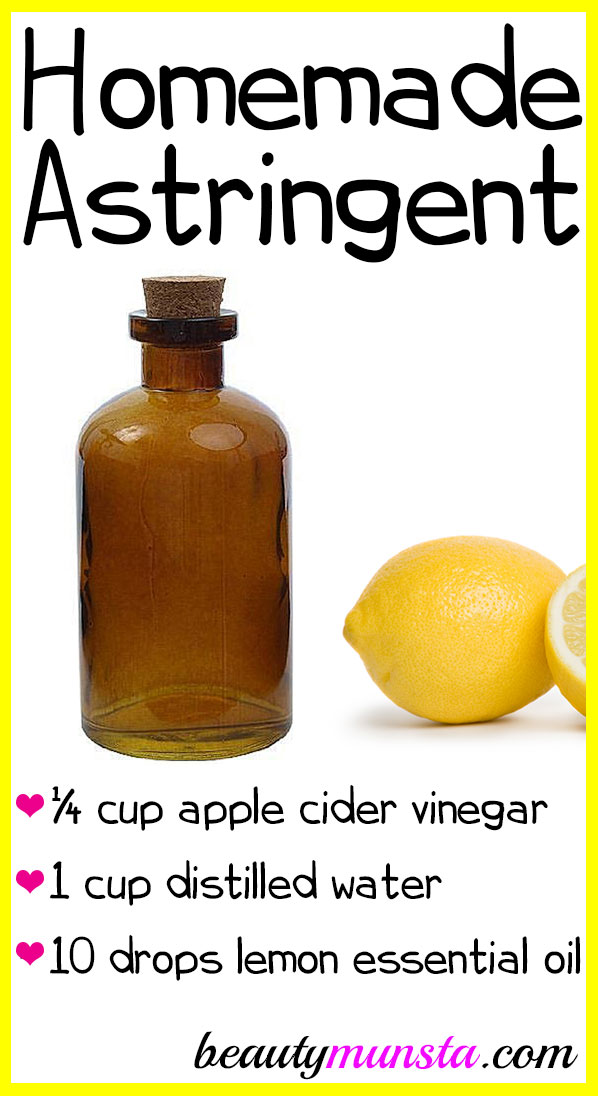 What you need
¼ cup organic apple cider vinegar
1 cup distilled water
10 drops lemon essential oil
Small funnel
Bottle with cork
Cotton pads
Directions
Remove the cork and place a funnel on your bottle.
Pour in ¼ cup of apple cider vinegar and 1 cup of distilled water.
Now carefully add 10 drops of lemon essential oil.
Remove the funnel and push back the cork.
Give the bottle and good shake to mix everything up.
Your homemade astringent for oily skin is ready! Store in a cool dry place.
To use, get some on a cotton pad and gently sweep it all over your clean dry face. Let it dry up then follow up with a serum or face moisturizer. Check out Homemade Face Serum Recipes and Shea Butter Face Cream Recipes.
Use twice a day after washing your face!
My Tips & Caution
You only need to use a tiny amount of the astringent. As I said, just one gentle sweep with a cotton pad is all you need. Do not keep wiping your face because you'll make it dry, red and irritated!
Lemon essential oil is photo-sensitive. This means you can't apply it on your skin then expose it to sunlight. If you do it, you may experience burning sensations or even worse! So make sure to be careful not to move around with only the toner on your face. Moisturize after using the toner! If you're feeling doubtful, just use tea tree oil instead of lemon oil.
This homemade astringent stores for at least 2 months. But you'll probably get done with it by then and even have made your second batch! If you want it to last longer, then store it in the refrigerator!
Feel free to use a different essential oil if you want. Good essential oils for skin tightening include tea tree oil, rosemary oil, cypress oil, basil oil and neroli oil.