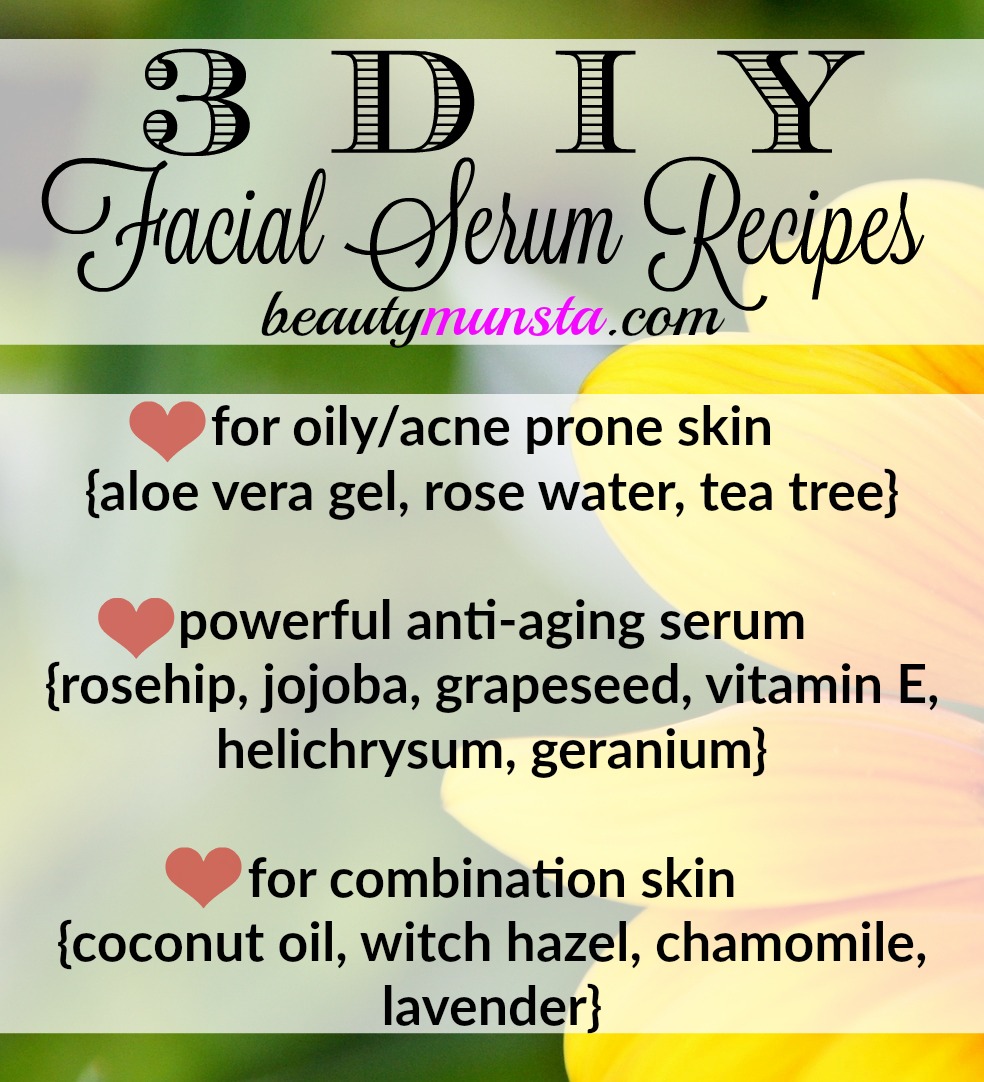 The Basics of DIY Homemade Facial Serum Recipes
► What's your skin type? Before making a homemade facial serum, first analyze your skin: is it oily, dry or a combination of both? Do you have acne-prone or sensitive skin? By knowing your skin type, you can know the right healing ingredients to use. For example: for sensitive skin, chamomile & lavender are great skin soothing ingredients while frankincense and helichrysum are powerful anti-aging ingredients.
► Choose your base ingredient. The base ingredient is the one you'll be using a large quantity of, is supposed to be mild and less potent than other ingredients and helps combine the rest of the ingredients. Good base ingredients for facial serums include: carrier oils, aloe vera gel, witch hazel, vegetable glycerine and hydrosols such as rose hydrosol, neroli hydrosol, lavender hydrosol, etc.
► Add healing ingredients. Select any essential oils, hydrosols, carrier oils or natural astringents to add to your base ingredient to create your serum.
1. Homemade Facial Serum for Oily & Acne-Prone Skin
Since this homemade facial serum is for oily skin, we're using oil-controlling and acne-fighting ingredients such as aloe vera gel, tea tree oil and rose hydrosol. Aloe vera gel is skin tightening, which helps minimize large pores that secrete a lot of oil onto the skin's surface. It also has soothing properties good for calming down red and painful acne. Tea tree essential oil is the most effective essential oil for acne, it has antiseptic properties, tightens skin as well as fights itchy acne. Rose hydrosol counteracts the drying effects of the two previous ingredients as well as nourished the skin, reduces inflammation and removes excess oils on the skin.
Ingredients
– 3 tbsp aloe vera gel
– 4 drops tea tree essential oil
– 1 tsp rose hydrosol
Directions
Add 3 tbsp of aloe vera gel in a small glass container. Then add the rose hydrosol and stir vigorously with a spatula to get a silky mixture. Place 4 drops of tea tree and mix well. Store in a cool dark place away from sunlight. Use just a pea-sized amount on your face.
2. DIY Powerful Anti-Aging Facial Serum
I'm borrowing this recipe from my powerful anti-aging facial serum in this post. It's filled with antioxidants that fight off pro-aging free radicals! The main ingredient is helichrysum essential oil, which has incredibly healing properties that not only rejuvenate and repair aging skin but also boost collagen production. Other ingredients are rosehip seed oil, the most potent anti-aging carrier oil, jojoba oil, the carrier oil with a composition that's very similar to that of our skin's sebum, geranium essential oil, which helps delay fine lines and wrinkles, grapeseed oil that is skin nourishing and finally vitamin E oil which is known as the 'skin vitamin' and is a strong antioxidant. I know, that seems like a lot of ingredients but that's why it's called powerful anti-aging facial serum!
Ingredients
– ½ oz rosehip seed oil
– ½ oz jojoba oil
– ¼ oil grapeseed oil
– 5 drops pure vitamin E oil
– 7 drops geranium essential oil
– 7 drops helichrysum essential oil
Directions
Add all the ingredients in a 2 oz cobalt blue glass dropper bottle. Swirl gently to combine. To use, every night before bed, place just 2 drops between your palms, rub them together and massage it deep into your skin for about a minute. Wake up the next morning, and every morning after that, to a radiant, supple and youthful face!
3. Facial Serum for Combination Skin
Combination skin can be quite tricky to care for because you need to be careful in choosing ingredients that won't make the oily parts of your face oilier and dry parts of your face drier. That's why in this homemade facial serum recipe, we're going to be combining witch hazel (for oily skin) and liquid coconut oil (for dry skin). Coconut oil absorbs easily into the skin, without clogging it up. It's actually recommended and used for clearing up acne by many people. Witch hazel is a natural astringent and works in removing excess sebum on the skin and within the pores. The final ingredient is the skin-balancing chamomile essential oil. It's very gentle on skin, soothes inflammation, controls sebum production and fight off bacteria. We're adding a few drops of lavender essential oil for a beautiful scent as well!
Ingredients
– 2 tbsp liquid coconut oil
– 1 tbsp witch hazel
– 3 drops chamomile essential oil
– 3 drops lavender essential oil
Directions
Combine all the ingredients in a dark colored glass dropper bottle and swirl it to mix. Store in a cool and dry place. Apply just 2 drops on your face after cleansing, preferably at night, to moisturize and tone your skin.
When & How to Apply Homemade Facial Serums
First wash your face to remove any makeup, dirt, grime and stale oils. Pat dry with a clean towel. Then place a pea-sized amount or 2 drops on your palms, rub together and gently massage for about a minute. Apply these homemade facial serums preferably at night as this is the time your skin repairs itself. You can also apply them before putting on makeup and in place of your moisturizer/toner.
Take Care
Please ensure your skin will not react negatively to the above ingredients before applying them on your skin. To test if you're allergic, rub 1 drop of the homemade facial serum that you have created on your inner wrist/elbow. Monitor the area for 6-12 hours. If you notice any skin irritation, itchiness, rashes or redness, that means you might be allergic to one or more of the ingredients. Immediately rinse off with a mild soap and warm water and do not use the homemade facial serum. You can gift it to a family member or friend instead. They'll be delighted! 😉