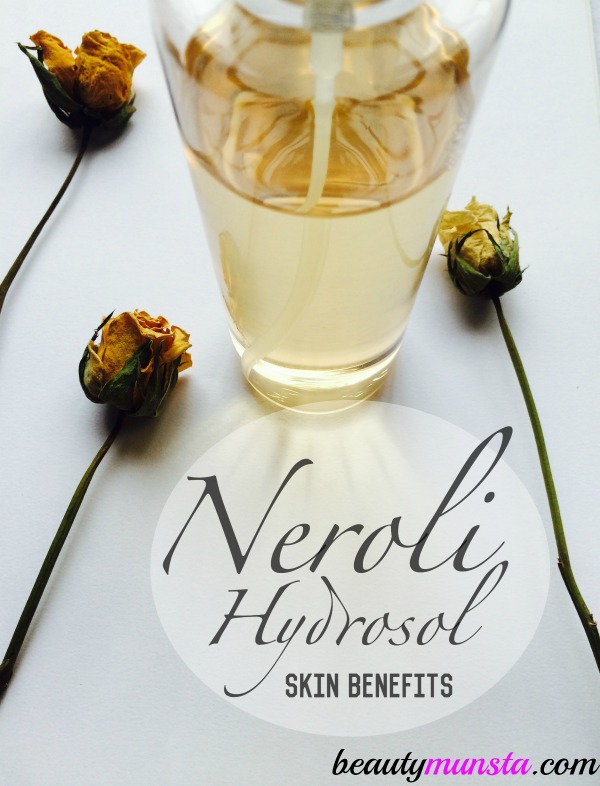 Neroli hydrosol, also known as orange blossom hydrosol/flower water, is steam distilled from the pretty white flowers of the bitter orange tree. It's gorgeous sweet floral fragrance with a hint of citrus has aroma therapeutic properties of instantly uplifting one's mood and dispelling negativity. It originates from the Arab world, Morocco in particular, where it is popularly used not only as a food flavoring agent but also a perfume and natural beauty ingredient.
Did you know? A hydrosol is the by-product of essential oil distillation. As the steam from the distillation carefully extracts precious essential oils drops from the aromatic parts of plants, in this case, neroli flowers or orange blossoms, it creates fragrant water droplets which are also collected in glass/steel containers. This fragrant water is what is known as the hydrosol or floral water.
Properties of Neroli Hydrosol for Skin
► Purifying – Neroli hydrosol is contains water and natural alpha hydroxyl acid that gently work in cleansing and exfoliating the skin as well as purifying pores without stripping the skin of its natural oils like other 'mild' cleansers.
► Astringent – Being a natural astringent, neroli hydrosol tightens, firms and tones skin while reducing excess oils, minimizing large pores and lifting sagging skin.
► Anti-inflammatory – Being anti-inflammatory, neroli hydrosol calms skin inflammation including red and angry acne inflammation.
► Antibacterial – The antibacterial properties of neroli hydrosol are effective in treating acne and other skin irritating conditions.
► Soothing – When applied to sensitive, irritated and damaged skin, neroli hydrosol soothes and calms.
► Antioxidant – Containing powerful antioxidants, neroli hydrosol fights off pro-aging and skin damaging free radicals.
10 Neroli Hydrosol Skin Benefits for Gorgeous Skin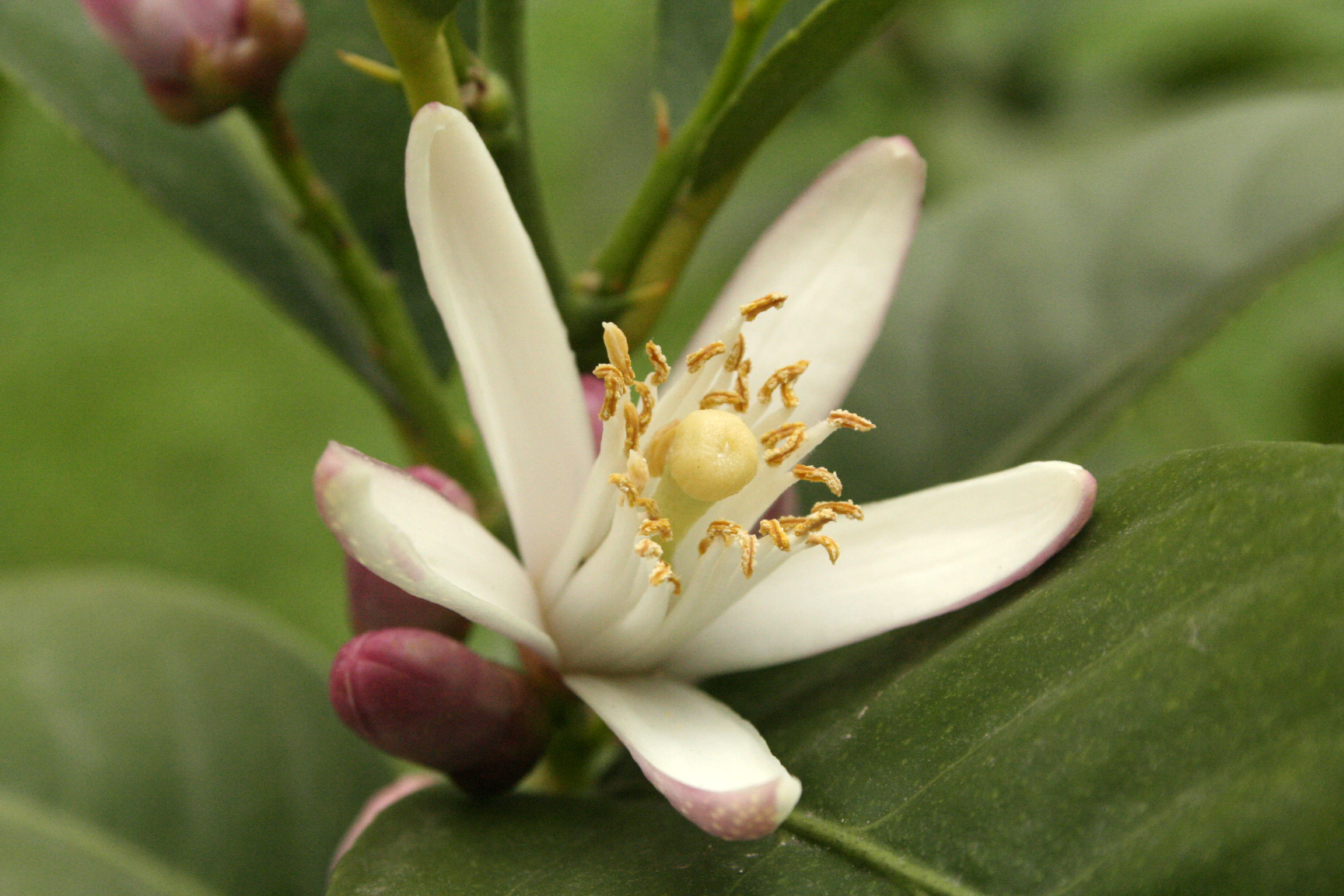 1. Naturally Cleanses Skin
Neroli hydrosol is a natural skin cleanser that can be used for sensitive skin types, for example, if you suffer from eczema or acne as it is very gentle and does not contain any chemicals. Even the mildest soaps such as castile soap can irritate sensitive skin types so using neroli hydrosol may be the best solution. To use, simply spray neroli hydrosol on a cotton pad and swipe it over your skin gentle to remove dirt, grime and excess sebum.
2. Balances Sebum
Being a natural astringent and skin hydrator, neroli hydrosol balances the skin's sebum while sealing moisture in the drier parts of your skin. Spritz neroli hydrosol on your skin after cleansing as a natural toner + oil-free moisturizer all in one!
3. Hydrates Dry Skin
Have dry peeling skin? You need a nutritive hydrator to plump up those skin cells! Massage a pea-sized amount of coconut oil on the affected areas then spray neroli hydrosol to seal moisture and prevent further drying.
4. Reduces Skin Inflammation
Neroli hydrosol is cooling and soothing for inflamed skin including rosacea, acne, eczema, psoriasis, etc. To calm inflammation, make a facial mask by combining 2 tsp of colloidal oatmeal, 1 tsp raw honey and a liberal amount of neroli hydrosol to form a soft paste. Apply on the skin inflammation to soothe and cool.
5. Tighten Pores
Large pores can be reduced in size using neroli hydrosol as a toner. The natural astringent properties tighten, tone and firm the skin hence minimizing pores.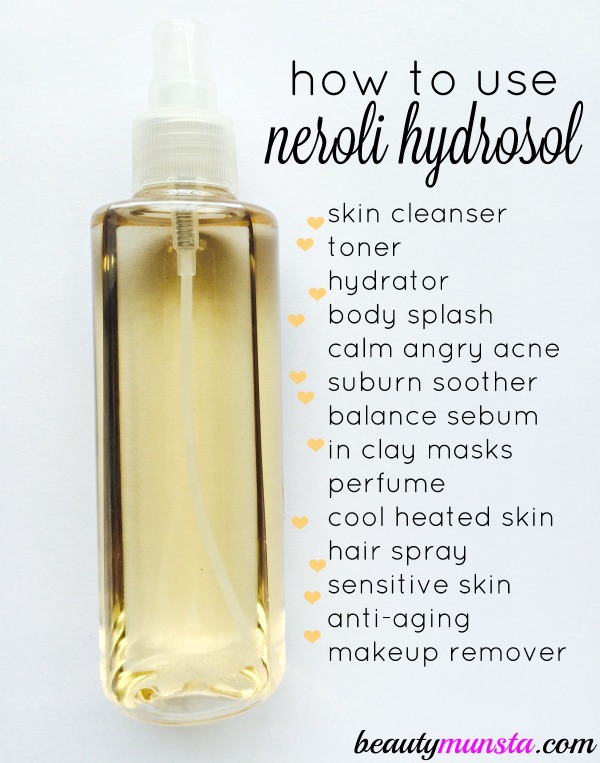 6. Calms Acne
Got itchy, red, painful and oily acne? Use neroli hydrosol. What I do is spritz just once on the acne area and let it dry up on its own. Your skin will feel calmed and oil-free.
7. Soothes Sunburn
One of the remedies for sunburns is spritzing a cooling hydrosol for instant relief. Neroli not only cools down the hot and stinging skin but also promotes cell regeneration and turn over which speeds up healing of the damaged skin.
8. Delays Fine Lines & Wrinkles
The powerful antioxidants in neroli hydrosol protect skin from notorious free radicals that steal oxygen from healthy skin cells which leads to premature fine lines, wrinkles and sagging skin.
9. Good for Sensitive Skin
Neroli is said to be one of the best essential oils for sensitive skin types and the hydrosol is even milder than the essential oil. If you have skin prone to rashes, itchiness, acne and other inflammatory skin conditions, then use neroli hydrosol for a moisturizer, toner, facial mist or body splash.
10. Scented Skin
Smell irresistible by spritzing neroli hydrosol on your skin! Apply all over your body, especially your neck, upper back, thighs, wrists, upper arms and face after a bath/shower for naturally beautiful scented skin.
Where to Get Orange Blossom Water

It's tricky to buy floral waters/hydrosols because you can easily end up buying a flavored water or artificial product! That's why please buy from trusted sources! Make sure to buy 100% pure and organic orange blossom water. I like and recommend Leven Rose's 100% Pure and Organic Orange Blossom Water! It's the real thing and even comes in a spray bottle for easy application! Use it for your face.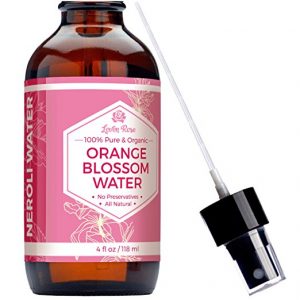 If you want orange blossom water in large quantities for baths, facial steams and hair rinses, buy Cortas Orange Blossom Water. It comes in a 10 oz bottle and is food grade!

Take Care
Even if neroli hydrosol is recommended for even the most sensitive of skin types, it's better to stay on the safe side and use a skin patch test first. Spray it on your inner wrist/elbow and leave it on for 6-12 hours. Keep monitoring to see if your skin reacts negatively in form of redness, itchiness and any sign of irritation. If you notice anything unusual, then you might be allergic so immediately wash the area with warm water and a mild soap and please refrain from using it on your body.