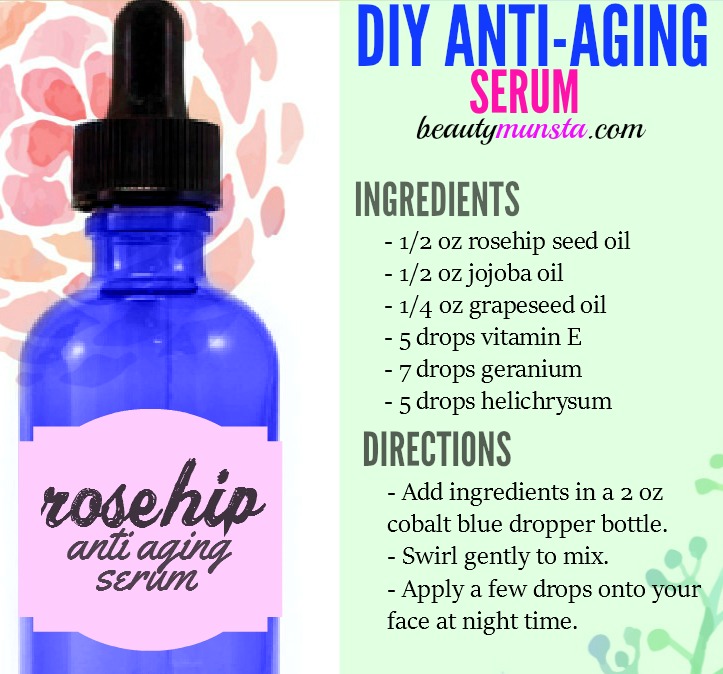 Hello, beautiful people! I recently shared my night time facial oil for breakout-prone skin that's also very effective in healing acne scars. Check it out here! Now this week's beauty how-to is a powerful DIY anti-aging serum that I recommend to anyone 18 years and above! Yes, it's never too early to start using anti-aging products on your face, especially in this age where stress & tension from school, work and society affects almost everyone and causes premature aging. Even if you notice a few wrinkles around your eyes or mouth, it's never too late to help smooth them out a bit with this DIY anti-aging serum! Let's look at the ingredients and how they help:
Beautymunsta's Ingredient Profile
Ingredients
Directions
Add all the ingredients in a 2 oz amber/cobalt blue glass dropper bottle.
Swirl gently to mix.
Every night before bed, cleanse your face thoroughly then place 4 drops of this DIY anti-aging serum between your palms, rub together and apply on your face and neck for a minute.
My Tips
Feel free to substitute grapeseed oil with any other carrier oil of choice. However, if your skin is oily or prone to breakouts, I suggest sticking to grapeseed oil or using another carrier oil with a light consistency such as safflower.
You could also apply this DIY anti-aging serum in the morning after washing your face.
Use it consistency to see results. Make sure you never forget to apply it at night time since this is the time your skin heals/repairs itself and the serum can sink in undisturbed.
Don't want to use the essential oils mentioned above? Try using frankincense, carrot seed, myrrh, lavender or rose instead.