Fancy making your own DIY tea tree oil serum? Check out this fabulous recipe!
Beauty Benefits of Tea Tree Oil
Tea tree oil is probably the most popular essential oil for its versatility, cheapness and availability. It's also very well known as a powerful anti-acne ingredient. You can find tea tree oil in your local pharmacy! There are several beauty benefits of tea tree oil and here is a list showing some of them:
Fights acne
Reduces oily skin
Tightens large pores
Disinfects skin
Unclogs blocked pores
Heals acne scars and blemishes
Firms skin
And more
For more beauty benefits, please see: 10 Beauty Benefits of Tea Tree Essential Oil
Ingredients Used & Their Benefits
Argan oil – I choose argan oil because it is one of the best oils for acne since it has a comedogenic rating of zero (doesn't clog pores). It also helps with skin lightening for evening out discolored and blemished skin.
Rosehip seed oil – Rosehip seed oil is great for anti-aging but it's a miracle worker for getting rid of acne scars and blemishes!
Black seed oil – This is one of my favorite oils for combating acne internally and externally. I love to add it to my beauty products because it is a powerful fighter of acne and has a high linoleic acid content which is good for those with oily and acne prone skin. See Carrier Oils Rich in Linoleic Acid for more details.
DIY Tea Tree Oil Serum
If you have acne prone skin, large pores and an oily face, then this tea tree oil serum is for you!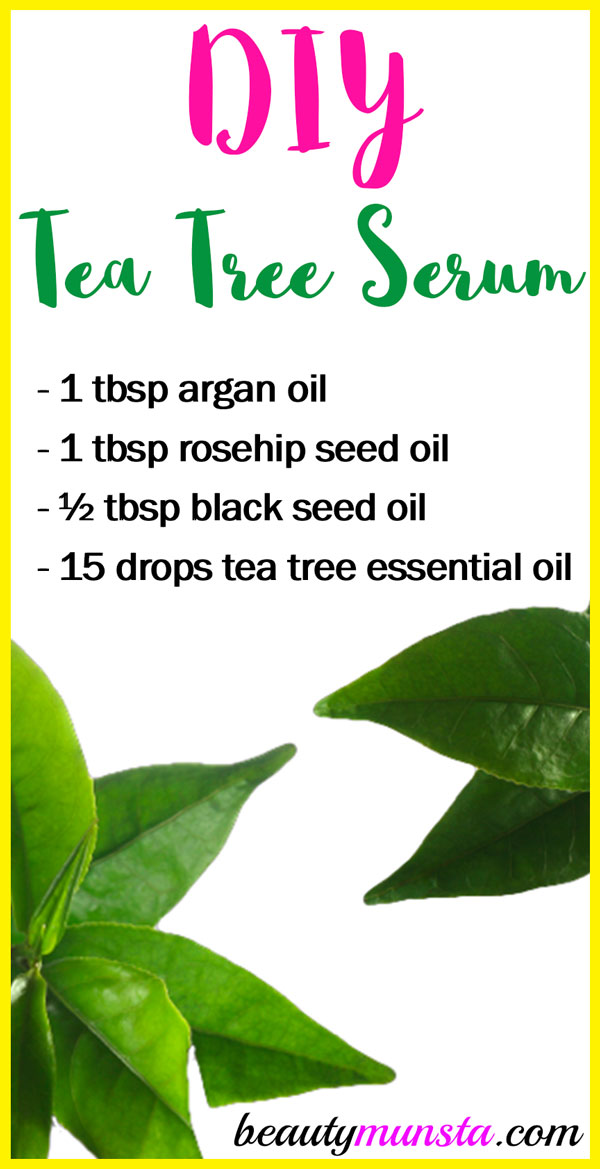 What you need:
1 tbsp argan oil
1 tbsp rosehip seed oil
½ tbsp black seed oil
15 drops tea tree essential oil
Small funnel
2 oz amber glass dropper bottle
Directions:
With the help of a small funnel, pour 1 tbsp of argan oil, 1 tbsp of rosehip seed oil and ½ tbsp black seed oil into a 2 oz amber glass dropper bottle.
Then carefully add 15 drops of tea tree essential oil.
Cap tightly and roll the bottle between your palms to gently distribute the tea tree oil throughout the blend. Do not shake as this will create air bubbles that will make the serum turn rancid fast.
This serum keeps for about 6 months but you'll be done with it by then!

Okay guys, please go ahead and try this DIY tea tree oil serum and come share your thoughts on it!