Is it okay to use castor oil as a skin primer? And what's the best way to use it?
What Is A Skin Primer?
A skin primer is an important makeup product that is used on the skin right before you apply all your other makeup.
So many people actually DON'T know that the secret to vivid, stunning and long lasting makeup is simply by using a primer!
Castor Oil As a Skin Primer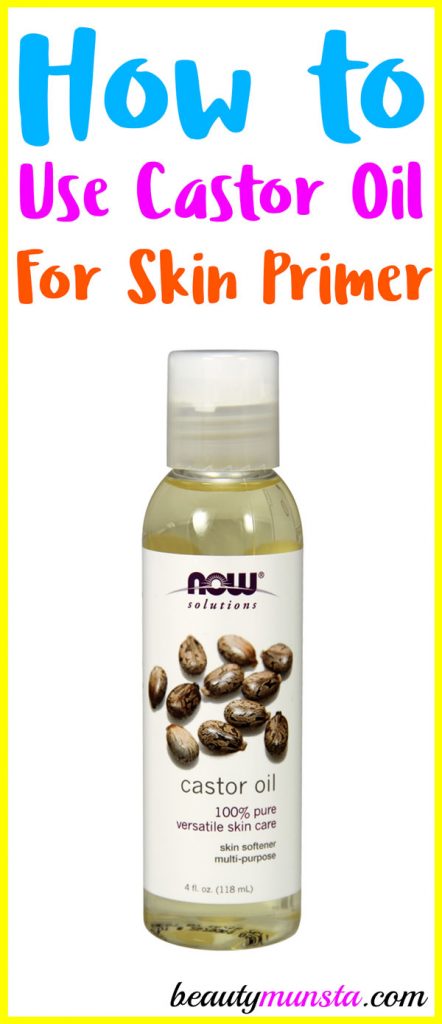 Now , there are so many luxury and drug store primers out there but they are usually in super tiny packs (I wonder why!) and are super expensive.
I never used primer before because I heard it can clog your pores (and it's true!).
In my teenage years, and even in my early 20's, I suffered from acne-prone skin.
Somehow with healthy eating and exercise, my skin has turned around and aside from the odd pimple now and then, I barely have to deal with acne.
But still, I wasn't so keen on trying makeup primers on my skin (not even on my eye lids) because I know primers can be clogging.
Does Castor Oil Cause Acne?
Castor oil cannot be the direct cause of your acne, but it may be a contributing factor. Why? Castor oil has a comedogenic rating of 1, which is actually low on the scale of 1 – 5. I've seen people making DIY face primers with almond oil, which actually has a comedogenic rating of 2 – higher than castor oil!
I have acne-prone skin and I've been using a castor oil based primer ever since I started seriously applying makeup. I haven't found my acne to have increased because of castor oil!
If you are really worried about primers or castor oil causing acne, then you shouldn't be using a primer at all. But if you do choose to use a primer, castor oil based primers are definitely better than almond oil based primers.
One more thing about castor oil is that it is drying. It contains ricinoleic acid, which sucks out moisture from the skin and may make already dry skin worse. So if you have dry skin, you may want to avoid castor oil, too.
DIY Skin Primer for a Stunning Face
This is our original recipe for DIY skin primer, which contains castor oil. Many were concerned that castor oil is not good for the skin, which is not true as I've discussed above!
Learn how to make your own cheaper, safer, highly effective primer here:
Have you tried using castor oil as a skin primer? How did it work out for you?