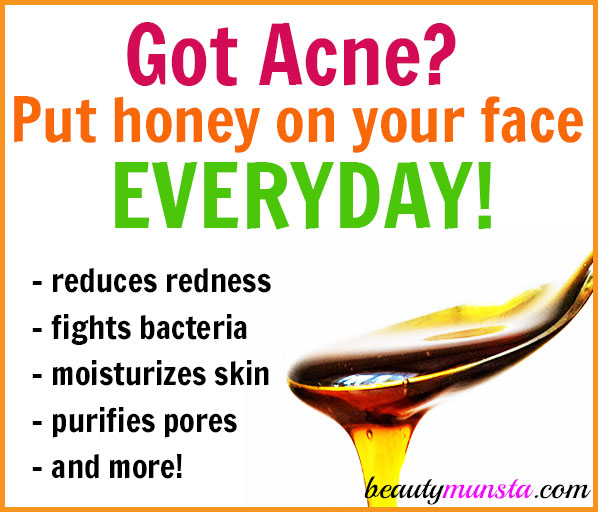 I've just stumbled upon an amazing ingredient that takes care of any kind of acne – big painful pimples, tiny pus-filled cysts and angry red rash-like bumps! This precious goodness is none other than manuka honey!
Seriously, it works WONDERS in clearing up acne. It's my sister who first started using it. She recently got breakouts on her face yet all her life, her skin's been practically clear and flawless! Unlike mine that started breaking out ever since I turned 14!
She says it's because of all the college stress she's currently having. Her acne was really inflamed, left scars and was itchy. But recently, I noticed her skin was brighter, acne not red anymore and her face was generally smoother. Her secret? She's been applying raw honey on her face every day!
Since I've been dealing with acne since like forever, I decided her beauty secret was going to become my beauty secret now. Mwahahaha! I've started using honey on my face everyday too! And my God! The results are stunning, my friends!
Unlike my sister though, I've began mixing up honey with other ingredients to kill the monotony of slathering raw honey on my face daily. I have 3 ways of using manuka honey for acne now. Check them out below!
But first, why manuka honey? Well, this is the best type of honey you can use for your acne. It's filled to the brim with antioxidants and medicinal compounds that really do wonders for your skin. If you've got acne, I suggest buying a jar of manuka honey just for applying on your face. It'll make your breakouts disappear – trust me on this one!
How to Use Manuka Honey for Acne
1. Manuka Honey Face Mask
This face mask is literally the simplest out there. It's basically slathering the sweet awesomeness on your face and leaving it there for about 5-10 minutes. Here's how to do it:
What you need
Directions
Pour 1 tsp of manuka honey into a small bowl.
Using clean fingers, scoop up the honey and rub it all over your clean face while standing over the sink. Don't apply to much or it'll drip all over.
Now let it sink in for about 5-10 minutes.
When the time is up, rinse off with warm water first, then tepid water.
Pat your face dry then go ahead and tone and moisturize it.
2. Manuka Honey Face Scrub with Brown Sugar
This manuka honey face scrub is my best so far, guys! I try to use it twice a week without fail because it makes my skin feel and look smooth! It's actually my DIY Glycolic Acid Face Mask I raved about a few days ago. Here's the recipe:
What you need
2 tsp soft brown sugar (where to get it)
3 tsp manuka honey (where to get it)
½ tsp lemon juice, from a freshly squeezed lemon
Small bowl and spoon
Clean fingers
Directions
Dump the brown sugar into a small bowl.
Now add the lemon juice and manuka honey and mix all ingredients well until combined.
Scoop up the mixture using clean fingers and rub it gently on your skin until it's all covered.
Let it sit for 5-7 minutes.
Rinse off with tepid water.
Pat your face dry, then tone and moisturize it!
3. Manuka Honey Facial Cream
You know how when you've got acne, most facial creams clog up your pores? Not anymore with this facial cream starring manuka honey! It's to be used at night time because this is when your skin repairs itself. Manuka honey delivers unique nutrients deep into the skin, which treats problematic skin an keeps it looking glowing and beautiful. Okay, here's how to go about making the cream:
What you need
Directions
Place the shea butter into a bowl then mix and mash it up with a spoon until it's creamy.
Once that happens, add the manuka honey and tea tree oil.
Now whisk it up fast using a small whisk until all ingredients are combined.
Transfer it into a clean jar.
It's sticky so only use a pea-sized amount (or less) on your face every night before bed.
Wake up the next morning and cleanse your face thoroughly! Your skin will be glowing!
Where to Get Manuka Honey

Make sure you purchase 100% pure manuka honey without any additives. I love Wedderspoon 100% Raw Premium Manuka Honey. It comes in a 17.6 oz jar. It tastes delicious too! It's pricey but since it works so magnificently and I'm willing to do anything to get my acne under control, it's something that I simply must have!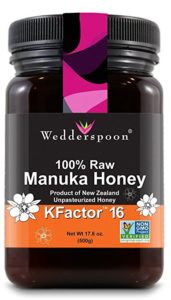 I hope you've now got ideas on how to use manuka honey for acne! Try any of the above three ways and you'll be very happy with the great results! 😀