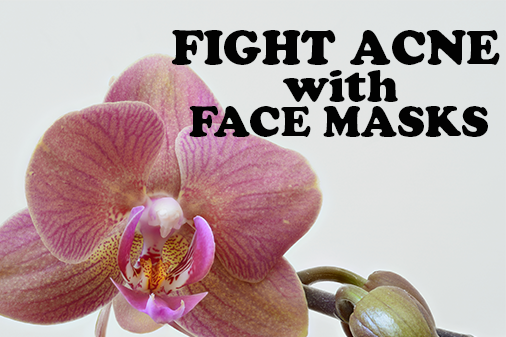 A Good Acne Reducing Face Mask Can Help You Fight Acne
There are many potent acne reducing face mask recipes that you can implement in your skin care routine in order to fight acne. But which one should you use? It can get confusing. To make it easier for you to choose the right acne reducing face mask for your skin type, I've garnered 3 acne recipes below, which are categorized according to your skin type. Oily, combination, or dry skin? You pick the best suited face mask for your acne!
3 Acne Reducing Face Mask Recipes To Try
1. Face Mask for Dry Skin
Many people suffer from dry skin, which is characterized by scaly, peeling and cracked skin that can sometimes get really itchy. Some people genetically tend to have dry skin, while others only get dry skin seasonally. Whatever the case is, when suffering from acne while having dry skin, we need to look for a mask that will fight acne while hydrating and moisturizing the dry skin cells at the same time.
Use a Turmeric Face Mask for dry skin containing just turmeric and yogurt.
Turmeric is a bright yellow medicinal root herb that has been revered for its beauty benefits since ancient times. Turmeric is highly antimicrobial, antibacterial and antiseptic so it destroys acne-causing bacteria lodged within acne and pimples. It also has skin brightening properties that will leave your skin looking radiant.
Yogurt is a probiotic fermented diary drink, which is highly soothing for acne-ridden skin when applied topically. Yogurt also contains lactic acid, which helps greatly lighten blemishes and acne scars. The nourishing fats and nurturing nutrients in yogurt help fight acne while hydrating, moisturizing and soothing dry skin.
2. Face Mask for Oily Skin
When you have oily skin, your face is often shiny and greasy, even within an hour after washing it. Oily skin is most prone to acne and pimples because the oil glands (sebaceous glands) located at the base of the hair follicles are at an overdrive, producing excess oil at a fast rate. This oil can end up clogging the pores, hardening within the pores and create a breeding ground for harmful bacteria which cause acne.
The best acne fighting face mask for oily skin is the Egg White Lemon Face Mask for Acne which can help reduce and balance excess oil production while getting rid of acne.
Egg white contains lysozyme, which is an active anti-acne ingredient that kills acne-causing bacteria by attacking their cell walls. Egg white also contains B-vitamins which protect skin from free radicle damage, promote the regeneration of skin, heal damaged skin and make the skin supple and youthful looking. Egg white is, of course, rich in protein, which helps in tissue growth and repair and makes skin look taut and perky, while reducing large pores which are a characteristic of oily skin.
Lemon is a powerful astringent that is rich in vitamin C which prevents premature aging and boosts collagen production. It is also rich in citric acid which lightens scars and blemishes and is pivotal in oil control.
3. Face Mask for Combination Skin
If you have combination skin, that means your skin has a combination of both dry and oily or normal areas in different parts of your face. For example, your forehead, nose and cheeks may be oily, while the areas around your mouth and your chin may be dry/normal. This is also known as having an oily T-zone and many people have this type of skin.
Acne on combination skin needs to be treated with a face mask that caters to both oily and dry skin traits, without exacerbating the oily parts while moisturizing the dry parts.
Use a Homemade Oatmeal and Honey Face Mask for Acne, which contains soothing ingredients like oatmeal and honey.
► Oatmeal is rich in saponins, which are natural cleansing agents that work to cleanse and dislodge the dirt, grime and pus stuck deep within your pores. Oatmeal can suck out impurities and pus out of pimples and acts as a great exfoliating agent that sloughs off dead skin cells, revealing new, healthier skin cells below.
► Honey, preferably raw honey, is a powerful super food that contains so many healing compounds, nourishing nutrients, active enzymes and potent antibacterial and antiseptic qualities. When applied on the skin, honey can help kill off harmful acne-causing bacteria, disinfect the skin pores, detox the skin and make the skin smooth and silky. It even helps lighten dark spots, blemishes and acne scars.