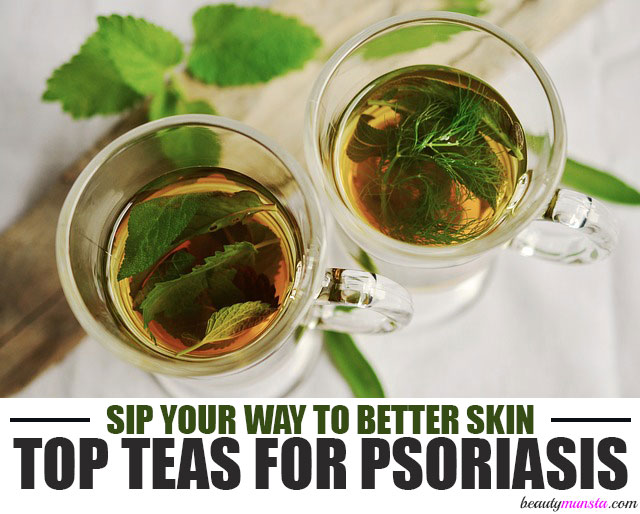 Psoriasis, an autoimmune disorder characterized by dry itchy and red lesions on the skin, can be very painful on both the physical and emotional level. Research shows that psoriasis flare-ups might have something to do with toxin overload, stress and weakened immune system, all of which need lifestyle changes and improvement of the body's internal environment.
Though there hasn't been much research carried out on the effect of various teas on psoriasis, there are so many anecdotal evidences that show that psoriasis can truly be soothed and managed just by sipping a cup of steaming herbal goodness everyday! What makes teas so special? Here's a list of benefits showing how effective teas are for psoriasis management and treatment:
rich in antioxidants that fight off skin damaging free radicals
contain powerful anti-inflammatory properties necessary in reducing inflammation in the body
calm the mind thereby reducing stress
release endorphins (or happy hormones) that prevent stress and depression
balance the body's natural pH
purify the blood of toxins
assist in waste/toxin removal by cleansing the colon
and so much more!
Best Tea for Psoriasis – 6 Healing Brews for Better Skin!
1. Ginseng Tea
Ginseng (scientific name: Panax ginseng), also known as red ginseng, is an important herb in Chinese Medicine: it's used to purify the blood of toxins, prevent free radical cellular damage, increase the production of red blood cells, strengthen the immune system and balance stress conditions caused by heat, cold and too much physical exertion. According to Psoriasis Blob (1), researchers from Korea discovered that ginsenoside Rh3 helped to control cells that lead to inflammation in chronic skin conditions like psoriasis.
Taste: Sharp, earthy, metallic taste that's a bit bitter. It's an acquired taste but nothing a drizzle of honey can't take care of!
Benefits for Psoriasis: rich in ginsenosides that are active compounds which have been shown to control skin irritation & purify blood from toxins & strengthen the immune system
2. Slippery Elm Tea
First off, it's called slippery because it releases mucilage when boiled. It was used by the Native Americans for a wide range of ailments and it has a great deal of benefits including soothing digestive problems, promotes healthy gut flora and has colon cleansing effects.
Taste: Though some find it unpleasant, it has a slight taste of thin porridge or oatmeal that's not really bad
Benefits for Psoriasis: supports healthy elimination of wastes & removal of toxins that aggravate psoriasis flare-ups, boosts immune system
Buy it Here (this one has a hint of mint which is great for improving the taste – otherwise you might not drink it, trust me!)
3. Oolong Tea
Oolong tea originates in the land of tea, China. The way it's made is slightly different from other tea processing in a way that the tea leaves are first partially fermented before drying. This makes it a unique blend that's a mix of strong black tea and slighty bitter green tea.
Because of its powerful antioxidant and anti-inflammatory properties, oolong tea is beneficial for treating inflammatory skin conditions such as eczema and psoriasis. A 2001 study conducted in Japan on more than 100 eczema patients showed that drinking one liter of oolong tea a day while continuing their dermatological treatments, resulted in a 60% improvement after a period of 30 days (2).
Taste: Sweet, fruity, earthy taste (if steeped too long, can turn bitter)
Benefits for Psoriasis: anti-inflammatory and antioxidant properties, alleviates constipation, has a high polyphenol content that soothes itchy psoriasis and improves health of skin
4. Milk Thistle Tea
One of the causes of psoriasis is said to be toxin overload in the liver. Gently detoxing or cleansing the liver with good foods is necessary to bring balance in the body and give relief to psoriasis. One such food is milk thistle, a powerful detoxifying herb that has been used for over 2000 years as a remedy for many ailments including liver problems and kidney malfunctions. The active compound in milk thistle for psoriasis is silymarin which is an antioxidant and anti-inflammatory that decelerates cell growth (2).
Taste: The taste is sublime and relaxing but slightly bitter so some people may find it unpleasant but as I said, add a little honey to your tea and happily sip it up!
Benefits for Psoriasis: Detoxifies the liver, boosts immune system, powerful antioxidant, has anti-inflammatory properties, inhibits human T-cell activation that is related to psoriasis
5. Rooibos Tea
Rooibos tea is obtained from the Aspalanthus linearis plant that is native to South Africa. Rooibos is actually from the Afrikaans word roy-boss, meaning red bush. This tea is incredibly high in antioxidants, doesn't contain any caffeine and has very low levels of tannins. It contains the anti-inflammatory antioxidant, quercentin that makes it good for helping inflammatory skin conditions including psoriasis and eczema. Rooibos tea was actually used since ages ago by the Khoisan tribe in South Africa who used it to treat a variety of ailments. Hospitals in South Africa use rooibos in baths for treating children with skin diseases and give it as a drink as well.
Taste: Fruity rhubarby taste that's actually refreshing, doesn't leave a bitter or strong aftertaste because it lacks/has very few tannins
Benefits for Psoriasis: antioxidant and anti-inflammatory properties that protect skin from cell damaging free radicals and reduce psoriasis inflammation, soothes dry itchy and irritated psoriasis patches
6. Ginger Tea
Personally, I cannot go a SINGLE DAY without drinking ginger tea. Though I aim to take a steaming cup once a day, I sometimes have it twice: in the morning and evening because it's just too good! Ginger is warming in nature and has been touted as a powerful anti-inflammatory superfood with pain relieving properties. It's extensively used in Ayurveda, recommended for people with slow digestion, headaches, severe pain, inflammation and skin conditions as well! There are many active compounds in ginger that inhibit the release of inflammation causing hormones, found in significant amounts in psoriasis sufferers. This stimulating rhizome also has potent antioxidant effects that help fight off unstable free radicals that damage skin cells (3).
Taste: Spicy, gingery, hot, invigorating, warming, grounding
Benefits for Psoriasis: Strong antioxidant, powerful anti-inflammatory, blood purifier, has pain relieving properties, reduces psoriasis inflammation
Other Great Teas for Psoriasis
Even if you're not a tea drinker or have never liked tea, once you start drinking teas for psoriasis, you'll fall in love with how invigorating and therapeutic they are! Your itchy patches and red lesions will slowly start disappearing – it's miraculous! Here are other teas you'll be itching (no pun intended!) to try out next just to see your psoriasis improve by miles:
Turmeric tea
Burdock root tea
White tea
Green tea
Black tea
Licorice tea
Peppermint tea
References
(1) http://www.psoriasisblob.com/psoriasis-teas/
(2) http://hubpages.com/health/Health-Benefits-of-Oolong-Tea-a-Unique-Blend-of-Tea-for-Weight-Loss-More
(3) http://www.optiderma.com/articles/milk-thistle-psoriasis-liver-detox/
(3) Mashhadi NS, Ghiasvand R, Askari G, Hariri M, Darvishi L, Mofid MR. Anti-oxidative and anti-inflammatory effects of ginger in health and physical activity: review of current evidence. Int. J. Prev. Med. 2013;4(Suppl 1):S36-42.